This Friday, June 14th, Soul Food Promotions in conjunction with the Corporation of St. George's, will present GTyme Productionz Live Outta Da Lab Artist Showcase in King's Square in St. George's.
"The free event will be officially kicking off at 7pm, with music played by GoodTyme Entertainment's Prof. Sneek Success [Nuclear Weapon], and Brotha Richie, charging the atmosphere with a variety of feel good reggae music, that the whole family will be able to come out to enjoy," a spokesperson said.
"The night will also feature live performances from various artists that have come through Da Lab Studio, operated by Prof. Sneek Success and Brotha Richie, such as Saxaphonist Cal Simons, Reggae artists, Ipree, Live Wire, and then the GTyme Crew of Larrita Adderley, Brotha Richie, alongside Sneek Success as the Selecta.
:Building off of the energy, and authentic vibe that has become a signature look and sound of the work that GTyme Productionz has been putting out, we want folk to come out to enjoy a night under the stars, to hear some familiar tunes but also to support and experience what fresh new music is being produced by these group of Bermycreatives. We are bringing good vibes of our own, but we are inviting Bermuda to come down and bring their good vibes as well, and as a community, have a good time together."
"There will be food vendors, and more, and there is also the chance to get to see what St George's has to offer, if it you have not been in a while. This is a free event, that the Corporation of St. George's hopes can prove to be a great platform for local entertainers, and bring some fresh innovative entertainment options to Bermuda's original capital."
For more info please refer to the Corp. of St George's official website or call 703-4896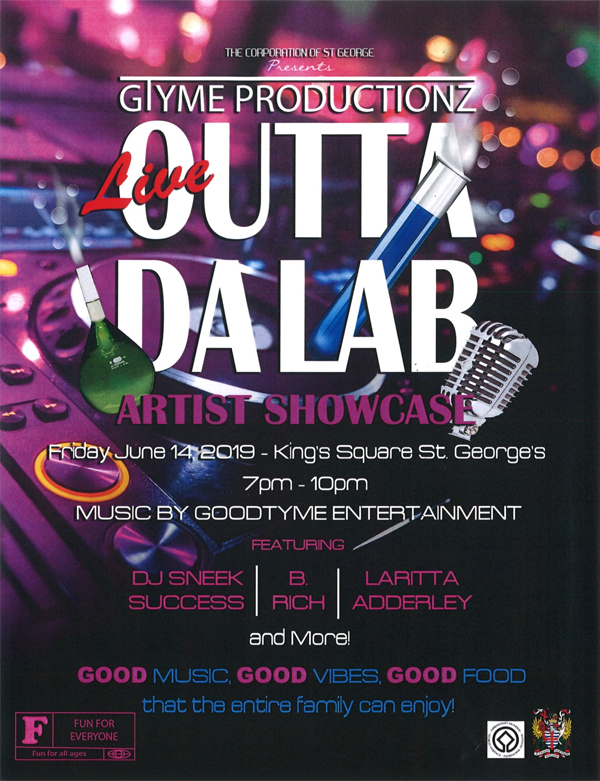 Read More About
Category: All, Entertainment, Music