The second annual International Cyber Risk Management Conference [ICRMC] Bermuda, presented by Canada's MSA Research Inc, will take place from December 4 to December 6 at the Hamilton Princess & Beach Club, following a warm welcome from Business Development Agencyn [BDA] to bring the event back to the island in 2019.
A spokesperson said, "The ICRMC Bermuda program has been designed for corporate risk managers, corporate counsel, auditors, CISOs, CSOs, and CTOs, governance and claims professionals, insurers, reinsurers, insurance brokers and service providers.
"The BDA will once again be signature sponsor of the two-day cyber risk management conference of which the theme is Speaking a Common Language: From On- Boarding to the Board Room."
Toni Waterman, Bermuda Broadcasting [BBC] and Host of "The Breakdown with Toni Waterman"; Marilyn Horrick, EVP & COO, MSA Research Inc.; John Masters, AVP, Financial Lines, AIG; Joshua Alvera, Public Policy and Regulatory Affairs Representative at Association of Bermuda Insurers and Reinsurers [ABIR]; Joel Baker, President & CEO, MSA Research Inc. and ICRMC; and Kathleen Bibbings, VP, American International Company Limited and President of the Bermuda Insurance Management Association [BIMA]: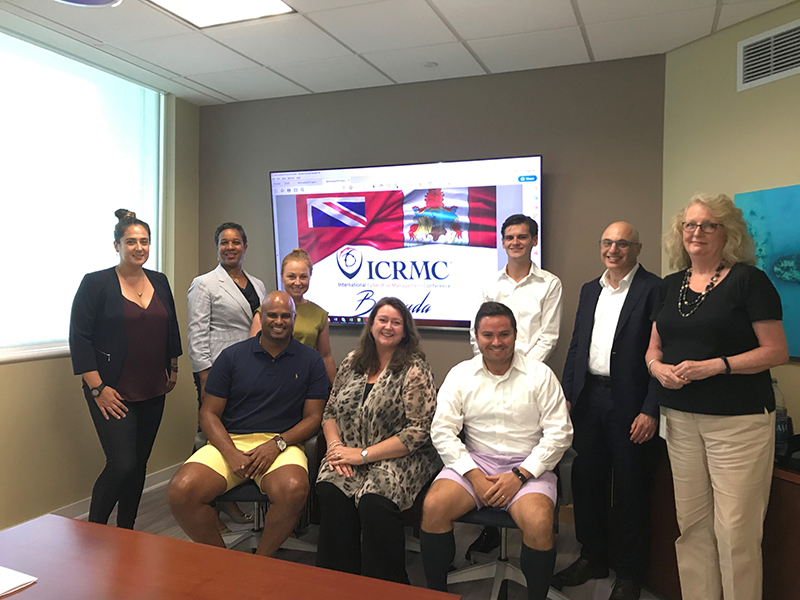 "We are very proud to bring ICRMC back to Bermuda where we, with the support of a stellar steering committee, will focus on cyber risk with an emphasis on re/insurance and risk-transfer solutions," said Joel Baker, President and CEO of both MSA, the leading provider of Canadian insurance financial data, and the National Insurance Conference of Canada.
"Baker and MSA Research COO and EVP, Marilyn Horrick, visited Bermuda over the past week not only to attend the Captives Conference and meet with sponsors and local members of its advisory committee [see photo], but also to speak about their event plans with leaders of the island's risk-industry groups, including the Bermuda Insurance Management Association [BIMA], the Association of Bermuda International Companies [ABIC], Bermuda Captive Owners' Association [BCOA], Bermuda International Long Term Insurers and Reinsurers [BILTIR], International Organization of Directors [IoD], Bermuda Broadcasting Corporation [BBC], and the Association of Bermuda Insurers & Reinsurers [ABIR], all eight of whom have come on board as ICRMC Supporting Sponsors."
"There's no better location than Bermuda to host our vendor neutral ICRMC event," commented Baker, "given Bermuda's central place in the insurance, reinsurance and insurance-linked securities [ILS] arena," continued Baker, who over several years, has forged relationships with many of the island's business and industry leaders.
"It aligns extremely well with the aims of the conference which is designed to serve the thought leadership and congregational needs of the global risk management community."
ICRMC Bermuda organizers host event Supporting Sponsors at BDA office in appreciation of their advocacy and ongoing commitment of support. Pictured, from left to right: Gemma Godfrey, COO, The Whitfield Group Ltd.; Rochelle Simons, General Manager of the Bermuda Captive Owners' Association [BCOA] and Chairwoman at Institute of Directors [IoD] Bermuda; Jereme Ramsay, Business Development Manager – Risk Solutions, Bermuda: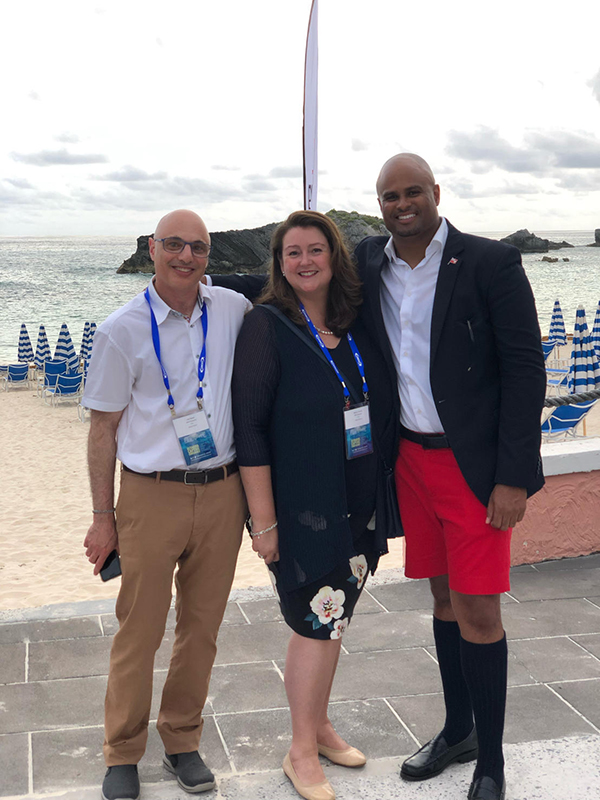 "We're excited to be returning to the 'World's Risk Capital'," commented Horrick, "to work alongside the BDA team and an unparalleled group of Bermudian, US and Canadian contributors to bring this relevant forum to bear.
"It's a professional privilege and a personal delight to be working with such abundant talent and moreover, to benefit from the sound commitment of our Supporting Sponsors who will ensure we are visible to the risk management community and build upon last year's success. We really couldn't ask for a more collegial and supportive group of partners."
"We're extremely proud to have been a catalyst in bringing another relevant conference to Bermuda, particularly one of this calibre that also generates winter month hospitality activity for the island," said Jereme Ramsay, BDA Business Development Manager for the risk sector. "Last year's event was a success and the market demand remains high for this kind of conference—I'm excited to see the ICRMC thrive and grow in 2019."
"Programming for ICRMC Bermuda is being shaped by a world-class advisory committee made up of cyber-risk subject matter experts from the fields of information technology, insurance and risk management, law, audit and compliance, governance, and public policy.
"The international committee members for ICRMC 2019 are Katie Butterworth, Chief Risk Officer, HSBC Bermuda; Mike Cook, Managing Partner, Financial Services Sector, IBM; Todd Daubert, Partner, Dentons US LLP; Victoria Edmonds, VP, Professional Liability, Markel; Nick Galletto, Global and Canadian Cyber Risk Services Leader, Deloitte; Chris Garrod, Director, Conyers Dill & Pearman; Giles Harlow, SVP, Professional Risk Solutions, Aon [Bermuda]; Gary Hayslip, CISO, Board Member and Advisor, Published Author and Cyber Evangelist; Doug Howard, Vice President, Global Services, RSA Security; John Masters, AVP, Financial Lines, AIG; Jereme Ramsay, Business Development Manager, Risk Transfer Solutions, Bermuda Business Development Agency; Bill Stewart, Division President, Global Cyber Risk Practice, Chubb."
For more information on ICRMC Bermuda, contact Debbie Brockway at debbie.brockway@msaresearch.com or visit the website.

Read More About
Category: All, Business, technology