[Written by Talbot Wilson]
The 2019 Marion Bermuda Race is in the books. 39 Founders Division entries and two Classic Division boats lined up for their starts in Buzzards Bay on Friday June 14. One of the classics failed to start, but sailed with the fleet heading south in Buzzards Bay for the finish in Bermuda and the hospitality of the Royal Hamilton Amateur Dinghy Club.
The race started with a gusty beat out of Buzzard's Bay. Some boats like Riley family's scratch boat Kiwi Spirit suffered gear failures in the 30-knot gusts. The tack of their mainsail blew out and they had to sail the rest of the race with shortened sail. Kiwi Spirit was first to finish but was off the podium on handicap in class and finished 37, second to last, in fleet.
Governor John Rankin presented the overall winner's prize, the Gosling Rum Founders Trophy, to Cordelia's skipper Roy Greenwald and two of his three crew, Gail Greenwald and Daniel Begg. Dana Oviatt was absent. Photo by Talbot Wilson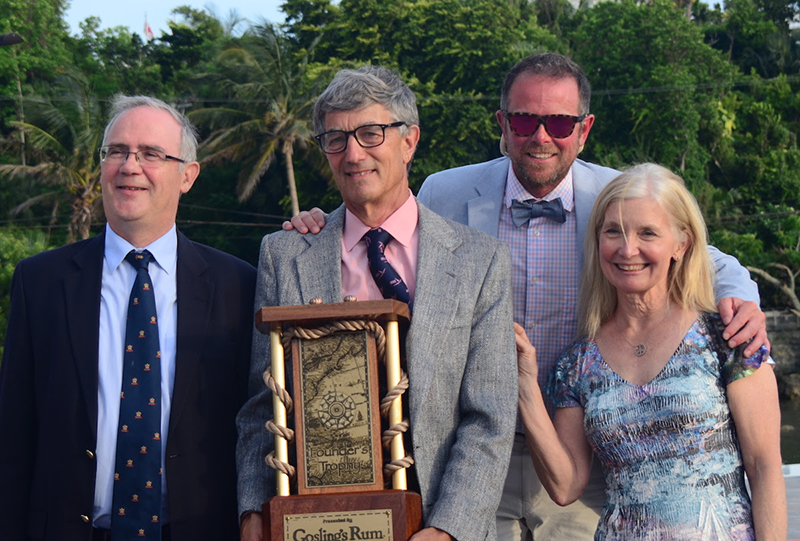 On the course, one yacht— Mahinia Kai, an Oyster 54 skippered by Arthur Haubner and Arthur Auclair of Salem NH— withdrew with a steering malfunction. They headed back to Newport RI.
The Marion Bermuda Race is the only offshore race from a US port that offers prizes for boats that turn off their electronics and steer by celestial navigation only until they are 50 miles from the finish. Fifteen boats elected to sail celestially including the winners of all four classes and both divisions.
Governor John Rankin presented the 'First to Finish' Blue Water Sailing Club Board of Governors Trophy to Jo Riley, skipper of Kiwi Spirit. The Farr 63 finish Tuesday morning at 2:27:59 with an elapsed time of 3 days 12 hours, 17 minutes and 59 seconds. Photo by Talbot Wilson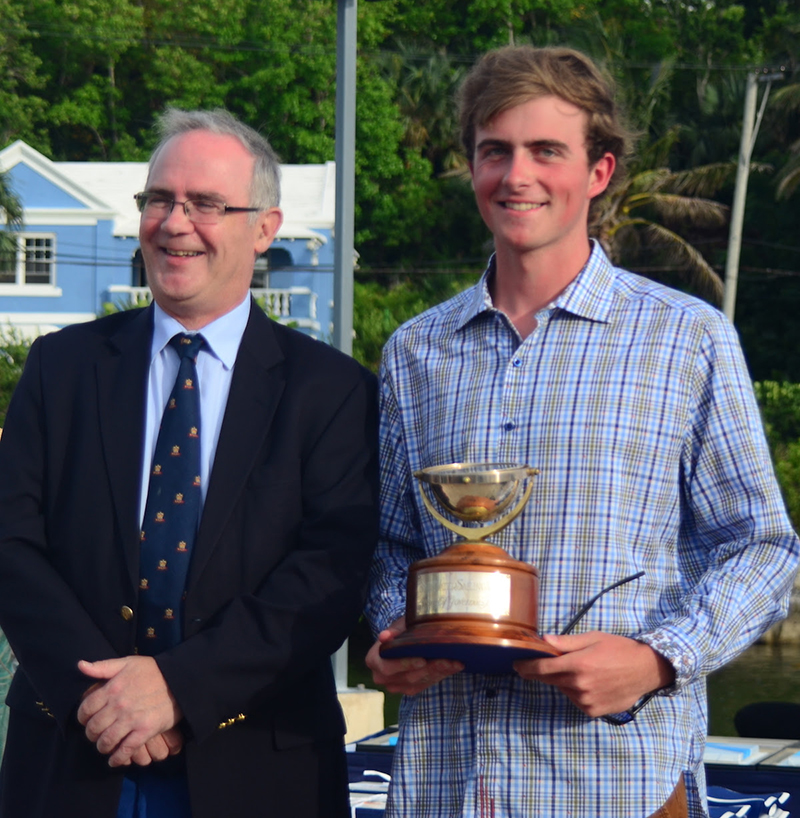 The finish line committee at St David's Lighthouse in Bermuda had their hands full on the fourth day, Tuesday. The first boat finished at 2:27:59 in the morning with an elapsed time of 3 days 12 hours, 17 minutes and 59 seconds.Thirty more boats finished before midnight. The last seven in the fleet finished before noon the next day.
Hotspur II, a Columbia 50 skippered by Ron Wisner of Marion MA, was last to finish after 4 days 21 hours 47 minutes and 49 seconds.
Governor John Rankin presented the Captain Edward Williams Trophy to Tabor Boy's captain James Geil for the yacht winning the Classic Yacht Division, best corrected time. Tabor Boy's Geil said Tabor Boy would defend her title in the next race scheduled for 18 June, 2021. Any Challengers? Photo by Talbot Wilson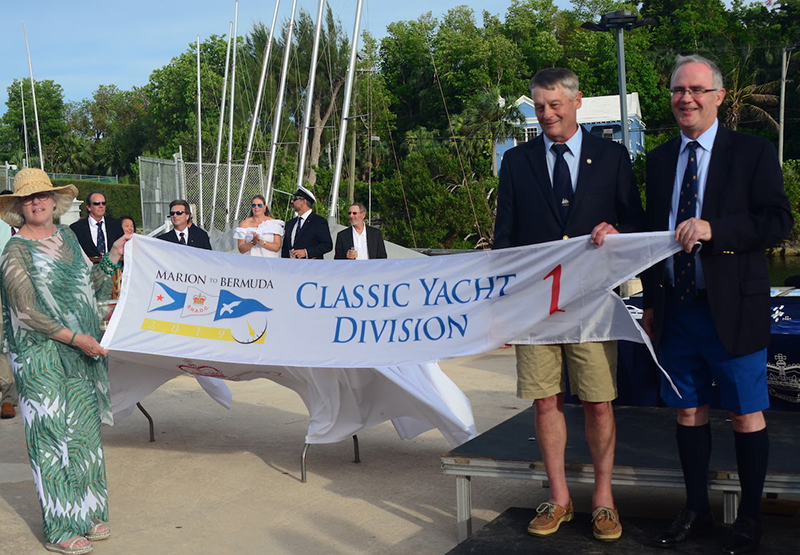 And then the parties started at the Royal Hamilton Amateur Dinghy Club. The marina was full with all the boats, and the club opened its doors to all and offered cookouts, BBQ, live entertainment, Crown & Anchor, and lots of famous Gosling Dark 'n Stormy cocktails and some Gosling Old Rum, too.
The 22nd running of this classic yacht race wrapped up with the prize giving on the Dinghy Club dock level and a gala dinner under the big top.
Tabor Boy, [2], the 92-foot iron-hulled schooner from Tabor Academy in Marion MA won the Classic Yacht Division of the 2019 Marion Bermuda Race. Photo by Talbot Wilson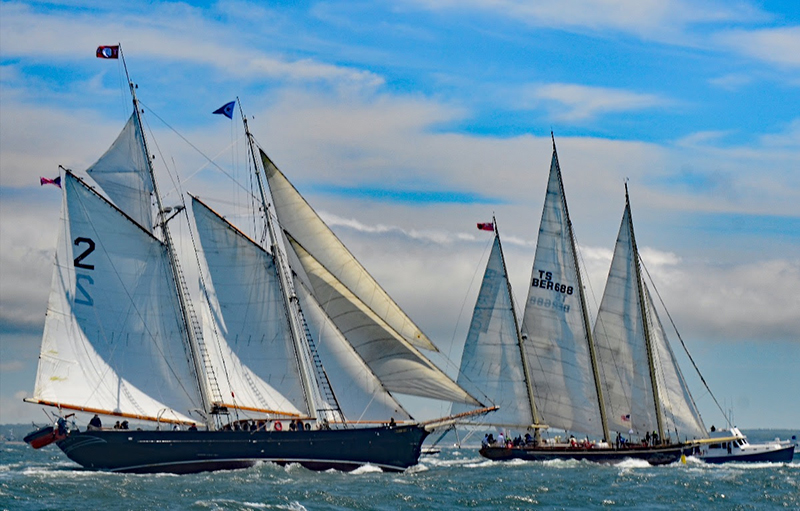 After welcomes from the Mayor of Hamilton Mr. Charles Gosling and the US Consul General Constance Dierman, His Excellency the Governor of Bermuda Mr. John Rankin presented the class, overall and special trophies with RHADC Commodore Willie Forbes. The prize summary which includes special prizes— is posted on line— Prize Summary.
At the gala dinner attended by some 300 guests, the Skipper and Crew of Tabor Boy issued challenge to David Goodwin of the Bermuda Sloop Foundation to a rematch between Tabor Boy and Spirit of Bermuda.
Roy and Gail Greenwald's Valiant 42 Cordelia finished first in fleet on corrected time in the 2019 Marion Bermuda Race. She won the Goslings Founders Trophy. The Greenwalds sail out of Mairon MA. Cordelia wass also the Class D winner and winner of the Beverly Yacht Club Polaris Trophy. Photo by fran Grenon, Spectrum Photo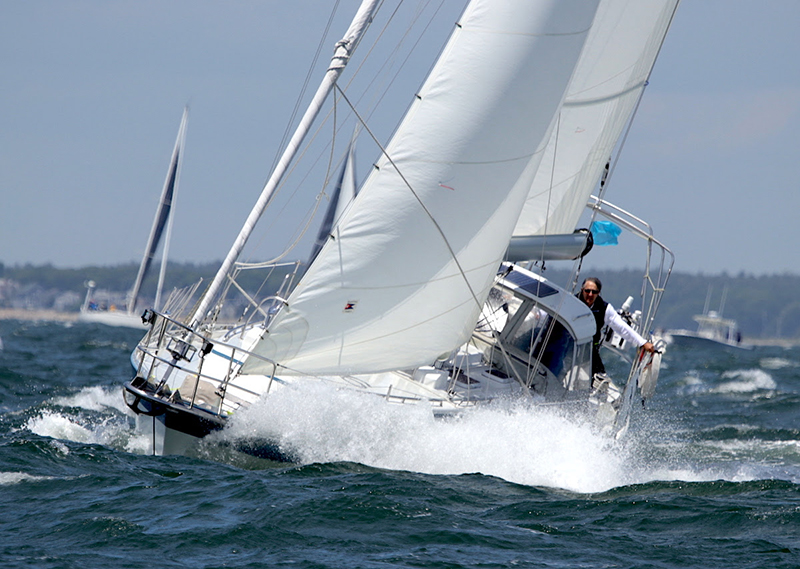 In 2018, Spirit had challenged Tabor Boy, throwing down the gauntlet, a real gauntlet. This time as the winner, Tabor's Student Executive Officer Chip Connard threw down the same gauntlet, challenged Spirit and Spirit picked it up.
The match is on for the 23rd Marion Bermuda Race… June 18, 2021
The classic schooner Tabor Boy from Tabor Academy in Marion MA finished as the winner in the Classic Division and will proudly fly her 'coming home' banner on her return trip to Marion MA. Presented by RHADC Commodore Willie Forbes, left, Allan McLean [next] Executive director of the Race. Student XO Chip Connard and Captain James Geil are in the center Photo by Fran Grenon, Spectrum Photo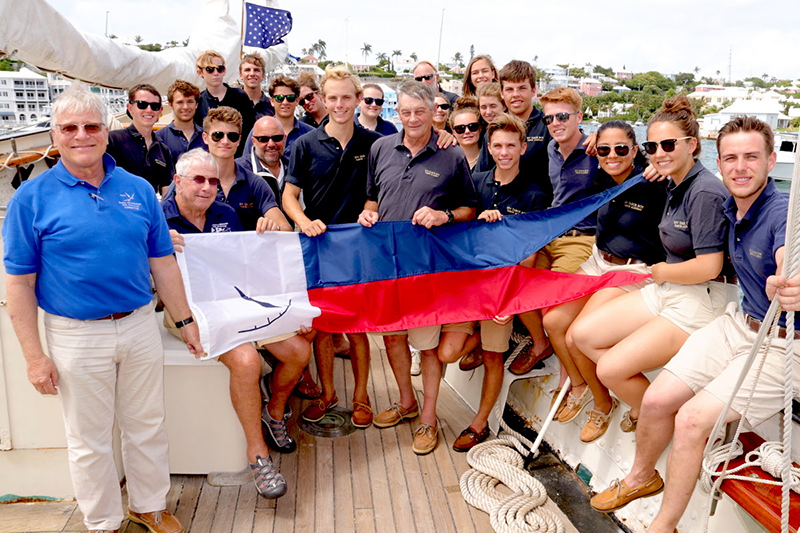 Results—Founder's Division
Class A—
Abigail— Robert Buck, Aquidneck 52, Marion MA – Celestial
Kinship — Francis Selldorf, Baltic 52, Padanaram MA
Sunflower — Mark Lenci, Beneteasu Oceanis 523, Harpswell ME
Class B —
Gallant, Christian Hoffman, Navy 44, USNA Annapolis MD, Celestial
Momentum, Paul Kanev, Hinckley Sou'wester 51, Newport RI
Defiance, George Hamilton/Kevin Navarro, Navy 44 MKII, USNA Annapolis MD, Celestial
Kiwi Spirit was the line honors leader from start to finish in the 2019 Marion Bermuda Race. The Farr 63 finished off St. David's Lighthouse at 2:27:59 Tuesday. Photo by Talbot Wilson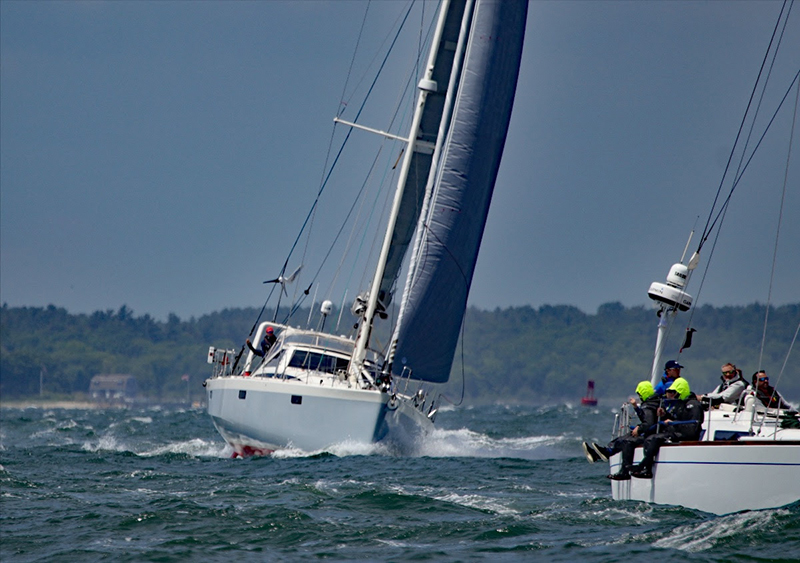 Class C—
Pinnacle— Peter Torosian, Tartan 4100, Rye NH, Celestial
Escapade II— Tom Bowler, Morris 46, Ocean, Marion MA
Scappare— David LeBlanc, Catalina 42 MKII, Stillhouse Cove RI
Class D—
Cordelia— Roy Greenwald, Valiant 42, Marion MA, Celestial
Frolic— Ray Cullum, Dixon 44, Marion MA, Celestial
Silhouette— David Caso, Cherubini 44, Portsmouth RI
Class B winner and second in the Founders Division was the US Naval Academy's Gallant, a Pearson Composite Navy 44 skippered by Christian Hoffman. Photo by Fran Grenon, Spectrum Photo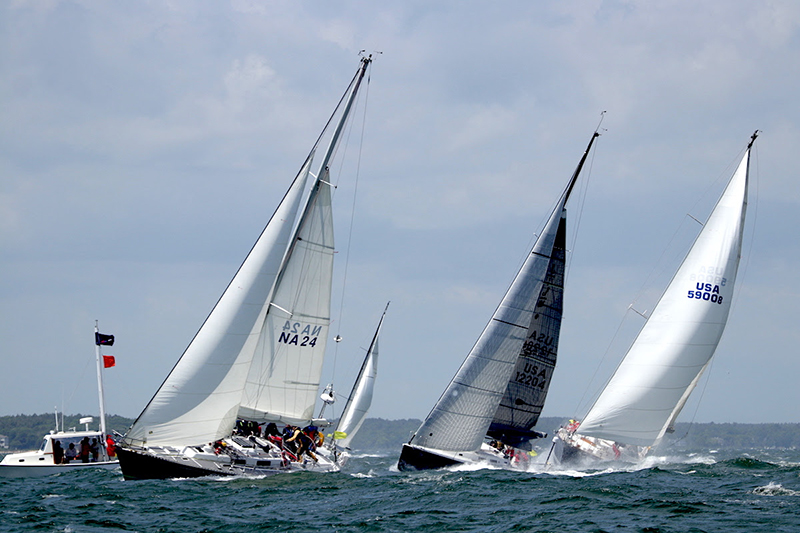 Results—Classic Division
Overall Class and division
Tabor Boy— James Geil, Schooner 92, Tabor Academy Marion MA, Celestial
DNS Spirit of Bermuda—Jordan Smith, Tall Ship 118, Dockyard, Bermuda
The official source for race information…
entry list, scratch sheet, official finishing, official scoring, official prize list… is on the web site and results here.
Winner in class C was the Tartan 4100 Pinnacle, skippered by Peter Torosian of Rye NH, Celestial Photo by Fran Grenon, Spectrum Photo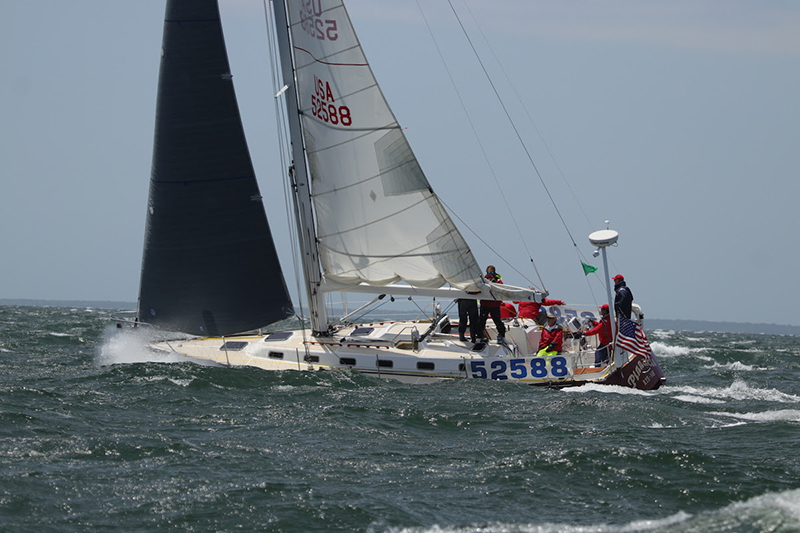 Races within the Race
Competition for special awards is a unique attraction for the Marion-Bermuda Race. The Notice of Race has all the details.
Go to the website for photos and descriptions of the trophies and the competition for them.
The R&W Rope Rigging Solutions Team Trophy is offered for established Yacht Clubs or Sailing organizations that form a team of three member yachts. The team whose three yachts have the lowest corrected time total will be the winner.
Yachts sailing with a crew of two, a crew of three or four or an all-female crew of any number may compete in the double-handed, short-handed, and all-female competitions respectively. Prizes are the Double-Handed Trophy, the short-handed L. Bryon Kingery, Jr. Memorial Trophy and the Commodore Faith Paulsen Trophy for the ladies.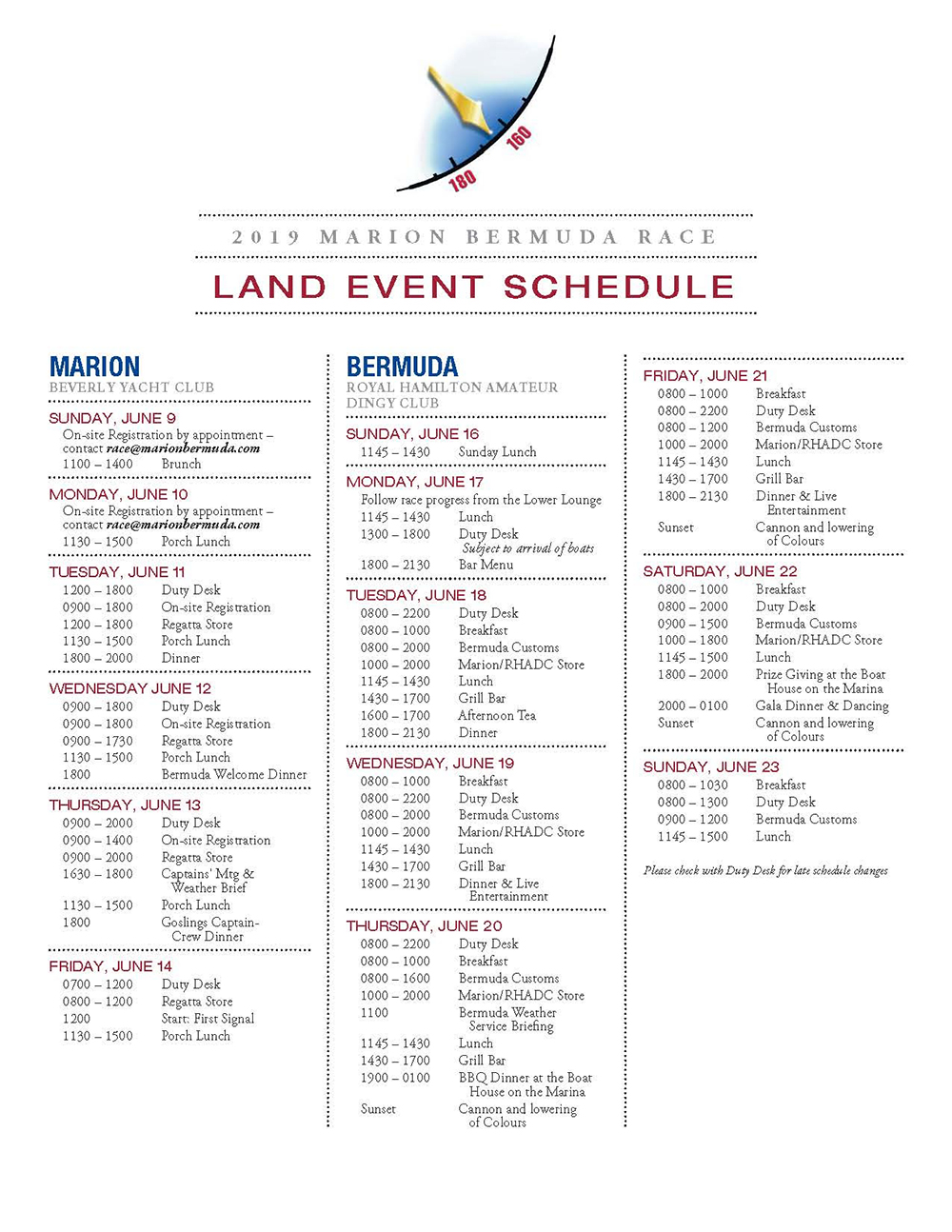 A "family" yacht racing for the Beverly Family Trophy is one with a crew of five or more with all or all-but-one being members of a single household or a single family may race for the family prize. Persons related to a common grandparent and spouses of these "family", too.
The Offshore Youth Challenge Trophy encourages youth participation. A "Youth" yacht has at least four [4] youths aboard with at least 66% of the crew qualified as youths. A youth sailor must be 16 years of age or older but not more than 23 years old by June 14, 2019. One or more adults at least 23 years old by June 14, 2019 must be on board.
The Beverly Yacht Club Polaris Trophy is a prize for stargazers. If a yacht has elected to be celestially navigated, she will receive a 3% favorable adjustment to her ORR rating.

Read More About