[Written by Talbot Wilson]
The fleet of 39 Marion Bermuda yachts is on its way to Bermuda. 38 of the boats are in the Founders Division and one is a Classic yacht.
The first start between the classicsTabor Boy and Spirit of Bermuda set the pace with an aggressive move by Spirit running down the starting line, crossing close ahead of Tabor Boy.
But the maneuver didn't pay off for the big Bermuda Sloop. She ran the line in front of Tabor Boy clear ahead. Then when she got to the pin end of the line and hardened up into the wind, she actually sailed outside of the yellow pin, beyond the starting line.
Whoops! She did not start properly, but continued to sail the course southward on a beat out of Buzzards Bay. Failure to cross the starting line means that Spirit of Bermuda did not start.
Under the rules, Spirit had four hours after the class started to return to the line and actually start properly. Her class start time was 1210 hrs. When she did not return by 1610, she was ruled a non-starter, DNS, and will not be scored in the race.
Founders Division classes A [fastest] through D [slowest] started in reverse order after the classics. All went well. In the Class D start three of the boats had reefs in their mainsails. By the time Class D started, winds had built to a steady 20 Kts with gusts to 30. The tide flooding against the southwest wind made for lumpy going. Reefs were deep and headsails small.
Frolic, sailed by a crew of four with Beverly Yacht Club past Commodore Ray Cullum at the helm, got the best start in Class D. The Dixon 44 from Marion MA dug hard for the Eastern shore of the Bay.
In Class C, Scrappare, David LeBlanc's Catalina 42 from Seekonk MA, Dauntless, Matthew Breuer's double-hander Sabre 424 from Boston, and Meridian, Murray Beach's Tartan 4600 from Westwood MA, set the pace.
The Class B leader off the line was NA24 Gallant. She's a Pearson Composite Navy 44 skippered by Christian Hoffman. They looked very smart coming off the line.
Machbuster, the last boat to start in Class A, was flying an orange and white storm jib, prepared for the worst. She's a Little Harbor 70 skippered by Eugene Berardi from Kingston, NY.
All of the race details for the race are published in the Sailing Instructions. Follow the racers on Tracking.
When Spirit of Bermuda got to the pin end of the line and hardened up into the wind, she actually sailed outside of the yellow pin [by the bow wave] beyond the starting line. Whoops! She did not start properly, but continued to sail the course southward on a beat out of Buzzards Bay. When she did not return by 1610 to start properly, she was ruled a non-starter, DNS, and will not be scored in the race. Tabor Boy is now the sole boat in the Classic Division. Photo by Talbot Wilson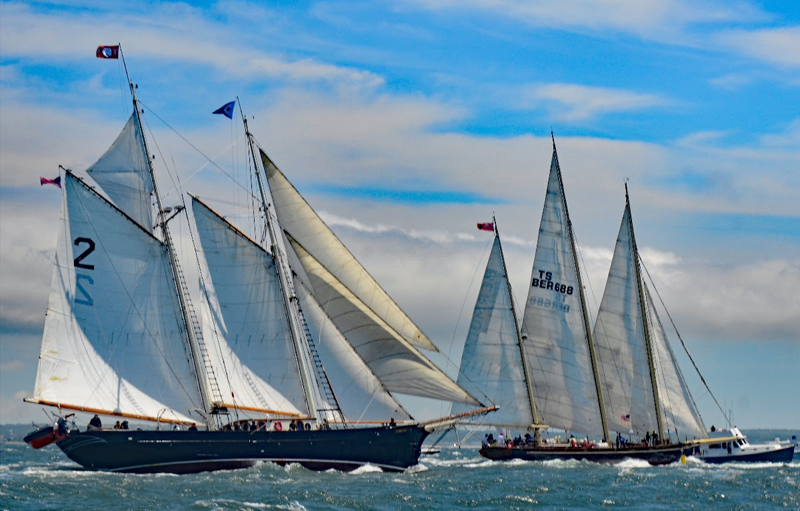 The Class B leader off the line was NA24 Gallant. She's a Pearson Composite Navy 44 skippered by Christian Hoffman. They looked very smart and shipshape. Winds were southwest at 20-30 Kts. Seas Lumpy. Photo by Talbot Wilson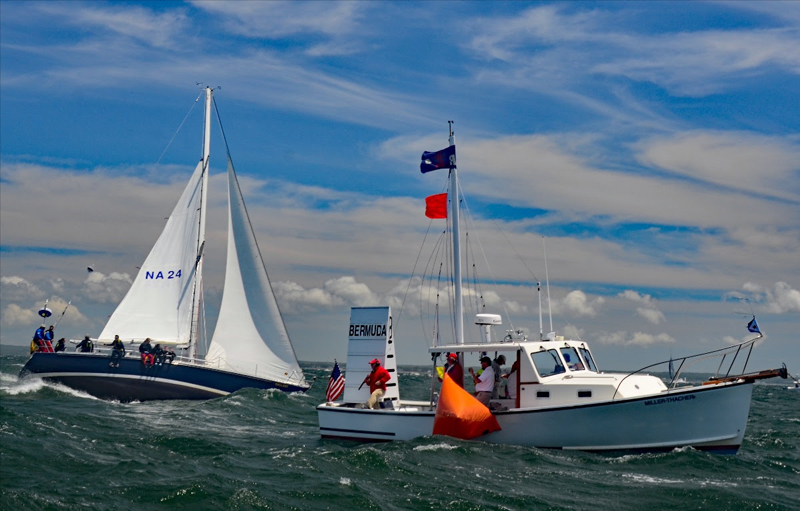 Frolic, sailed by a crew of four with Beverly Yacht Club past Commodore Ray Cullum at the helm got the best start in Class D. The Dixon 44 from Marion MA dug hard for the Eastern shore of the Bay. Photo by Talbot Wilson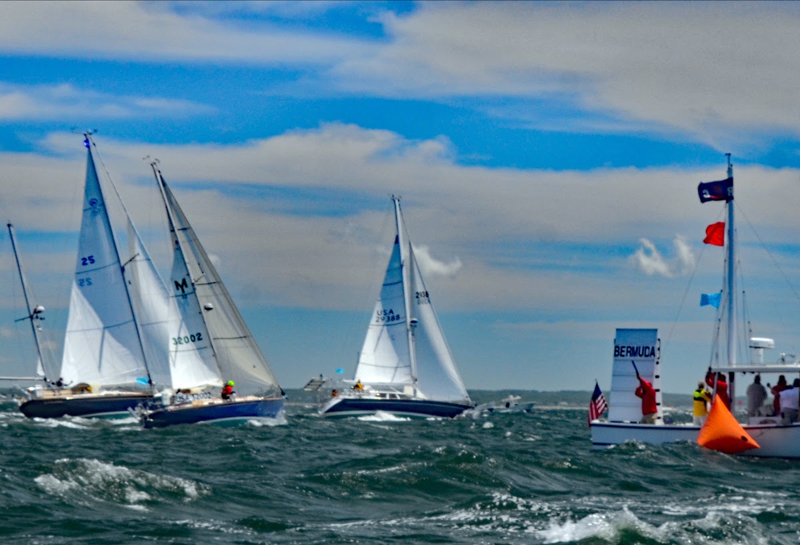 Machbuster, the last boat to start in Class A, was flying an orange and white storm jib, prepared for the worst. She's a Little Harbor 70 skippered by Eugene Berardi from Kingston, NY. Photo by Talbot Wilson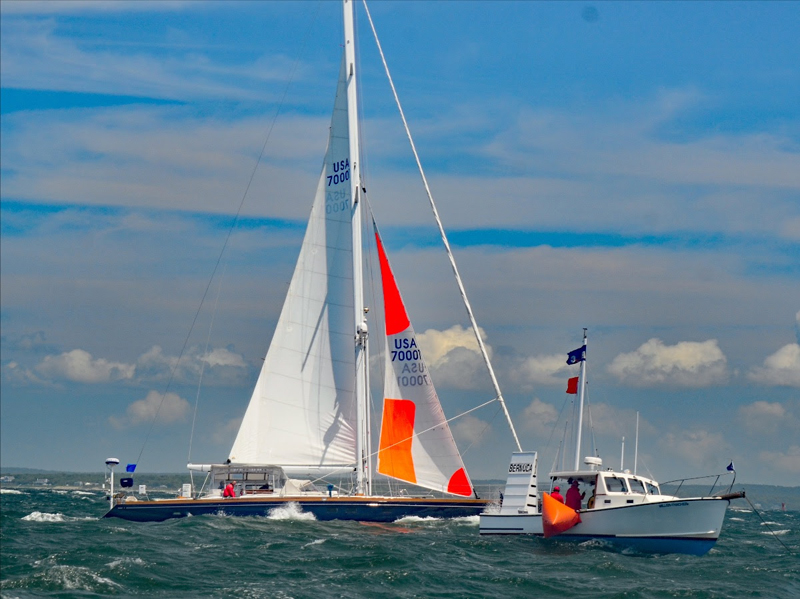 Read More About