Chief executives of the world's largest re/insurers and leading risk experts will gather in Bermuda on November 7, 2019 for the PwC Insurance Summit presented by the Financial Times.
The Summit is the island's annual meeting point for senior executives and professionals in the insurance and reinsurance industry, offering a high-level opportunity to discuss and dissect the latest market developments and their implications.
The Financial Times, which has over one million paying readers, will present the Summit. The FT's Oliver Ralph, Insurance Correspondent, and Robert Armstrong, US Finance Editor, will be in Bermuda to moderate panels including a conversation with Curtis Dickinson, Minister of Finance.
Brian Duperreault and Arthur Wightman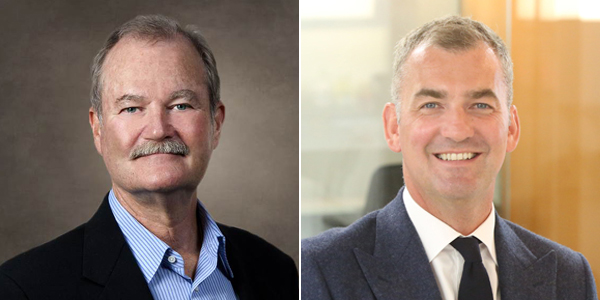 Confirmed keynotes and speakers include:
Brian Duperreault, President and CEO, AIG
Dennis Mahoney, Executive Chairman, RFIB Group and former head of Aon UK
Nigel Frudd, CEO, Sompo International
Greg Hendrick, CEO, AXA XL
Mary Forrest, President and CEO, Munich Re, North America [Life and Health]
John Berger, CEO, Ascot Reinsurance
Pete Wilson, CEO, AXIS Insurance
The full speaker line up and agenda can be viewed here. More keynotes and speakers and the final agenda will be announced later in the summer.
Arthur Wightman, PwC Bermuda leader commented: "We are delighted to once again host Bermuda's leading annual insurance forum. Last year with our new partner, the Financial Times, the event attracted almost 300 registrants and we received much positive feedback on our dynamic and engaging new format.
"This year we are building on that success with an impressive line-up of keynotes and speakers and an agenda that will address the most pressing issues in the market today, including regulation, climate change, cyber risk, industry disruption and digital transformation."
"The urgent need for business and technology modernisation poses the greatest threat to the global insurance industry, according to our Insurance Banana Skins 2019 report, published by the Centre for the Study of Financial Innovation [CSFI] in association with PwC," Mr Wightman said.
"According to a separate survey of the Bermuda insurance and reinsurance market, the number one risk faced here is regulation, followed by climate change and then cyber risk.
"The response from Bermuda showed a number of striking differences from the global ranking. Most notable was the positioning of technology risk – number one globally – down in fifth position here. However Bermuda did place cyber risk at number two, the same as the world ranking, given concern over the magnitude and linkage of exposure. Climate change was another higher than average scorer, with many in the industry concerned insurers need to do more to address the long-term impact of climate change.
"But Bermuda's highest risk was regulation, mainly because of the volume of change and associated cost. One respondent told us that regulation is a 'strangling of our ability to operate effectively across jurisdictions and leverage our capital' and presents 'a huge and expensive problem'."
The PwC Insurance Summit will examine each of these challenges in keynotes and indepth sessions with leading regulatory, cyber and climate risk experts with a view to increasing understanding and finding solutions.
Read More About