"Britain's Overseas Territories say they will 'stand together' to defend their right to self-government amid increasing concerns over 'constitutional overreach' from the UK," according to a report from Cayman Compass.
The story said, "Any attempts to enforce legislation from Westminster on issues ranging from same-sex marriage to 'belongership' and financial services regulation will be strongly resisted, according to leaders of several territories, following talks in Grand Cayman this week.
"Despite the disparate concerns of the various territories, leaders from the Falklands to Bermuda were united in their opposition to the UK dictating policy from thousands of miles away.
From left, Anguilla Premier Victor F. Banks, Gibraltar Minister for Commerce Albert Isola, Bermuda Premier David Burt, Falkland Islands MLA Teslyn Barkman, Cayman Islands Premier Alden McLaughlin, Turks and Caicos Premier Sharlene Cartwright Robinson, Montserrat Premier Donaldson Romeo and British Virgin Islands Premier Andrew Fahie, who attended Wednesday's Pre-Joint Ministerial Council meeting and Thursday's International Trade Summit. [Photo courtsey: Taneos Ramsay]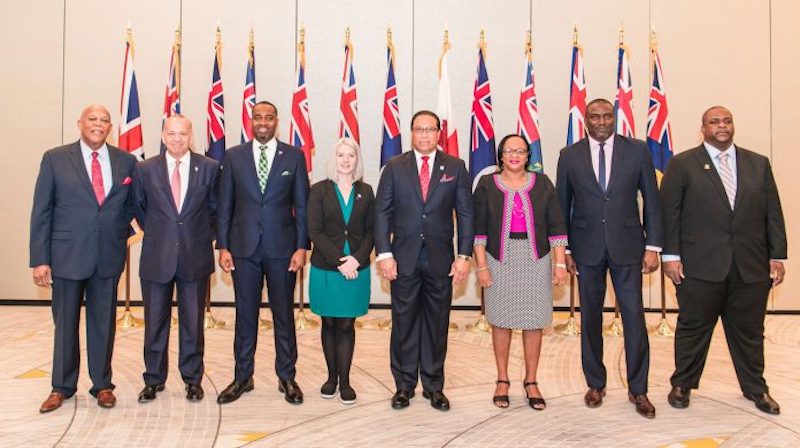 "A UK law seeking to impose public registers of beneficial ownership on Britain's territories – seen as a threat to the financial services industry – is a key concern for several islands," the report continued.
"Modern-day colonialism is what is being attempted by those persons is Westminster, and I am certain that all Overseas Territories will resist it vociferously," Bermuda Premier David Burt said at a press conference following the summit at the Kimpton Seafire Hotel on Wednesday.
"Several other leaders expressed similar concerns, and insisted the pressure from the UK on various issues is helping them to forge closer bonds as they seek to resist what they see as constitutional overreach from the mother country.
Video report from Cayman 27:
"I see a beacon of hope with our team here, because we all realise that divided we fall, united we stand," said Andrew Fahie, premier of the British Virgin Islands.
You can read the full story here on Cayman Compass.

Read More About
Category: All