Conyers has announced that Vanessa Gilbert is the 2019 recipient of the firm's Leadership Scholarship Award.
A spokesperson said, "The award, which is valued at US$5000, is presented annually to a graduating CedarBridge Academy student. The recipient will have demonstrated leadership abilities through practical experience, personal reflection and community involvement."
"Vanessa was Deputy Head Prefect at CedarBridge and graduated at the end of June among the top of her class with a 3.5 GPA. She has an impressive record for community service, having volunteered as a Junior Candy Striper for the past four years and as a student mentor at the Family Centre's Homework Academy since 2018.
"She also participated in the Bermuda Overseas Mission in 2018, travelling to Bangalore, India to help construct homes for needy families in partnership with the Global Village Program of Habitat for Humanity."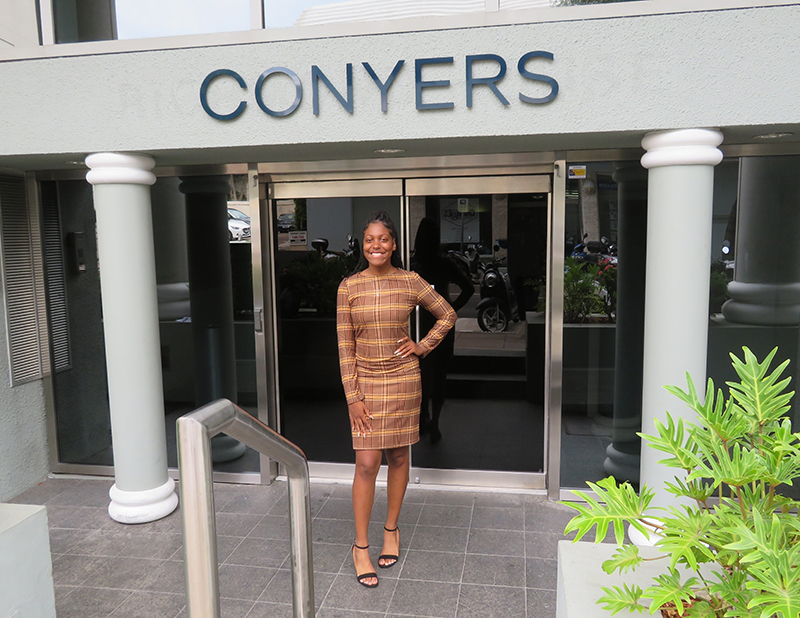 "Vanessa was nominated for a Bermuda Outstanding Teen Award in both the Community Service and Spiritual Leadership categories in 2019. She was a member of the school's Gavel Club and debate team, played clarinet with the Bermuda Youth Orchestra and was a United Nations International Student Ambassador. Her graduating class also voted her Miss Congeniality.
"Vanessa's next step is to attend Mount Saint Vincent University in Halifax, Canada, majoring in psychology. She would like to pursue a career in family counselling or drug counselling in Bermuda."
Lisa Spencer-Arscott, Global Head of Human Resources for Conyers, said, "Vanessa's impressive accomplishments make her a worthy recipient of the CedarBridge Leadership Scholarship Award. We are delighted to recognise her success and support her pursuit of higher education."
"Conyers has been awarding scholarships to CedarBridge students since 2003 and is committed to supporting professional development in Bermuda."

Read More About