For the last 40 years, the partners of Appleby have provided awards and bursaries to qualified Bermudian applicants who have demonstrated academic excellence within the legal field, community outreach and extracurricular activities.
The year's Legal Education award, valued at $30,000, is awarded to Karim Creary, a graduate from St. Lawrence University who has been a legal intern at Appleby since November 2017. He begins his GDL at The University of Law in September.
L-R: Nicole Yearwood, Zantae Dill, Shannah Butterfield [Human Resources Manager], Karim Creary, Tim Faries [Bermuda Managing Partner], Kaisha Wilson, and Ligaya Sanchez-Wilson. Missing from the photo: Kristin Dill and Conor Hay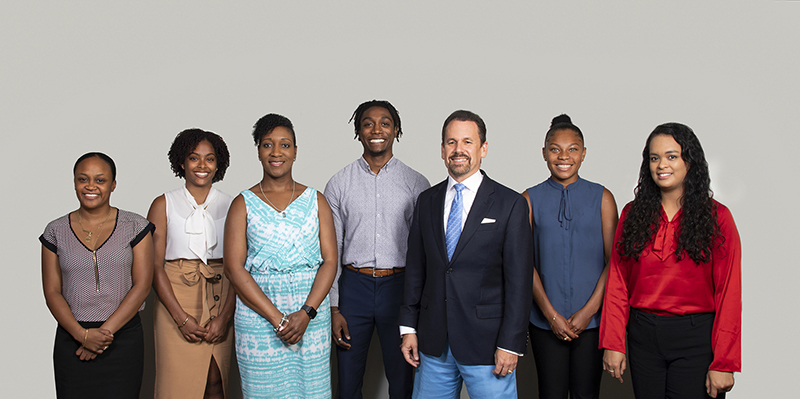 Mr Creary said, "Having spent close to the last two years at Appleby, working within the Corporate, Central Records and Compliance departments I am glad that my experience has culminated into my reception of the Legal Education Award.
"The knowledge that Appleby is willing to invest in my future, and believes that I can accomplish my goal of becoming a qualified lawyer is a positive reassurance as I prepare to complete the GDL course. Thank you to all of the Appleby family who have guided me along my way and made this possible."
Appleby said they are also" pleased to congratulate our Legal Education Bursary recipients, who will also have the option to apply for summer internship opportunities."
Legal Education Bursary
Kristin Dill – Attending Queen Mary University of London in September, starting her LLB
Zantae Dill – Attending The University of Law in September, starting her LPC with a MSC in Business Management
Conor Hay – Attending King's College London in September, starting his LLB
Ligaya Sanchez-Wilson – Attending City, University of London in September, starting her joint Bar Professional Training Course and Master of Laws in Bar Professional Training
Kaisha Wilson – Attending BBP University Law School in September, starting her LPC
Nicole Yearwood – Currently studying at University of Leeds, going into her final year LLB
Tim Faries, Bermuda Managing Partner, said: "Appleby is committed to providing educational opportunities to Bermudian students who are interested in pursuing a career in law.
"This year's award and bursary recipients are a stellar group of academic and community-minded young Bermudians who are sure to make long-lasting contributions to Bermuda's professional industry and community. We wish Karim and the many other deserving recipients the best of luck during their studies this year."

Read More About