Bermuda's Nonsuch Expeditions collected this impressive 2.5 inch Sargassum Swimming Crab from the large mats of Sargassum seaweed which were in local waters recently.
Non-Such Expedition's J.P. Rouja posted this photo on the organisation's social media feeds on Friday [Aug 23], saying his team is attempting to identify patterns in the seaweed's biodiversity and to log any changes.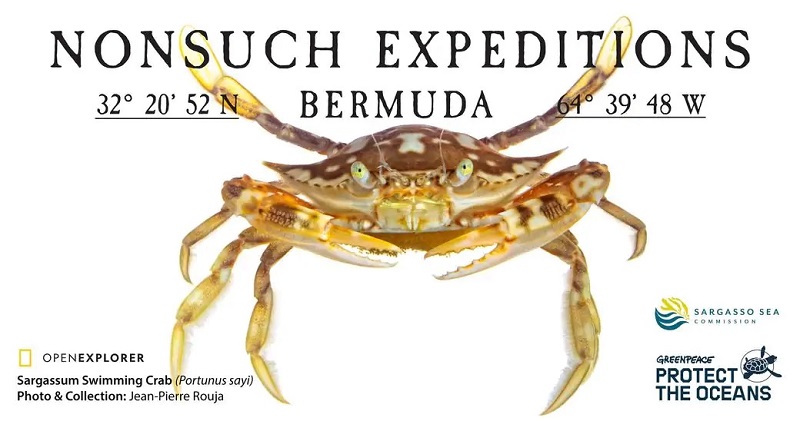 Mr. Rouja said such surveying of the seaweed is particularly important at this time since "the larger mats currently causing problems in the Caribbean seem to be less biodiverse."
Nonsuch Expedition's primary role is to showcase ongoing conservation efforts at Nonsuch Island in Castle Harbour.
Its CahowCam project, run in conjunction with the Bermuda Government Department of Environment & Natural Resources, has been broadcasting live from the underground nesting burrows of Bermuda's critically endangered national bird for almost a decade. .
But Nonsuch Expeditions are also local ambassadors for the international Sargasso Sea Commission. Bermuda sits near the western boundary of the Sargasso sea, an area of ocean distinguished from other areas of the North Atlantic by its namesake Sargassum seaweed and often calm blue waters.
In recent weeks Nonsuch Expeditions has been working with team members aboard the Greenpeace vessel Esperanza, which has been conducting research into the effects of fossil fuel and plastic pollution in the Sargasso Sea.
You can follow Nonsuch Expedition's Sargasso Sea blog here.

Read More About
Category: All, Environment