The Atlantic Lionshare team recently developed a remotely operated vehicle dubbed The Reef Sweeper that has removed more than 1,000 lionfish from the Bermuda Platform so far this year, with more removal work planned to take place in the future.
A spokesperson said, "By now, most members of the Bermudian public will be aware of the invasion of Indo-Pacific lionfish in the western Atlantic Ocean, which is putting marine ecosystems from New England to Brazil at risk of ecological damage, with Bermuda's reef being no exception.
"Lionfish are voracious predators that eat large quantities of small fishes and crustaceans from the reefs, can produce up to 30,000 eggs every 4 days, and have no known predators.
"Atlantic Lionshare is a Bermuda-based company that has spent the past five years developing a remotely operated vehicle [ROV] designed specifically to harvest lionfish. The ROV is called The Reef Sweeper and it has removed more than 1,000 lionfish from the Bermuda Platform so far this year.
"This significant achievement will lead the way forward in protecting coral reefs across the western Atlantic region.
"Lionfish culling tournaments like Groundswell, grocery stores such as Miles, restaurants such as Huckleberry, and clubs such as The Royal Hamilton Amateur Dinghy Club have helped to create demand for consumption of lionfish, which is a very healthy – not to mention tasty – menu option.
"For more than 10 years now, free divers, scuba divers and technical divers have been harvesting lionfish here in Bermuda, and elsewhere, for personal consumption and to feed this market. Bermuda's community of divers has done an outstanding job of keeping our near shore reefs from being overrun by lionfish, but they can only operate in relatively shallow areas. Even technical divers can't go much deeper than 60 metres.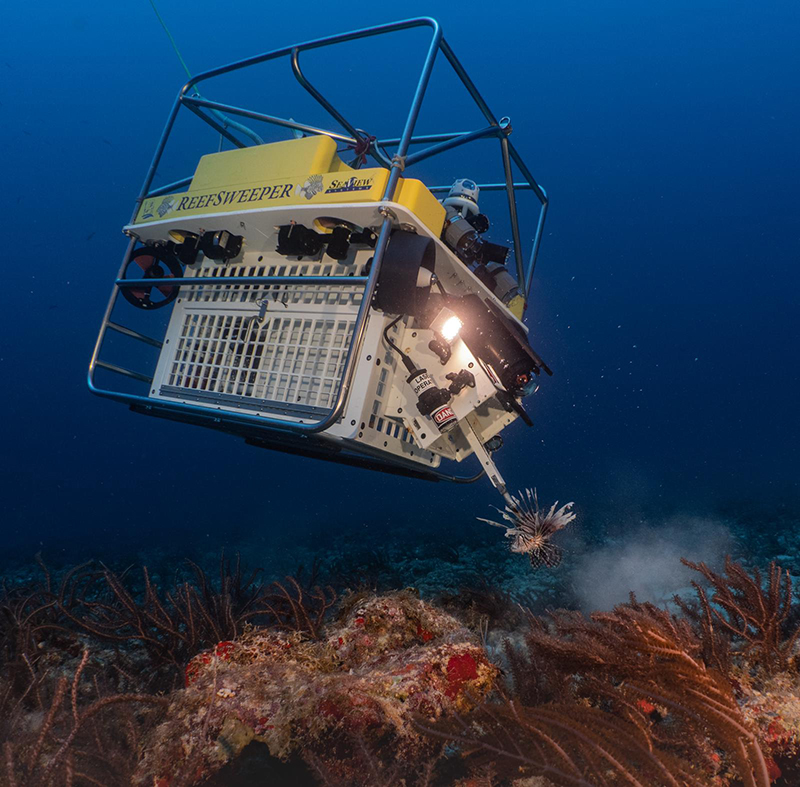 "However, surveys conducted around the edge of Bermuda by the Nekton Mission in 2016 showed that lionfish are present at depths as great as 300 metres / 1,000 feet, and there is an urgent need to harvest lionfish at depths beyond the limits of humans using dive gear.
"While the Bermuda Government's Department of Environment and Natural Resources and the Bermuda Institute of Ocean Sciences have been testing lionfish traps in deeper waters around the island, there is always the risk of by-catch – capturing fish other than lionfish.
"The Reef Sweeper complements the removal efforts of the other groups, as it can operate safely all day at depths down to 1,000 feet, and makes harvesting Lionfish on a commercial scale, with zero by-catch, feasible.
"The Reef Sweeper will help protect vulnerable deeper reef and hard bottom habitats, while providing a source of high quality protein for human consumption. Analyses have shown that lionfish are not only tasty, but they are a valuable protein resource rich in omega 3 fatty acids. Further, development of a lionfish market may take some pressure off more heavily fished species.
"Expect to see the deployment of Reef Sweepers for the commercial harvest of lionfish in other invaded jurisdictions across the region in the future.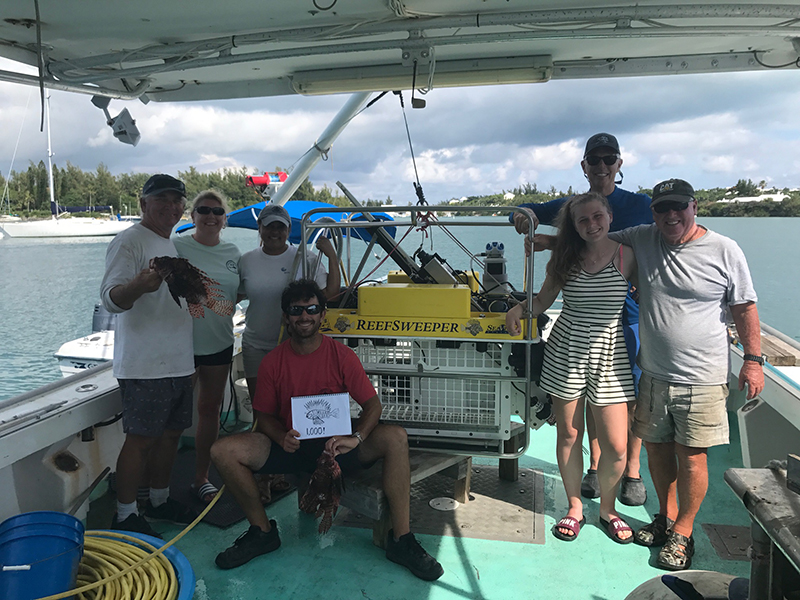 "Atlantic Lionshare developed their technology with the generous support of a number of local investors, as well as the Bermuda Lionfish Task Force. The Florida Fish and Wildlife Commission has also been supporting Atlantic Lionshare with a $50,000 development grant in exchange for an agreement to remove lionfish from Florida waters in depths greater than 150 feet.
"The boat [Atlantic Security], the ROV [The Reef Sweeper] and the team have recently relocated to Destin, Florida, where they will focus on large scale removal and sale of lionfish.
"Atlantic Lionshare has a commercial business model and is actively seeking corporate sponsors who would like to be associated with large scale removal of lionfish from the invaded region. For more information please contact owner and managing director Elizabeth Martin at liz@atlanticlionshare.com."

Read More About
Category: All, Environment