Rego Sotheby's International Realty Bermuda announced its sponsorship of Bermuda's first Pride Parade, which is set to take place tomorrow [Aug 31].
"To celebrate being the 1st Bermuda real estate company to sponsor the landmark event, the full-service real estate firm recently welcomed Elizabeth Christopher from Bermuda Pride and Adrian Hartnett-Beasley of OUTBermuda to discuss the significance of this occasion and inclusive environments," the company said.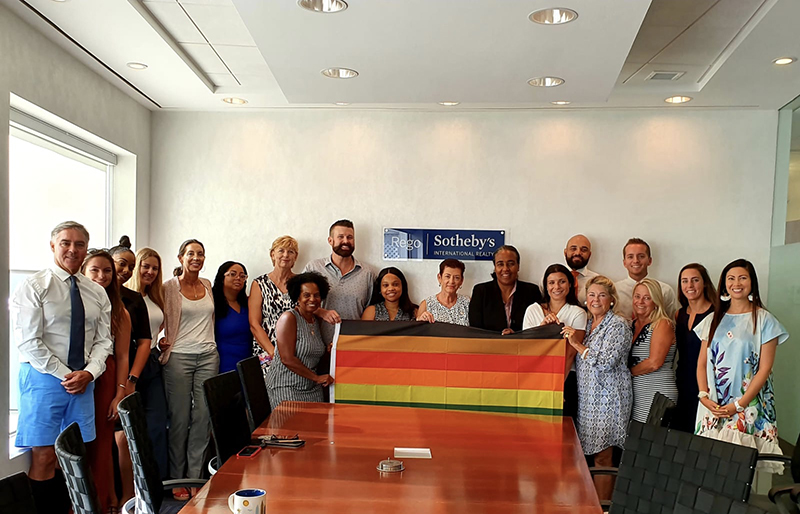 "As the first event of its kind on the island, the day is arranged to recognize the 25th anniversary of the Stubbs' Bill – the first major movement towards the decriminalization of homosexuality. Its aim is to foster positive, supportive spaces for all regardless of identity in both personal and professional communities."
Elizabeth Christopher, Bermuda Pride remarked: "Bermuda Pride is about more than the event itself. It's a testament of the obstacles to fairness we're overcoming and the solidarity we're receiving from our families, friends and colleagues.
"We're thrilled to have received a sponsorship first like that of Rego Sotheby's International Realty, which is reflective of their commitment to safe environments that promote fairness and respect, regardless of identity."
Penny MacIntyre, Partner, Rego Sotheby's International Realty commented: "Rego Sotheby's International Realty culture values individuality as much as inclusivity, which is why we're committed to celebrating the differences and similarities of our colleagues, business partners and clients both internationally and here at home. We're honoured to be the first real estate company to sponsor this important event and proud to be industry leaders in innovative and inclusive workspaces."

Read More About