[Updated] The organisers of the Unity Festival — which will feature Buju Banton — held a press conference this afternoon [Aug 13], where they provided more information on the upcoming concert, which they said is expected to attract thousands of attendees.
Preparations underway today at the NSC: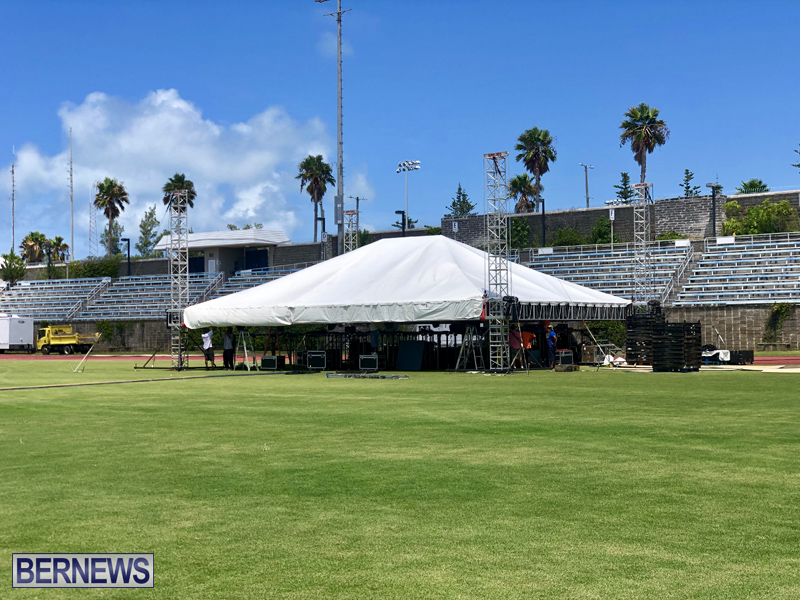 The organisers previously said "The reggae veteran will take the stage at the National Sports Centre on August 17 in what is expected to be a sold-out event. The strong lineup includes international artists Wayne Wonder, Agent Sasco aka Assassin and Masicka. Bermudian artists Jesse Seymour, Live Wires and C'Danger will also perform, all backed by the Wall Street Band."
"We are excited to bring one of the best concerts Bermuda has seen in a long time. We have curated an excellent lineup with excellent international and Bermudian talent and anticipate an outstanding event.
The press conference has just concluded and we will have additional information later on, and in the meantime the live video replay is below.
The 4-minute live video replay is below:
For more information and tickets please visit www.unityfestivalbda.com.
Update 4.26pm: A spokesperson said, "The organizers of Unity Festival Bermuda would like to thank the public for the overwhelming enthusiasm, encouragement, and support we have received since this event was announced.
"We look forward to providing a spectacular, unforgettable, and safe experience for our patrons on August 17, and we remind our patrons that limited event tickets are still available at all locations.
"All patrons will be searched thoroughly upon entry, and entry will be denied to individuals carrying food, liquids, chairs, or any prohibited items. Police will be on hand to assist event security with any anti-social behavior. The Gates will open at 7:00 pm and the show will start promptly at 9:00pm.
"Road closures will be in effect in Devonshire and Pembroke parishes on Saturday, August 17 from 6:00 pm – 3:00 am as follows:
Parsons Road: closed between the junction with Robert's Avenue and the Montpelier Road Roundabout.
Roberts Avenue: traffic will be allowed to pass along the Northbound carriageway only between Parson's Road and Palmetto Road.
Frog Lane: traffic will be allowed to pass along the Southbound carriageway only between the Frog Lane Roundabout and the Montpelier Road Roundabout.
Montpelier Road: traffic will be allowed to pass along the Southbound carriageway only between the Roundabout and the junction with Happy Valley.
"Parking will be available as follows:
CedarBridge: Limited
Bulls Head Parking Lot: Overflow
Arboretum: VIP
National Sports Centre: Ultra VIP
"VIP Parking will be available at the Arboretum, and will include a shuttle to the stadium. Limited parking will be available at CBA
Free Shuttle Service
"Shuttle service will be available from the Bull's Head Parking Lot on Saturday, August 17 from 8:00 pm – 11:00 pm. Patrons can board the free shuttle service from the Bulls Head Parking Lot Elliott Street exit near Pasta Basta Restaurant.
"Patrons will be able to board the shuttle to return to Bulls Head Parking Lot at a gathering point near the junction of Parsons Road and Robert's Avenue, starting at 1:30 am until 3:30am
Taxi Station
"To encourage responsible driving, a dedicated taxi station will be located just South of the Montpelier Road Roundabout from 1:30 am until 3:00am on August 18."

Read More About
Category: All, Entertainment, Music, News, Videos