[Updated] The Unity Festival organizers said they "regrettably announce that due to circumstances beyond their control Wayne Wonder will not be performing at Unity Festival on August 17, 2019."
"All other advertised acts are confirmed and scheduled to performed and the Unity Festival organizers promise attendees an amazing show full of additional surprises. Please note that Wayne Wonder was scheduled and confirmed and his inability to perform was due to an external conflict that has nothing to do with the Unity Festival organizers," a spokesperson told Bernews.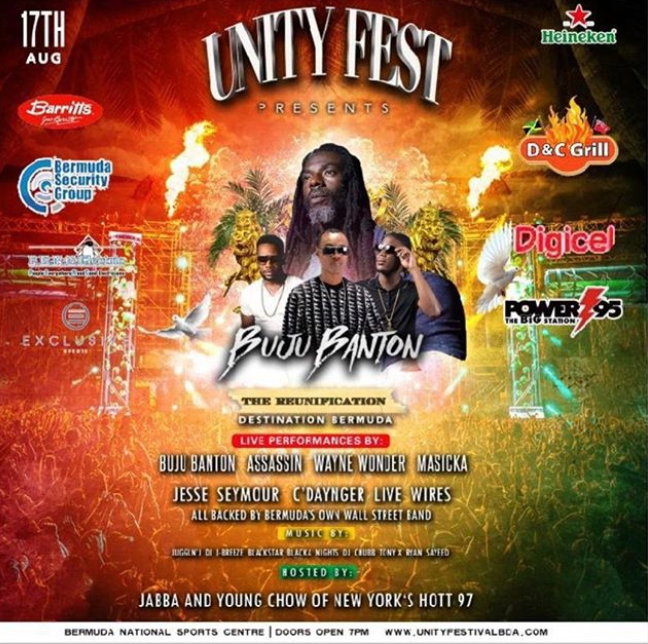 "On behalf of Unity Festival, we apologize for any disappointment this may cause and we continue to work hard to bring Bermuda an unforgettable concert event. If you have an questions or concerns, please contact Unity Festival directly by emailing admin@unityfestivalbda.com."
The event is scheduled to take place tomorrow evening, with the other scheduled artists to include headliner Buju Banton, Agent Sasco aka Assassin, Masicka, as well as Bermudian artists Jesse Seymour, Live Wires and C'Danger, who will all be backed by the Wall Street Band.
Earlier today, Wayne Wonder posted an Instagram story saying, "To all my Bermuda fans, I'll not be appearing on @unityfestivalbda this Saturday due to circumstances beyond my control."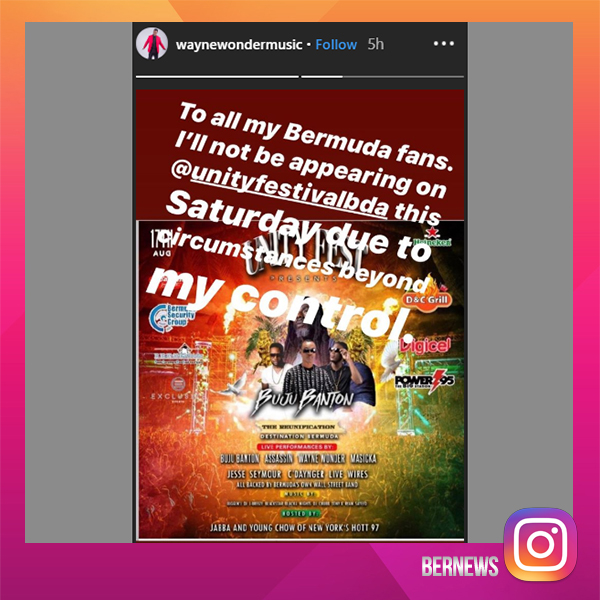 Update 4.24pm: We had reached out to Mr Wonder prior to posting this story, and subsequent to posting it, a comment has been left on Bernews Instagram account from Wayne Wonder's Instagram account [as seen below] saying, "This story you posted is not the true story not even me know the truth behind this. Please go back to @unityfestivalbda page and you'll see that they removed that post."
It is unclear what post is being referenced as removed, as the post containing the statement above is still active on the Unity page. In an effort to get a greater clarity, we asked Mr Wonder for further clarification and also asked the promoters for a response, and neither have been successful at this time, however we will update if able.
On a more positive note, Buju Banton has arrived in Bermuda.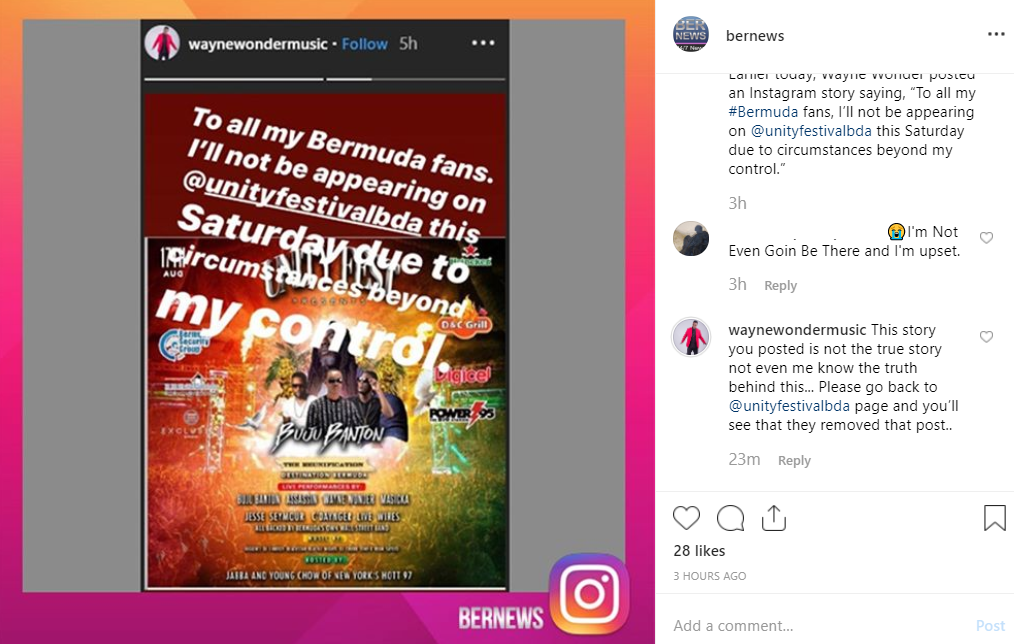 Read More About
Category: All, Entertainment, Music, News