Bermudian actor Daren A. Herbert will be headlining a major Toronto revival of a classic 1972 South African play often credited with bringing the day-to-day horrors of apartheid to the attention of worldwide audiences.
Long based in Canada, Mr. Herbert will be appearing alongside Ghana-born actor and playwright Tawiah Ben M'Carthy in the forthcoming production of Sizwe Banzi Is Dead,
The play is on the bill for the Toronto Soulpepper Theatre Company's January-August 2020 season, the first programmed by its new artistic director Weyni Mengesha.
Trailer for the SoulPepper Theatre Company's production of The Brothers Size featuring Bermudian actor Daren A. Herbert
The largest and most celebrated not-for-profit theatre company in Toronto, the theme of SoulPepper's upcoming season is "breaking ground."
"As we plan the future growth of this company, I was inspired by looking at plays that broke new ground when they premiered," said Ms Mengesha in a statement issued this week. "What I found was a body of work that continued to speak profoundly to our community today…. These are stories of identity, struggle, passion, and change."
Deftly dealing with the themes of the themes of identity, self-worth, racism, and oppression, Sizwe Banzi Is Dead is set in a South African photography studio in the days when that country's black population were required to carry pass books, a kind of internal passport.
South African playwright Athol Fugard. who one biographer said "gave voice to the grievances of the voiceless millions" in his country, wrote the play in collaboration with actors John Kani and Winston Ntshona, both of whom appeared in the original South African, London and New York productions.
The play will run from July 9 to August 5, 2020.
Daren A. Herbert and Mazin Elsadig in a scene from The Brothers Size. Photo: Cylla von Tiedemann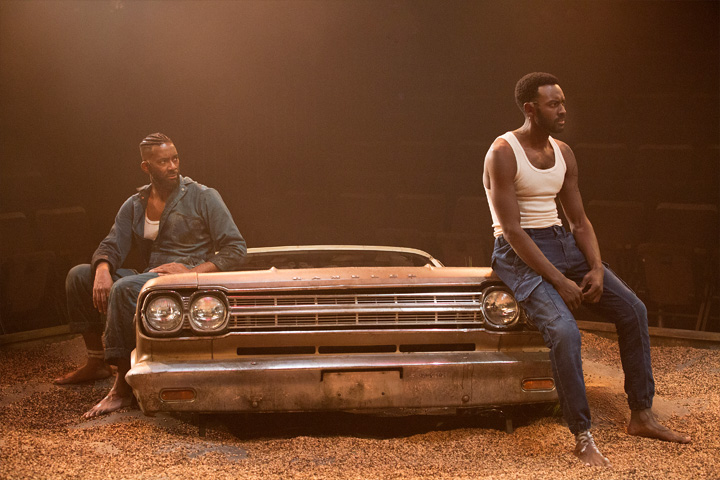 Sizwe Banzi Is Dead is one of a trio of plays Mr. Herbert will be appearing in during SoulPepper's 2020 season.
Ms Mengesha herself will be directing him in a production of Jesus Hopped the "A" Train, a play about two men awaiting trial for murder at New York's Rikers Island Prison.
That play received widespread acclaim when it was originally staged off-Broadway and in London in 2000, described by one critic as as "hysterical and irreverent … an outstanding piece about imprisonment and moral responsibility."
Jesus Hopped The "A" Train will run from January 23 to February 19.
And he will also be treading the boards in a production of Anton Chekhov's 1896 theatrical classic The Seagull between March 26 and April 22.,
Daren A. Herbert, Marcel Stewart and Thomas Olajide during rehearsals for The Brothers Size. Photo: Daniel Malavasi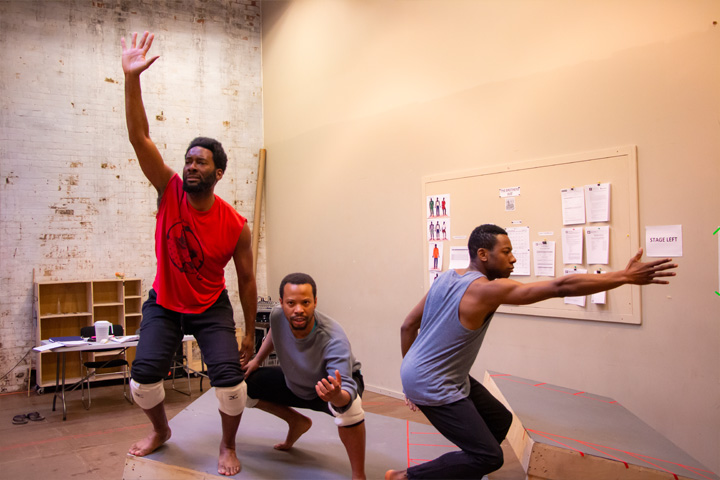 The award-winning Mr. Herbert, who has a long association with Soulpepper, appeared in its acclaimed production of The Brothers Size earlier this year.
Between his stage appearances and roles in such movies as Hot Tub Time Machine and TV shows including Designated Survivor and Private Eyes, he has returned to the island a number of time in recent years to lead acting workshops for Bermuda students.
In 2018 Mr. Herbert played the title role in The Music Man at Canada's Stratford Festival, the most prestigious and well-attended celebration of the performing arts in that country.
The SoulPepper Theatre Company is located at the recently built Young Centre for the Performing Arts in Toronto's downtown Distillery District.
You can find out more information about SoulPepper and book tickets for next year's shows here.
Read More About
Category: All, Entertainment, News