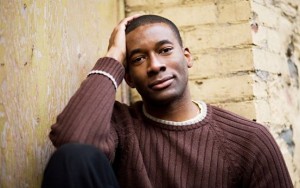 There's no business like show business like Bermuda's own Daren Herbert [pictured] knows.
The Bermudian star of stage and screen will be returning to the island next month to help introduce aspiring local performers to an array of behind-the-scenes techniques actors need to know for work in movies, television and theatre.
The "Bermuda to Broadway Musical Theatre Workshop Series" will be held on Saturday January 7th and Sunday January 8th, 2012 at the Berkeley Institute.
The two-day event will be filled with workshops that will provide participants with a unique, fun, non-competitive opportunity where they can learn the necessary skills needed for success in theatre.
Aside from Bermuda's own international star Mr. Herbert ["Dreamgirls", "2012", "Hot Tub Time Machine", "The Light in the Piazza"], Broadway actor Stanley Mathis ["The Lion King", "Kiss Me Kate", "Wonderful Town", "Oh Kay"] will be helping to lead the sessions.
Both instructors bring a wealth of experience that they will share with participants throughout the workshops.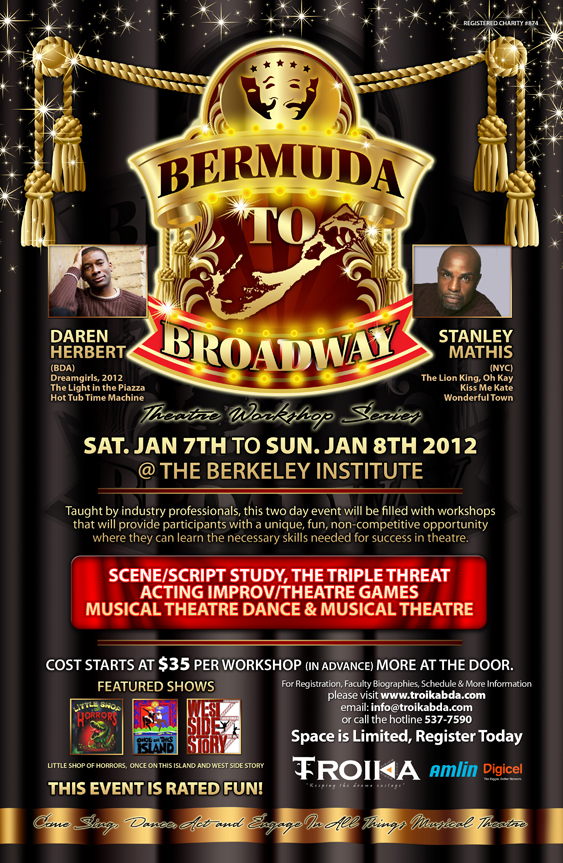 Participants will have the opportunity to take part in the following workshops:
Scene/Script Study:
In this Workshop, participants will focus on how to approach new material with proper technique, understand direction & adjustment, make strong choices, and most of all have confidence when performing. Participants will learn how to develop specific emotions to apply to their monologues and scene work. The workshop will focus on scene work from Broadway, film and television.
The Triple Threat:
This workshop focuses on giving participants the tools necessary to help them stand out from the crowd and bring more excitement to their auditions & performances. Participants will have the opportunity to work on every area of musical theater performance including movement, song interpretation, and vocal coaching & performance technique. Participants will learn how to find strong acting focuses for their audition pieces and find new ways to perform them. Participants need to arrive with 2 pre-prepared songs and monologues as if they would be auditioning for a show.
Acting Improv/Theatre Games:
This workshop focuses on improv/theatre games to help open up the imagination and allow participants to better connect with characters and bring them to life. Participants will actively participate during this fast-paced and fun session. After a short warm-up session, participants will engage in improvisational exercises designed to heighten their 
focus, creativity and quick thinking.
"Little Shop of Horrors" – Musical Theatre Dance:
This class is for dancers of all levels from all backgrounds and is structured to push each participant to their individual next level. Participants will learn original choreography and movement from the Broadway Show "Little Shop of Horrors". Class starts with a warm up and ends with choreography.
"Once on This Island" – Musical Theatre:
Participants will be provided with sheet music and they will work with the instructor and musician. This workshop recreates a true Broadway rehearsal, with participants learning the choreography, staging and music directly from the Broadway show "Once on This Island."
"West Side Story" – Musical Theatre:
Participants will be provided with sheet music and they will work with the instructor and musician. This workshop recreates a true Broadway rehearsal, with participants learning the choreography, staging and music directly from "West Side Story."
Read More About
Category: All, Entertainment