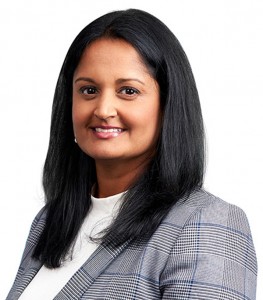 Estera has appointed Sonal Patel as Managing Director, Head of Sales – Americas, Bermuda and Caribbean.
A spokesperson said, "Sonal joins Estera at a significant time for the business as strategic enhancements continue to be implemented across the group, including investments in leadership, facilities and enhanced service capabilities.
"Sonal will focus on implementing Estera's regional growth strategy, further developing relationships with US clients and intermediaries for Estera Bermuda, BVI and Cayman Islands.
"Sonal joins Estera with over 20 years' experience at BNY Mellon in business development, sales and relationship management.
"Most recently Sonal was the Managing Director – Business Development, US and Americas, where she was responsible for the company's largest and most complex global client relationships; her responsibilities included sourcing and cultivating new business opportunities across businesses and geographies."
James Maitland, Regional Head of Americas, Bermuda and Caribbean at Estera, said, "We are pleased to welcome Sonal to Estera as we continue to execute our key strategic business priorities and enhance our client experience. Sonal's partnership and expertise will play a key role in driving our growth across the region."
Farah Ballands, Group CEO at Estera, said, "The last few years have been tremendously successful for Estera. We have seen very strong results with significant revenue growth and we have built a well-diversified business. As well as investing in the growth of our long-established corporate and trust business we have also built a fully-fledged global funds capability.
"The wealth of experience that Sonal has will be invaluable to Estera, and her appointment will help take us to the next level, particularly in servicing US clients."
Sonal Patel said, "This is an incredibly exciting time to be joining such a dynamic business. Estera has an exceptional track record, provides outstanding client service and I can see many opportunities across jurisdictions to help build Estera's profile in the Americas."
A spokesperson said, "Estera employs over 550 people globally and services over 6,000 clients through its offices in both offshore and onshore jurisdictions. In Bermuda, Estera is one of the largest providers of corporate fiduciary services and is a key player in Bermuda's insurance market.
"In Cayman, Estera is a top tier CLO player and has an enviable reputation for delivering a full range of corporate, fund and fiduciary services. Estera specialises in incorporation and administration of BVI companies through its office in the jurisdiction."

Read More About