This Saturday [Sept 7], Team Hurricane Basketball Academy will embark on it sixth year as a registered charity, continuing its mission to "provide many life-enriching opportunities for its student-athletes."
A spokesperson said, "Team Hurricane Basketball Academy is a free youth program that uses the great sport of basketball as a vehicle for positive change in the lives of young people in Bermuda. Team Hurricane enters the 2019-2020 campaign eagerly seeking new players to join its family."
Founder/Head Coach Doug Reed said, "We are an inclusive, free year-round program that offers open enrollment, thereby allowing the youth of Bermuda to join Team Hurricane at any point during the year and enjoy our diverse slate of programs."
Kayla Raymond on defense: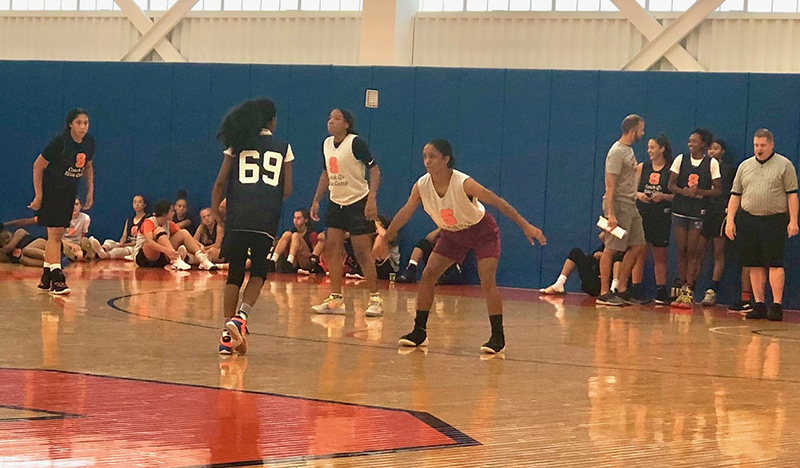 "We train at Warwick Academy on Saturdays and I invite players aged 7 – 20 years and their parents to come to our practice on any Saturday. They may come by between 2:00pm and 5:00pm, whereupon they'll be able to jump right in and play with our young student-athletes and witness first-hand the Hurricane way of training."
A spokesperson said, "This upcoming campaign will feature Team Hurricane's continuing effort to attract girls and strengthen the Lady Hurricane component of its basketball academy. Team Hurricane's summer programming reflected this initiative as the academy sent two student-athletes, Samai Dunn and Taylor Herzog to the University of North Carolina for a girls' basketball camp.
"The University of North Carolina Girls' Basketball Camp, under the leadership of Head Coach Sylvia Hatchell, Naismith Hall of Fame Inductee 2013, provided the girls with an opportunity to learn, excel and perfect their game of basketball. The camp's experienced and knowledgeable staff helped Samai and Taylor to develop and improve their skills of the game in a challenging but fun atmosphere."
Ms. Dunn said, "I got to play with girls my age and I learned a lot from the coaches and other players. I learned how to adjust my shot and shoot in one motion. I felt I could have played better. I got into my own head at times. But I learned how to read defenses and I was able to learn some of the moves I see done on TV. I definitely want to go back next year."
Samai Dunn: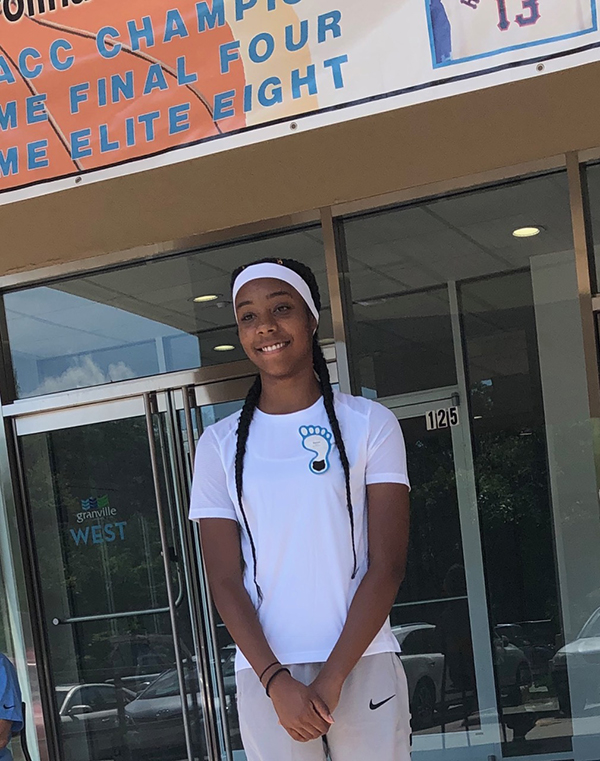 Taylor Herzog said, "The camp had good drills. They were simple but they helped you get better. The coaches were very supportive. The games, fouls called and how the people player, everything was safe. I absolutely would love to go again."
A spokesperson said, "This summer also saw more girl power as Lady Hurricane Kayla Raymond [Mount Saint Agnes Academy, S4] participated in two elite basketball experiences – Global Squad and Syracuse University's Quentin Hillsman's Elite Camp. Global Squad is an intensive summer basketball program run by the Alexander Basketball Academy a month-long academy held at The Hill School, in Pottstown, Pennsylvania from June 27th to July 27th.
"Each summer the Global Squad provides international student-athletes with an opportunity to get recruited by U.S. colleges and universities, by putting them in front of college coaches, while providing elite training required to play at the next level.
"The Quentin Hillsman Camp at Syracuse University is for advanced and skilled high school and middle school players. The camp is designed to help prepare top players for the college game."
Kayla Raymond said, "This was my third year attending the camp; I played much better and felt more confident in my game."
Taylor Herzog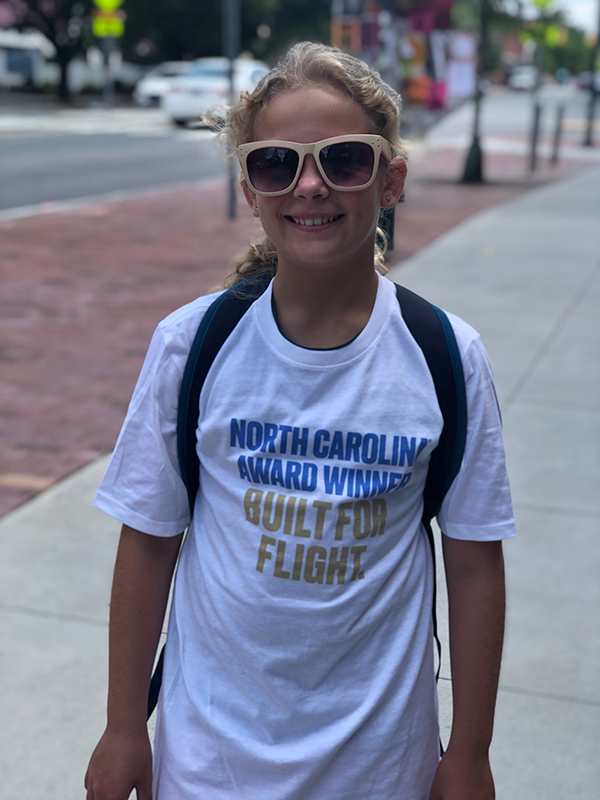 A spokesperson said, "Girls and boys who join the Team Hurricane family have an opportunity to participate in a variety of programming beyond its weekly Saturday training sessions that includes Syracuse University Tour – Basketball Camp Experience.
"Team Hurricane Basketball Academy trip to Syracuse University and the Jim Boeheim Basketball Camp promotes the college experience to its young people while also providing Team Hurricane players the opportunity to learn the game the same way the renowned Syracuse University Orange squad is coached and, in the process, helped the sport of basketball grow in Bermuda."
Ms. Raymond said, "I had a wonderful experience meeting other girls who have a passion for basketball like I do. I got to know about them and how they play on the court. This was one of the best basketball camps I have been to. The coaches were very focused on making sure players are working hard and doing the best they can while also enjoying the game of basketball.
"Coach Alexander said that nothing comes easy and that in order to get better, training needs to be difficult."
Ralph Scott & Josiah Belboda with Syracuse mascot Otto the Orange: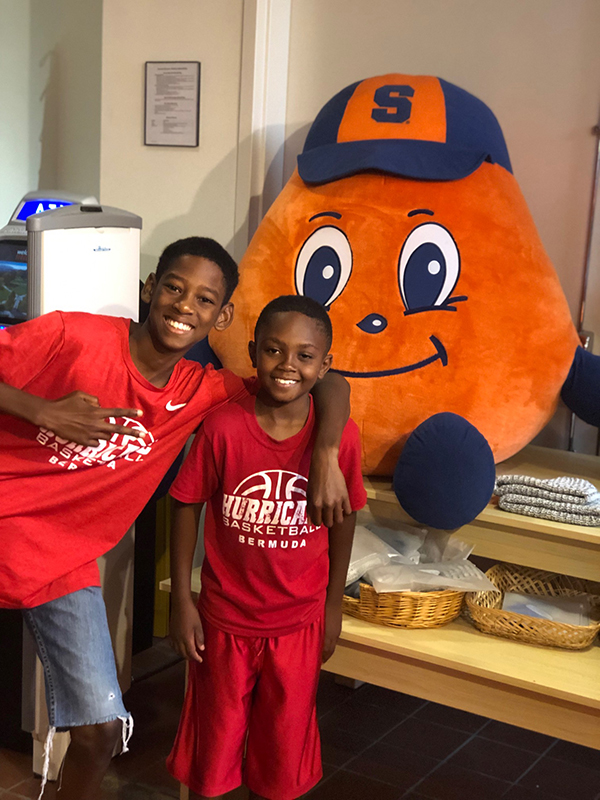 A spokesperson said, "For the fifth year in a row, the Team Hurricane-Global Squad Invitational Skills Camp. Sponsored by Allied World Assurance, Team Hurricane Founder and President, Doug Reed, handed the reins to John Alexander of Alexander Basketball Academy, a well-regarded basketball institution experienced in bringing international players to U.S. college coaches. The camp is designed to scout and recruit, invited NCAA level talent from here in Bermuda.
"Coach Donnie Arey of Warner University provides a camp experience that targets advanced level performance basketball training done at a High School, University and Pro level. The focus was on drills that prepared Team Hurricane players for the fitness and skill levels needed to compete well at their current and future basketball opportunities."
Coach Arey said, "The purpose of this 3-day session was to challenge Team Hurricane members while also allowing them to have fun."
A spokesperson said, "Team Hurricane's Students First Educational Program is organized and overseen by Registered Psychologist, Dr. Mellisa Gibbons Tankard of HARTT Services and former Project Director of Higher Achievers Afterschool Program in Washington DC. Students First provides direct academic assistance for students in the form of academic screening, and individualized tutoring."
Team Hurricane Summer Camp with LaShee Jones: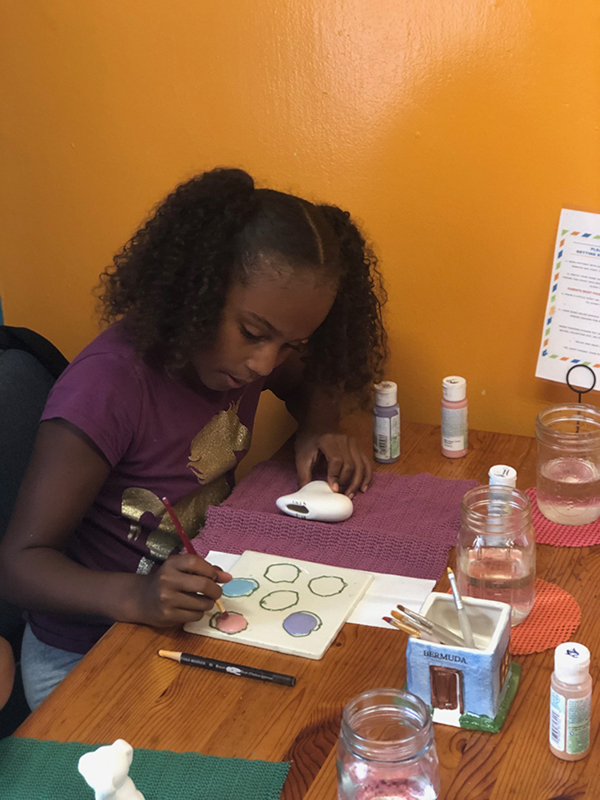 "Team Hurricane Community Camp Series, located at the Old Talbot School, 155 South Road, serves a diverse population of students, ages 6 – 18. Our camps are committed to serving students from all parishes in Bermuda. Enrollment into Hurricane Camps is not limited to Team Hurricane Basketball Academy members but is open to students with a desire for academic enrichment, as well as a passion for sports and/or art disciplines.
"To learn more about Team Hurricane Basketball Academy and how you can enroll your child in this free program, please contact Coach Doug Reed at 504-1962 and via email at hurricanehoops@outlook.com. Also, visit the Team Hurricane website at teamhurricanehoops.com.
"Follow Team Hurricane Basketball on their Team Hurricane Basketball Academy Facebook Page, as well as on our blog and on Twitter."

Read More About