The Bermuda Technical Institute Association announced that one of "Britain's foremost proponents of STEM education," Mr. Thomas Ilube, will visit Bermuda on Tuesday, October 1.
A spokesperson said, "Mr. Ilube, an engineer of note, rated the most powerful U.K. resident of African and Caribbean heritage, is a leader in the field of cyber security and has been featured in media across the United Kingdom. While on the island, he will address the captains of industry, educators, and students.
"Mr. Ilube will speak to the nature of business and the impact artificial intelligence is likely to have on business operations in Bermuda and around the world.
"Mr. Ilube is the brains behind the National College for Digital Skills, which opened its doors in 2016 as the first new U.K. further education college in some 23 years.
"He founded the Hammersmith Academy, a state secondary school in Hammersmith, West London, considered one of the U.K's most innovative technology schools.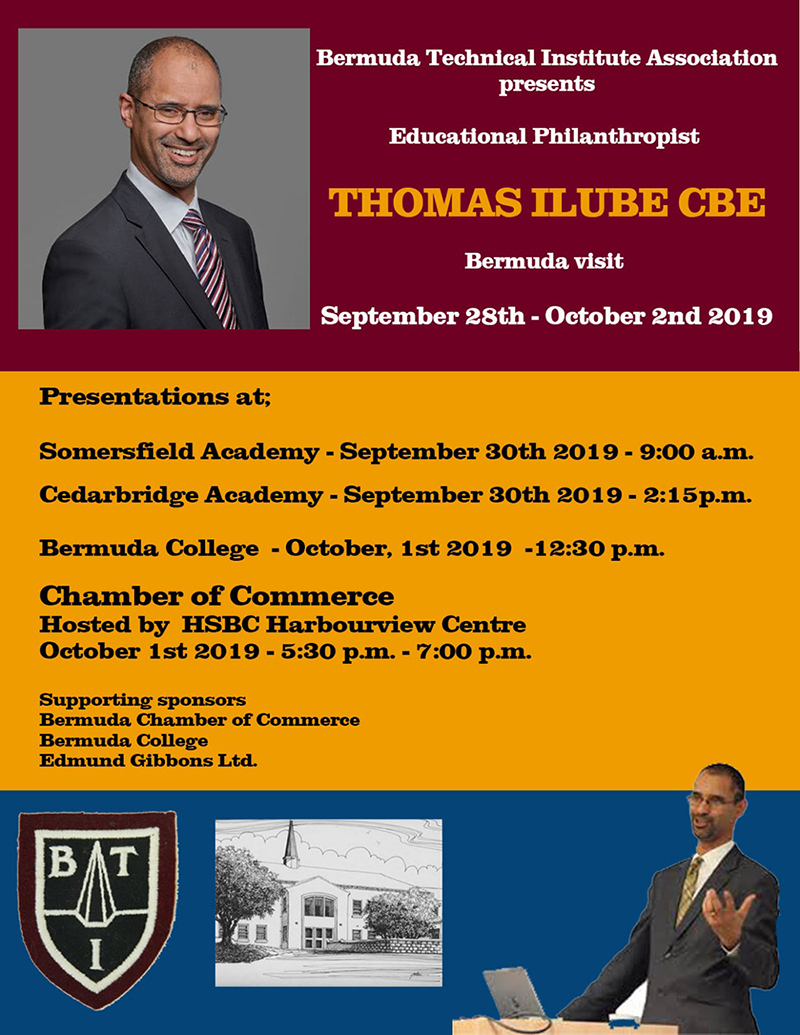 "The B.T.I.A. says Mr. Ilube comes to the island at a time when the educational system is about to undergo another review, and hopefully can provide some insight to trends in the U.K. and other jurisdictions. The Association has its focus on technical education and the deployment of technology that will fuel jobs and skills for twenty first century Bermuda.
"The U.K. businessman has his roots in Africa, and has gained worldwide acclaim for the establishment of the African Gifted Foundation, a U.K. education charity focused on science and technology in Africa. He recently launched the African Science Academy, Africa's first all-girls science and maths academy.
"He was appointed a Commander of the Order of the British Empire in the 2018 Birthday Honours for services to Technology and Philanthropy.
"Mr. Ilube will address faculty and students at Somersfield Academy at 8:30am on September 30 and will give a presentation at CedarBridge Academy at 2:15pm that same day.
"On October 1 at 12:30pm, he will speak to the faculty, board, and students at the Bermuda College on the theme 'Disruptive Technologies that will reconstruct careers, reshape education, and transform society.'
"The Chamber of Commerce members will be the audience for Mr. Ilube on the evening of October 1 when HSBC hosts the presentation at the Harbourview Centre at 5:30pm."

Read More About