Bermuda went to bat first in their ICC Men's T20 World Cup Qualifier first warm up match against Nigeria at the Tolerance Oval, Abu Dhabi, United Arab Emirates, with Bermuda ending up winning the match by 53 runs.
Bermuda scored 171/5 in their allotted 20 overs with Opener Okera Bascome the top scorer with 49 off 35 deliveries, he hit 4 fours and 2 sixes, while Deunte Darrell scored 47 not out off 25 deliveries hitting 2 fours and 4 sixes.
In reply Nigeria were bowled all out for 118 as Bermuda recorded a 53 run victory. Adeleke Oyede was their top scorer with 25, while Kamau Leverock was the pick of the Bermuda bowlers with figures of 3-0-14-2, Rodney Trott bowled 3.5-0-26-2.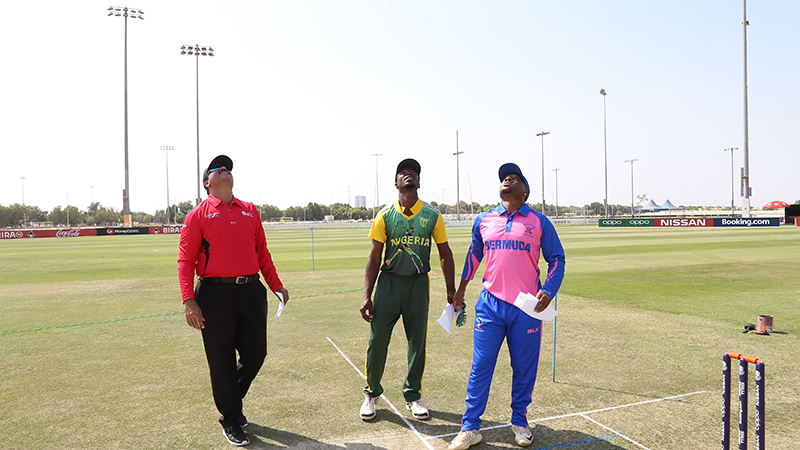 Bermuda Inning
..49 [35] Okera Bascome c Sylvester Okpe b Abiodun Abioye
..25 [27] Dion Stovell LBW Daniel Ajeku
..23 [17] Kamau Leverock b Daniel Ajeku
..03 [04] Allan Douglas c Chimezie Onwuzulike b Daniel Ajeku
..47 [25] Deunte Darrell Not Out
..12 [10] Onias Bascome Run Out
..04 [02] Janeiro Tucker Not Out
..08 Extras [5w-3lb]
171 Total for 5 Wickets after 20 overs
Fall of Wickets: 1-76 [Stovell], 2-84 [Okera Bascome], 3-90 [Douglas], 4-123 [Leverock], 5-166 [Onias Bascome]
Nigeria Bowlers
3.0-0-23-0 Vincent Adewoye
1.0-0-05-0 Chima Akachukwu
3.0-0-33-0 Isaac Okpe
2.0-0-21-0 Chimezie Onwuzulike
4.0-0-22-1 Abiodun Abioye
4.0-0-26-3 Daniel Ajeku
2.0-0-16-0 Sylvester Okpe
1.0-0-22-0 Sesan Adedeji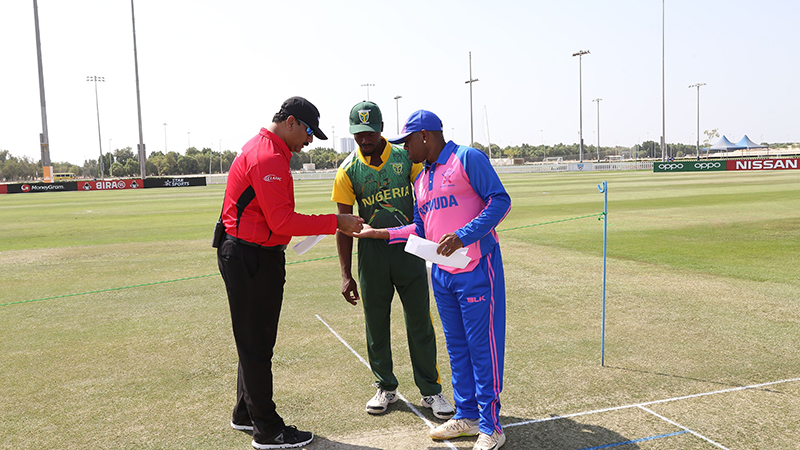 Nigeria Inning
..05 [12] Daniel Ajeku c Allan Douglas b George O'Brien ..25 [24] Adeleke Oyede c Malachi Jones b Kamau Leverock
..05 [05] Sesan Adedeji c & b Rodney Trott
..18 [18] Chimezie Onwuzulike c Dion Stovell b Janeiro Tucker
..02 [02] Vincent Adewoye Run Out
..07 [06] Isaac Okpe Run Out
..32 [20] Ademola Onikoyi c Sinclair Smith b Rodney Trott
..03 [09] Daniel Gim c Okera Bascome b Kamau Leverock
..10 [16] Sylvester Okpe c Kamau Leverock b Allan Douglas
..04 [04] Chima Akachukwu Not Out
..02 [03] Abiodun Abioye Run Out
..05 [5w] Extras
118 Total All Out after 19.5 overs
Fall of Wickets: 1-23 [Ajeku], 2-28 [Adedeji], 3-43 [Oyede], 4-53 [Adewoye], 5-62 [Onwuzulike], 6-73 [Okpe], 7-82 [Gim], 8-97 [Okpe], 9-116 [Onikoyi], 10-118 [Abioye]
Bermuda Bowlers
3.0-0-14-1 George O'Brien
4.0-0-19-0 Derrick Brangman
3.5-0-26-2 Rodney Trott
3.0-0-14-2 Kamau Leverock
3.0-0-20-1 Janeiro Tucker
1.0-0-06-0 Dion Stovell
1.0-0-05-1 Allan Douglas
1.0-0-14-0 Onias Bascome

Read More About