Taking part in their second ICC Twenty20 World Cup Qualifying match in Dubai, the Bermuda cricket team put on a strong showing, however were defeated by Singapore.
The ICC match report said, "Navin Param slammed an unbeaten 72 off 41 balls to hand Singapore their second victory in two games in the ICC Men's T20 World Cup Qualifier in Dubai on Sunday, 20 October.
"Having beaten higher-ranked Scotland in the tournament opener, Singapore were reduced to 41/4 chasing Bermuda's 149/7, and in danger of conceding their advantage on the points table. However, Param stuck around for an attacking half-century, in a game where none of his team-mates went beyond 26.
The team got off to a poor start, losing opener and star player Surendra Chandramohan in the first over to George O'Brien when he missed the flick and was struck on the knee roll. They slipped further when Rohan Rangarajan was bowled three overs later, and Aritra Dutta's resistance was broken, thanks to Kamau Leverock's spectacular one-handed take at backward point.
"In the ninth over of the chase, with Singapore still needing over 100 runs to win, it looked like Bermuda had the game in their grasp. However, Amanpreet Singh and Param had other plans. While Manpreet dropped anchor at one end, Param took it upon himself to play the attacking role. The duo rotated strike well, with Param making the most of being dropped in the 17th over on 45, Terryn Fray unable to hold onto a tough chance at mid-off.
"Bermuda broke the 79-run fifth-wicket stand in the 18th over as Manpreet charged down the track to skipper Dion Stovell, was beaten in flight and stumped. His partner's departure did not break Param's concentration, though. The determined youngster hit Stovell for two fours in the same over to take the equation down to 19 off 12 balls.
"Leverock started the penultimate over well, conceding only a couple of singles off the first two balls, but dragged the length back and was punished as Param flat-batted him over the sightscreen for this third six.
"Refusing to budge under pressure, Param scooped the first ball of the final over for a huge six over fine leg and took a quick single, allowing Janak Prakash to hit the winning runs.
"Earlier in the day, Bermuda struggled to get going. The top order crumbled, reduced to 29/3 in the eighth over. The pair of Janeiro Tucker and Deunte Darrell came to their rescue with a 55-run stand for the fifth wicket. Prakash's double strike in the 17th over broke the stand but Tucker stayed firm to bring up a fine fifty.
"Singapore now have two wins in two games and will play the Netherlands on Tuesday, while Bermuda, who have lost both their games so far, will take on Kenya on Monday."
Bermuda Inning
..04 (14) Okera Bascome c Surendran Chandramohan b Amjad Mahboob
..29 (31) Terryn Fray c Vinoth Baskaran
..00 (01) Dion Stovell Run Out
..01 (08) Delray Rawlins c Surendran Chandramohan b Sidhant Singh
..50 (34) Janeiro Tucker Not Out
..18 (18) Deunte Darrell b Janak Prakash
..05 (04) Onias Bascome c Surendran Chandramohan b Janak Prakash
..18 (06) Kamau Leverock c Sidhant Singh b Janak Prakash
..09 (04) Malachi Jones Not Out
..15 Extras (10w-5lb)
149 Total for 7 Wickets after 20 overs
Fall of Wickets: 1-25 (Okera Bascome), 2-25 (Stovell), 3-29 (Rawlins), 4-48 (Fray), 5-103 (Darrell), 6-109 (Onias Bascome), 7-135 (Leverock)
Singapore Bowlers
4.0-2-08-1 Vinoth Baskaran
4.0-0-44-3 Janak Prakash
4.0-0-25-0 Selladore Vijayakumar
4.0-1-35-1 Amjad Mahboob
2.0-0-17-1 Sidhant Singh
2.0-0-15-0 Tim David
Singapore Inning
..12 (17) Rohan Rangarajan b Malachi Jones
..00 (01) Surendran Chandramohan LBW George O'Brien
..15 (20) Tim David c & b Janeiro Tucker
..09 (11) Aritra Dutta c Kamau Leverock b Rodney Trott
..26 (26) Amanpreet Singh st Okera Bascome b Dion Stovell
..72 (41) Navin Param Not Out
..06 (06) Janak Prakash Not Out
..12 Extras (7w-3lb-2nb)
152 Total for 5 Wickets after 19.3 overs
Fall of Wickets: 1-1 (Chandramohan), 2-21 (Rangarajan), 3-37 (Dutta), 4-41 (David), 5-116 (Singh)
Bermuda Bowlers
3.3-0-26-1 George O'Brien
3.0-0-21-0 Delray Rawlins
3.0-0-24-1 Malachi Jones
3.0-0-20-1 Rodney Trott
2.0-0-16-1 Janeiro Tucker
3.0-0-25-0 Kamau Leverock
2.0-0-17-1 Dion Stovell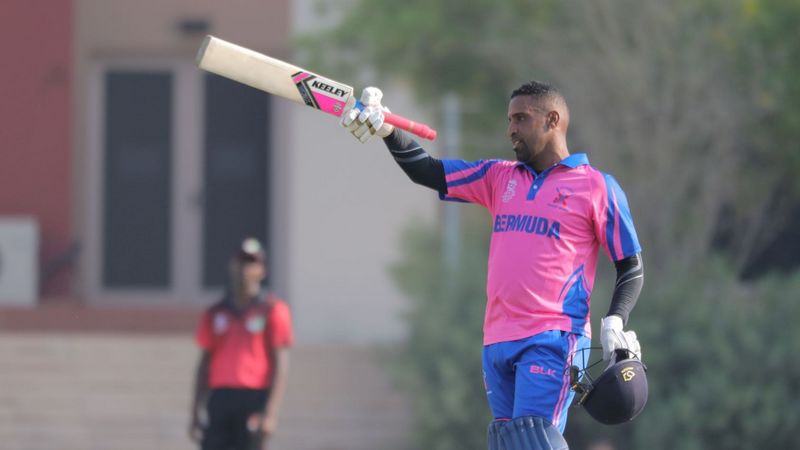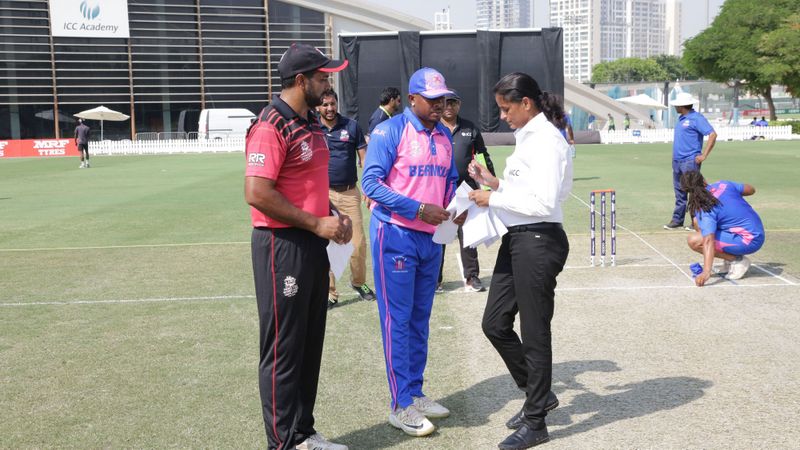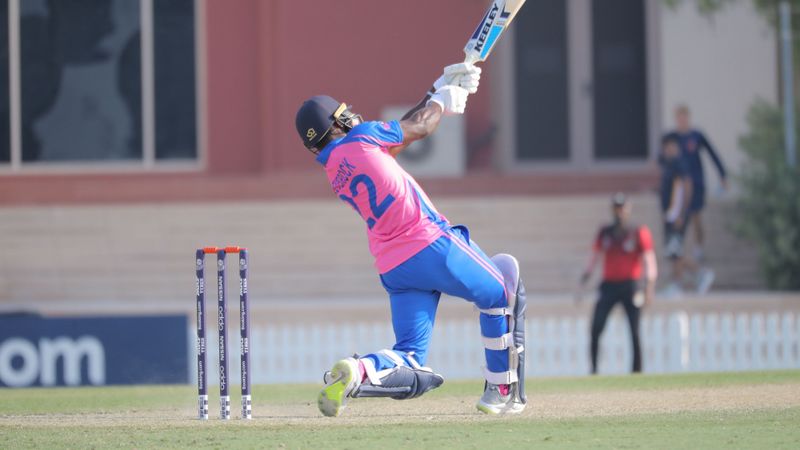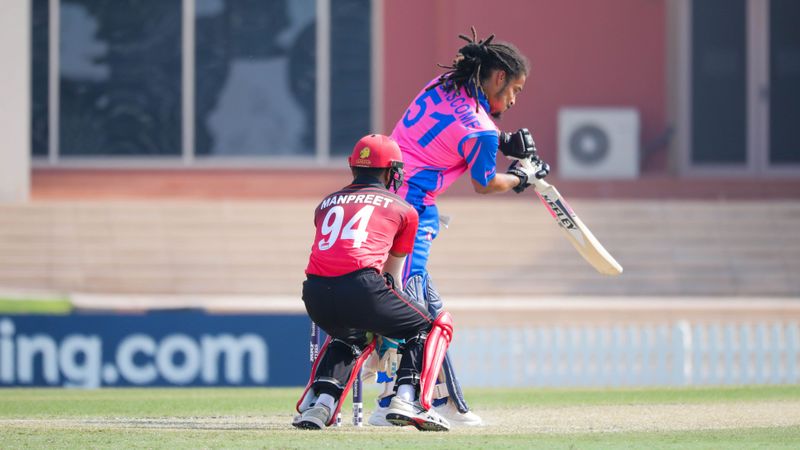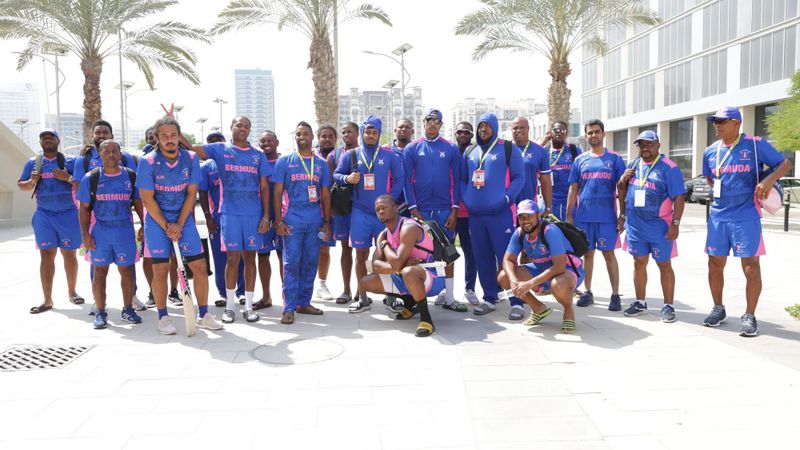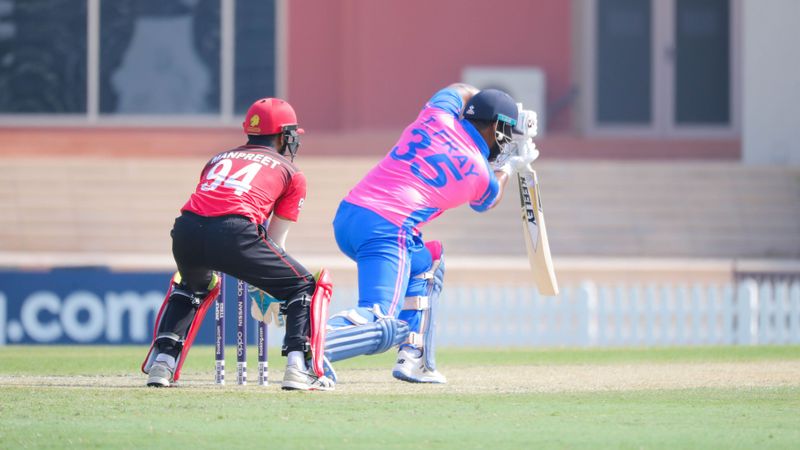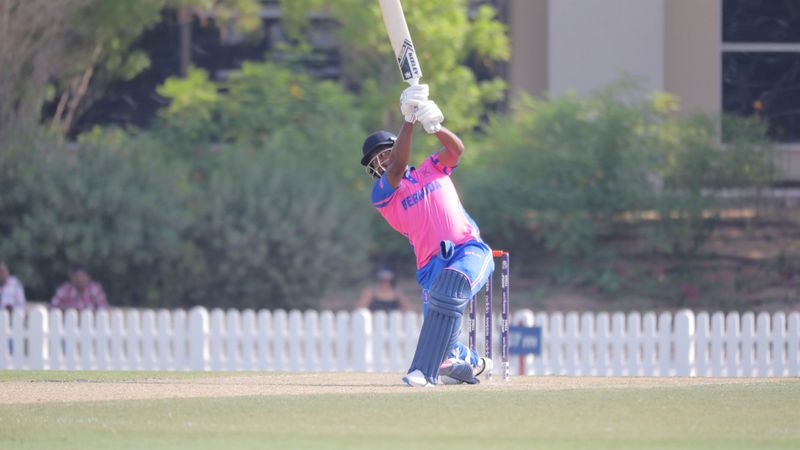 Read More About