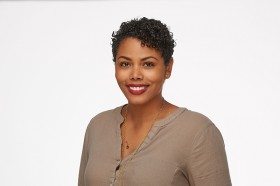 A video confidence expert is offering another confidence challenge for women. But this time, it's all about boosting your confidence in front of the camera.
Mikaela Ian Pearman ran a successful free confidence challenge called Crush Your Confidence for 130 women in August and has decided to do it again, but with a twist.
She is launching a three-day video confidence challenge on October 21 where she will encourage women to step out of their comfort zone to confidently create video content.
She is known in Bermuda for her on-camera work and is now focusing on helping women to elevate their confidence on video and beyond.
Ms Pearman explains: "Going in front of the camera and confidently delivering my spiel is something I've done for awhile now. And while it's easy for me, I recognize that it's difficult for a lot people to build the courage to not only record content and but also to post it.
"After speaking with clients, I've learned that so many of them don't do videos because they don't know where to start or what to say. So, I figured there are many more women out there in the same boat who own businesses or aspire to be an entrepreneur or want to do video for their personal brands and could benefit from this challenge."
The challenge itself is over the course of three days where Ms Pearman will share advice for quickly creating video content and challenge participants to create and post. Each participate will receive an email on each morning of the challenge with a confidence challenge of the day.
She will be participating as well for the duration and offering a prize at the end. All participants who complete the challenge will be entered into a draw for a $50 Amazon gift card.
Asked why women should sign up, Ms Pearman says: "In this age of social media, it's important to not only post content consistently, but to also use utilize video. Video content is the way forward and connecting with your audience is how you ultimately make money. This is a great opportunity to learn some new skills and step outside of your comfort zone."
The Crush Your Confidence Challenge round two kicks off on October 21. To sign up or for more information, visit here. If you have any questions, please email Mikaela at: mikaela@mikaelaian.com.
You can also follow Ms Pearman on Instagram where she posts content relating to boosting your confidence and strategies for video content.