In early 1940 what Winston Churchill termed "The Twilight War" was in full swing.
This was the eight-month period between the Nazi invasion of Poland the previous September and the massive offensive the Germans were preparing to unleash on the West in the spring.
Second World War hostilities in Europe were limited to occasional skirmishes between the Anglo-French and German belligerents. But the sporadic fighting was.accompanied by back-and-forth radio propaganda bombardments aimed at demoralising enemy troops and civilians.
In January of that year Radio Berlin abruptly turned its attention from pummelling politicians and military leaders in London and Paris to an unlikely new target: Bermuda.
Rightly called the "Island of Devils" Bermuda had long been the "home of pirates, buccaneers and thieves," thundered an announcer reading a statement prepared by the Nazi Ministry of Public Enlightenment & Propaganda
The presenter continued, almost barking out the words: "Now Bermuda lives up to its vile reputation by pirating mail."
The fact the island was on the receiving end of such an extraordinary Nazi tirade speaks to the out-of-the-gate effectiveness of the Imperial Censorship and contraband control system then intercepting mail and cargo in Bermuda.
A Pan Am Boeing 314 transatlantic flying boat, one of the airline's legendary "Clippers", at its Darrell's Island anchorage in Bermuda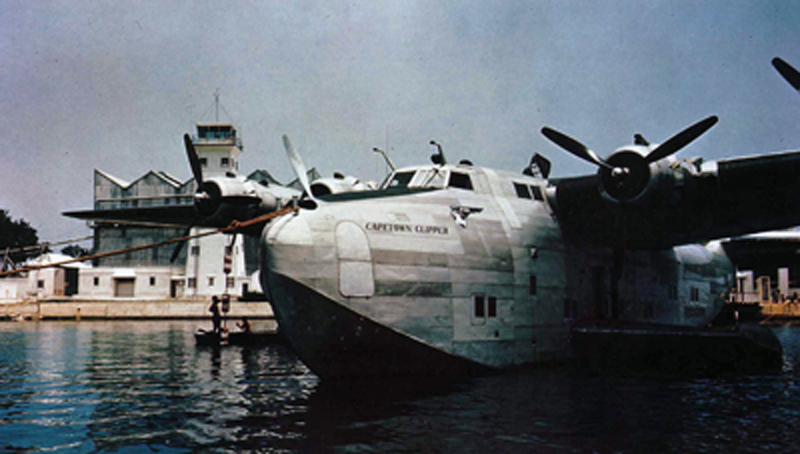 A skeleton operation had commenced work on the island within days of war being declared on September 3, 1939.
But it grew to the point that Bermuda would later be described as "Britain's number one listening-post" as the global conflict progressed over the next six years.
In his magnificent, almost encyclopedic new book Censorship & Bermuda's Role In Winning World War Two, local philatelic authority and historian Horst Augustinovic tells the story of that mammoth effort in vivid and compelling style.
As Mr. Augustinovic notes, due to Bermuda's strategic position the bulk of letter mail and parcel post between the Americas and the rest of the world passed through the island during the war. So did a large proportion of other international mail in the world, except that going to England.
"Every day ships would drop anchor in Bermuda to pass the Censorship, and transatlantic Clippers would pause in Bermuda for examination of their mail," he has said.
Mail examiners scrutinised thousands of letters a day to ensure they didn't contain information which could be potentially damaging to the British war effort.
Even the most fleeting — and innocent — observations touching on subjects ranging from troop, ship and aircraft movements to new factory openings to weather conditions were literally scissored out of letters.
And censors were also on the look-out for useful items of information which could assist the British military.
The waterfront Princess Hotel in Hamilton, shown here in the 1930s, was commandeered by British Imperial Censorships as its headquarters during World War Two. Photo courtesy of T.Enami.org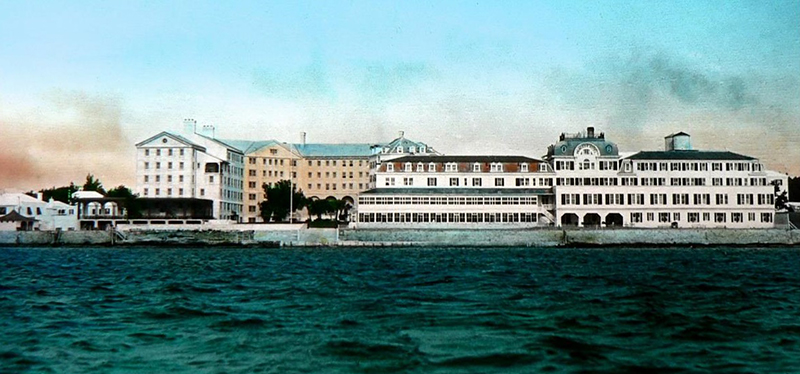 In 1941, for example, Bermuda examiners opened a letter from German-allied Italy in which the writer complained about armoured military trains passing his seacoast house at Porto De Reggio every night at 11 pm. Word was quickly flashed to the British Mediterranean fleet suggesting 11 pm would be an ideal time to target the train tracks at Porto De Reggio for some withering naval bombardments.
And the censors were also looking for more sinister material: microdots, secret ink messages and letters encrypted in code between German agents in the field or Nazi front organisations, particularly those operating in the Americas, and their handlers in Berlin.
Meanwhile the contraband operation waged ceaseless economic warfare against the Nazis, interdicting shipments or monies that could fatten the Third Reich's coffers and seizing them as prizes of war.
"All of this activity was done under a veil of secrecy and even a request from local Bermuda journalists for the exact number of staff working for the Imperial Censorship in Bermuda, was rejected," Mr. Augustinovic has said of the operation. "This figure was later to be estimated at one censor for every 30 islanders – about 880, although figures at its peak were said to be 1,500."
The Imperial Censorship commandeered the Princess Hotel on the Hamilton waterfront for their offices while staff lived at the Bermudiana and Inverurie hotels.
"All the work was done behind closed doors," says Mr. Augustinovic, "and the Censorship got its first publicity when mail was removed from an American Clipper bound for Lisbon on January 18, 1940 – this action later being dubbed as the 'The Great Plane Robbery'. in the US press."
In the still neutral United States isolationist opinion was outraged that mail being carried aboard Pan Am flying boats was subject to British inspections.
And it was this well-publicised incident which helped to trigger the Radio Berlin broadside that month.
Imperial Censorship's examination of mail carried aboard US flying boats passing through Bermuda made international headlines in early 1940. Image courtesy of the Pan Am Historical Foundation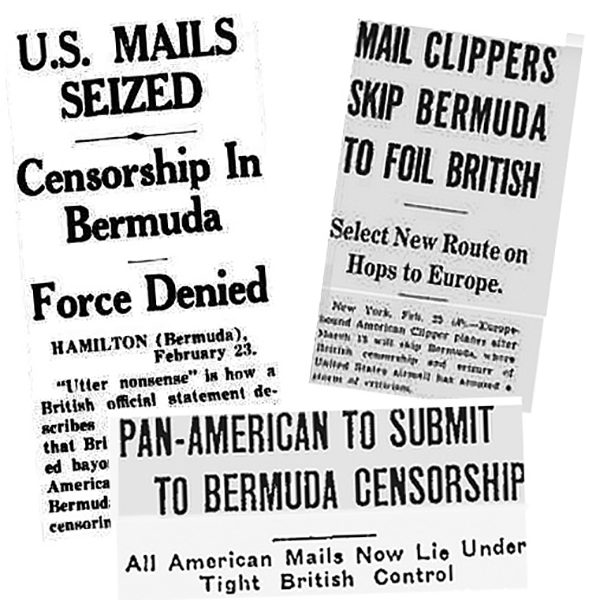 For a few months the Clippers bypassed Bermuda, a stepping-stone on one of the airline's transatlantic routes, to avoid the watchful eyes of mail examiners. This was possible because Horta in the Azores, the next stop on Pan Am's leapfrogging flight path to Europe, lay just within range of a fully fuelled Boeing 314 departing Port Washington, New York.
But cooler and more pragmatic heads soon prevailed.
America's secret intelligence organisations – both the Federal Bureau of Investigation and military agencies — had been quietly working with a new arm of Britain's MI-6, British Security Coordination [BSC].
America would maintain its official neutrality in World War Two until December, 1941. But during this period US operatives worked closely with their counterparts in BSC — which had overall responsibility for British intelligence activities in the Western Hemisphere — to disrupt Nazi spies and saboteurs in North America.
Based out of New York City's Rockefeller Center, the group was headed by Canadian industrialist William Stephenson. A close confidante of Churchill, who became Britain's Prime Minister and de facto warlord in May, 1940, the Bermuda censorship office fell under espionage chieftain Mr. Stephenson's remit.
One of his primary objectives was to coordinate efforts to interdict Axis mail with the Americans. And by November, 1940 BSC had helped to negotiate an understanding with the US to ensure as much transatlantic mail as possible would be channeled through Bermuda.
Pan Am's Bermuda flights immediately resumed.
Compulsively readable, Censorship & Bermuda's Role In Winning World War Two is a story of covert warfare writ large and small.
For instance Mr. Augustinovic recounts how, in the greater scheme of things, Nazi espionage rings operating in the US were broken up, and the spies jailed, because of coded communications intercepted in Bermuda.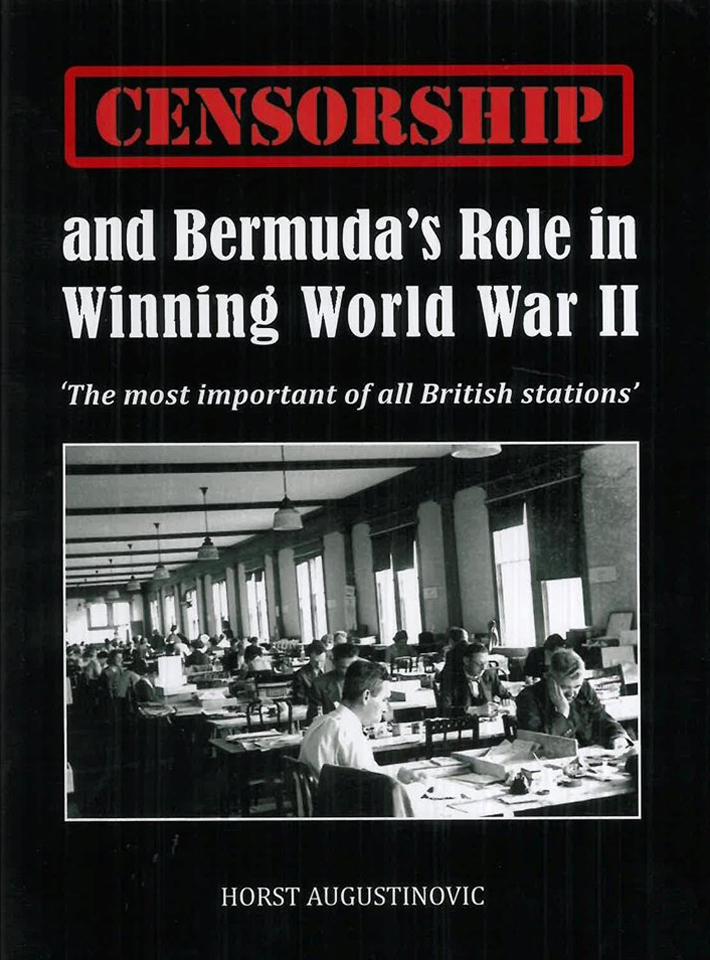 And he highlights how an ingenious attempt to underwrite clandestine Fifth Column activities in the US was foiled when a French collaborator's priceless collection of Impressionist and post-Impressionist paintings was impounded in Bermuda while en route to New York to be sold. .
But he also employs more modest, human-scale vignettes to tell the story of the Imperial Censorship operation.
There are the exhausted censors, bicycling to work at 6.15 am and not returning home until midnight on days when the harbour was full of ships and examiners' tables at the Princess Hotel were overflowing with their mail.
And then there are the pathetic letters which passed through Bermuda from East European Jews to relatives who had fled their homelands prior to Nazi invasions, hopefully addressed to the individuals in question "c/o General Delivery, New York." These were destined never to reach their recipients, gathering dust in Imperial Censorship files for the duration of the war. Many of the senders' names are now likely inscribed on Holocaust memorials.
This large-format book, beautifully produced, lavishly illustrated and artfully written, is a valuable and unique addition to any library of Bermudian history.
And by the conclusion you'll be thankful Bermuda did indeed live up to one aspect of its historical reputation at this critical juncture in world history, Radio Berlin's objections notwithstanding.
Censorship & Bermuda's Role In Winning World War Two is now available at the Bermuda Bookstore and The Bookmart at Brown &. Company.
Read More About