Citizens Uprooting Racism in Bermuda [CURB] will be starting their next Truth & Reconciliation Community Conversations [TRCC] later this month, and invite the public to join in.
A spokesperson said, "CURB has been running the Truth & Reconciliation Community Conversations [TRCC] since January 2017. We would like to extend an invitation to you to join us for the next group sessions which will run every Thursday from 24th October to 5th December 2019 [7 weeks] from 5:45 – 8:15 pm at the Bermuda College.
"The weekly commitment is important in creating relationships, which in turn fosters trust and helps build community. It empowers participants to share stories and think creatively about how positive societal change can be achieved.
"This group will be led by a Lead Facilitator Cordell Riley assisted by two Assistant Facilitators, all of whom are trained in Restorative Practices under the auspices of the International Institute for Restorative Practices [www.iirp.edu] and will guide the conversation and provide educational material for discussion.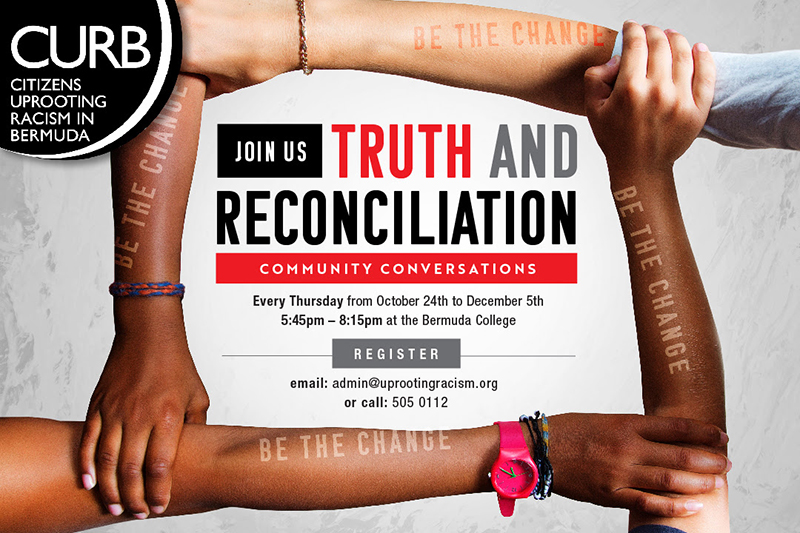 "Each week has a subject matter and the facilitators will provide a summation of the goals for the session. Educational materials are provided along with links to short film clips. Below are the titles of each session:
"Space is limited, so if you are interested in engaging in this transformative, educational and solution-seeking process please register by replying to this email.
"If you have friends, family or colleagues you think might be interested in attending, please forward this email to them so they can register early.
"For more info or to register, please email admin@uprootingracism.org or call 505-0112."

Read More About
Category: All