Citizens Uprooting Racism in Bermuda [CURB] is getting set to hold group sessions titled 'Truth & Reconciliation Community Conversations' beginning on Wednesday, March 4.
A spokesperson said, "The next Truth & Reconciliation Community Conversations [TRCC] group sessions will be held on Wednesdays from March 4 to the April 15 at a central location to be confirmed, and we extend an invitation to join in this engaging, transformative, educational and solution-seeking process.
"These sessions will be led by a lead facilitator assisted by two assistant facilitators, all of whom are trained in restorative practices under the auspices of the International Institute for Restorative Practices. They will guide the conversation ensuring your voice will be heard and provide educational material for discussion.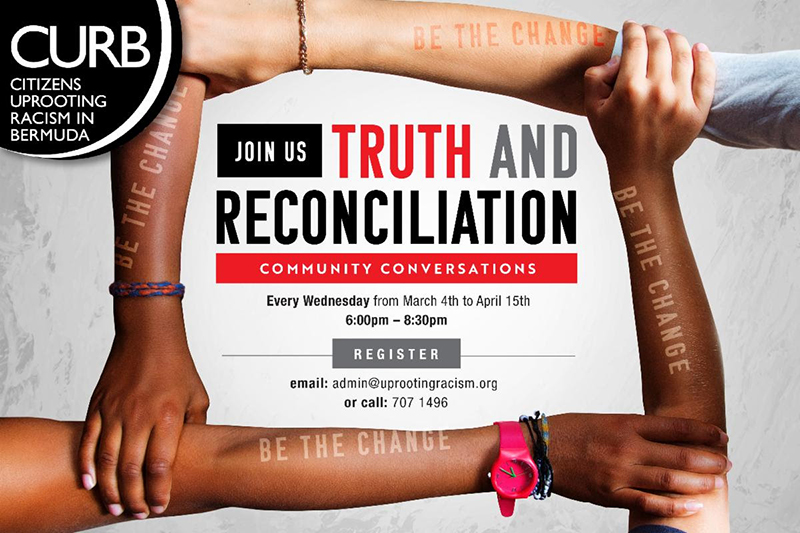 "The weekly commitment is important in creating relationships, which in turn fosters trust and helps build community. It empowers participants to share stories and think creatively about how positive societal change can be achieved. The group meets in a circle format, thus able to interact and fully participate with each other.
"Each week has a subject and the facilitators will provide a summation of the goals each session. Educational materials are provided along with links to short film clips. Below are the titles of each session:
Community building
Why do we need to heal?
What Happened?
Who tells the story?
Checking my privilege
Telling our stories?
What are we going to do?
"The maximum in each group is 20 participants, and therefore space is limited. Join this growing community of alumni who have completed the TRCC since we began in January 2017, many of whom are actively affecting change in their sphere of influence and communities."

Read More About
Category: All