Former Bermuda Premier Dr. Ewart Brown will be launching his new memoir Whom Shall I Fear? at the beginning of November.
Subtitled Pushing The Politics Of Change, the forthcoming book is described in a pre-publication promotional announcement as "a story rich in human and political insight that will fascinate readers interested in the global African diaspora and its continuing quest for racial justice and equality."
The full publicity release reads: "Outspoken, accomplished, and frequently controversial, Bermudian physician and political leader Ewart Brown, MD, has been a longtime champion of racial equality, human rights, and economic and social justice. In his event-filled memoir, Whom Shall I Fear?, he shares the experiences that most shaped him and that defined his often tumultuous time in office.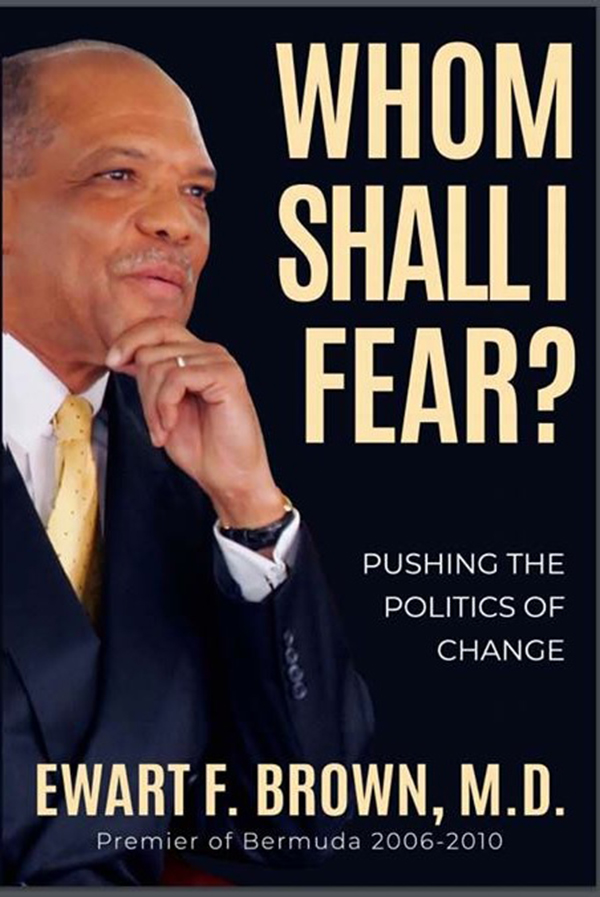 "Brown's journey began with a childhood in a politically engaged family in a Bermuda then still legally segregated. He spent his pivotal high school years in Jamaica, where he excelled in both academics and athletics, then rose to national U.S. media attention as a leader of civil rights-based student activism at Howard University."
The announcement goes on to note that Dr. Brown practiced as a physician in inner-city Los Angeles in the 1970s and 1980s, while also finding time to become the inaugural medical director of the acclaimed musical festival Reggae Sunsplash.
"He entered electoral politics in Bermuda in the 1990s as a member of the Progressive Labour Party [PLP] and served as Premier of Bermuda from 2006 to 2010," says the marketing release. "Today, as an elder statesman of the PLP, he remains a lightning rod for controversy in Bermuda.
"Subject to unprecedented assaults by Bermuda's White establishment, Brown justified his signature campaign slogan, 'Doc delivers', by working tirelessly to redress longstanding inequalities on behalf of all Bermudians."
The title of Whom Shall I Fear? is taken from Psalms 27:1-2: "The Lord is my light and my salvation; whom shall I fear? The Lord is the strength of my life; of whom shall I be afraid? When the wicked, even mine enemies and my foes, came upon me to eat up my flesh, they stumbled and fell."
Whom Shall I Fear? will be available for sale at local bookstores next month.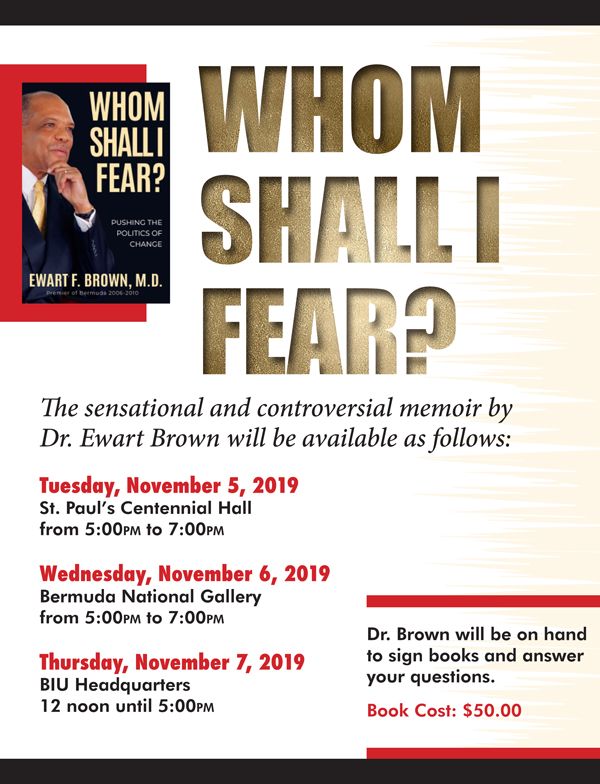 Read More About
Category: All, Entertainment, News, Politics