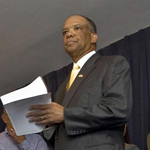 [Updated] Dr Ewart Brown said he has been told that he will be charged "with corruption dating back to when I was in office over 10 years ago," with the former Premier noting this comes after an almost 10 year investigation and that "more Bermudian taxpayer money will be spent" when "people are crying out for help during a historic time of need."
Dr Brown said, "On the 8th June 2011, the Police initiated an investigation into my political affairs following tales told by the convicted liar David Bolden.
"Nine years, 6 months, and 2 days later, I am told that a DPP — who has been in office for less than a week — will charge me with corruption dating back to when I was in office over 10 years ago. I retired from public office in October, 2010.
"It was a lie then and it is a lie now. But, more Bermudian taxpayer money will be spent chasing me to my grave, when the Bermudian people are crying out for help during a historic time of need, insecurity and fear. It is a lowdown, dirty shame, because there was no corruption when I was in office. That will be proven after many more millions of taxpayer dollars have been spent.
"What has already taken more than $7 million, an expensive Public enquiry, 3 Governors, 2 DPP's, 2 Commissioners of Police and a dozen policemen specially drafted in, nearly 10 years to investigate without result has been determined and resolved by our new DPP," he said, with Dr Brown asking "how is it possible that she could have reviewed this case in the few days she has been in office?"
The former Premier said he suspected that perhaps she may have allegedly "been told 'you want the job – you charge Dr Brown," alleging that "she is a victim of colonial government as much as I am, as smart and accomplished as she may be."
"The DPP's office is very much aware that we are on the cusp of filing a constitutional motion which alleges substantial breaches of our Bermuda Constitution that guarantee the fundamental rights and freedoms of every citizen of Bermuda, be he car-cleaner or Premier — as we approach the 10th anniversary of this farce."
Dr Brown added that all "should be aware that a substantial part of this investigation has been under the auspices" of what he termed an "unconstitutional gang called the Joint Investigation and Prosecution Team [JIPT], at which the Deputy Governor, the UK FCO's Overseas Territory Law Enforcement Advisor, the Commissioner of Police, and the Director of Public Prosecutions," who he alleged "sat and met weekly to ensure I was prosecuted."
Calling it "unprecedented," the former Premier said, "no politician in Bermuda has ever been prosecuted for 'political corruption."
"The police are supposed to investigate fairly and impartially in a timely fashion. The DPP is supposed to make a decision, independent of government, whether to prosecute based on the evidence and in the public interest.
"The Governor, as a member of government, is supposed to have no role to play at all — neither does the Deputy Governor. And, the FCO's UK Overseas Territory's Law Enforcement Advisor should butt out rather than playing the 'colonial' role in ensuring the prosecution of any citizen — including me.
"Instead, the heavy hand of the FCO is all over this investigation and prosecution, as its self- named, unconstitutional JIPT implies."
He added that he will release letters sent to him anonymously which he alleged "will show the world how far this conspiracy to 'punish' this hard-headed, defiant Black man extends."
"I have said it before, and I will say it again. I will fight this to my very last breath with my final cent," Dr Brown concluded.
Bernews has asked officials for comment and will update if able.
Update 1.35pm: Director of Public Prosecutions Cindy E. Clarke said, "Every defendant will be tried by the justice system and not in the press. As such it would be inappropriate for me to comment at this time."
Read More About