EY was recently honored as "Professional Services/Accounting Firm of the Year" at the Reactions' 2019 North America Awards.
Cordelia Davis, Partner of EY Bermuda and Regional Financial Accounting Advisory Services leader for the EY Region of Bahamas, Bermuda, British Virgin Islands and Cayman Islands, accepted the award at the ceremony in New York on September 26.
Cordelia David, EY Partner, accepts the 2019 "Professional Services/Accounting Firm of the Year" Award in New York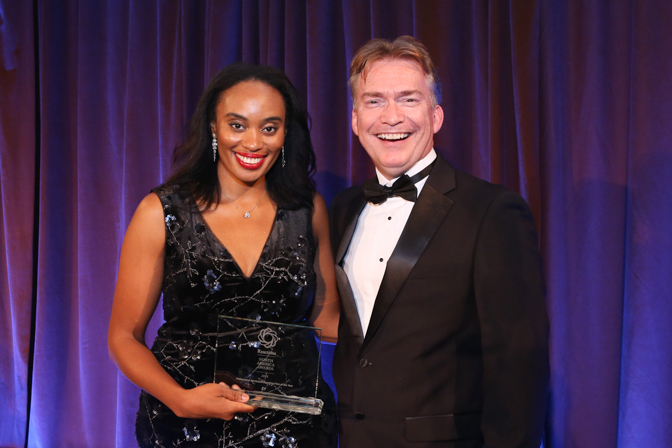 "It was an honor to accept this award on behalf of EY and our global insurance and financial services practice who serve with excellence and help clients address the challenges in today's marketplace," Cordelia Davis said.
David Brown, Senior Partner of EY Bermuda and Regional Insurance Leader, added, "To be recognized by the industry and Reactions magazine is a testament to the great work our EY people are committed to – delivering value for our clients, staying ahead of the changing landscape in the insurance industry, and building a better working world in our communities."
In addition to the awards event, the conference included discussions about the effect of macroeconomic trends in the re/insurance market, key opportunities and risks in the market, as well as innovation and the emergence of InsurTech.
The Reactions North America Awards reward the achievements of companies to help raise standards across the industry. Reactions, launched in 1981, is a leading publication focused on the global insurance and reinsurance market.
Read More About