Fifteen CedarBridge Academy senior students will vie for the illustrious crown and title of Mr. and Miss CedarBridge Academy [CBA] 2019-2020 on October 19th when the school's pageant comes off at the Ruth Seaton James Centre for the Performing Arts at 7:00p.m.
Senior girls Atiya Furqan, Calai Pitt-Clarke, Kanzi Emery, Ka'Ri Richards, Kelise Stewart, Makailah Nisbett, Maya Peart, Mezhyiah Lambert, Mya Jones, Tamia Place and Zayah Scott-Burgess will compete for the Miss CBA title, while senior boys, D'knori Hunt, Kyjah Simons, Lejae Nisbett and Rayquon Woodley-Smith will compete for the Mr. CBA title. Contestants will be judged in five categories including: introduction, career wear, talent, evening wear and question and answer.
Photo by Anthony Wade. Missing from the photo: Calai Pitt-Clarke, Lejae Nisbett and Raqyquon Woodley-Smith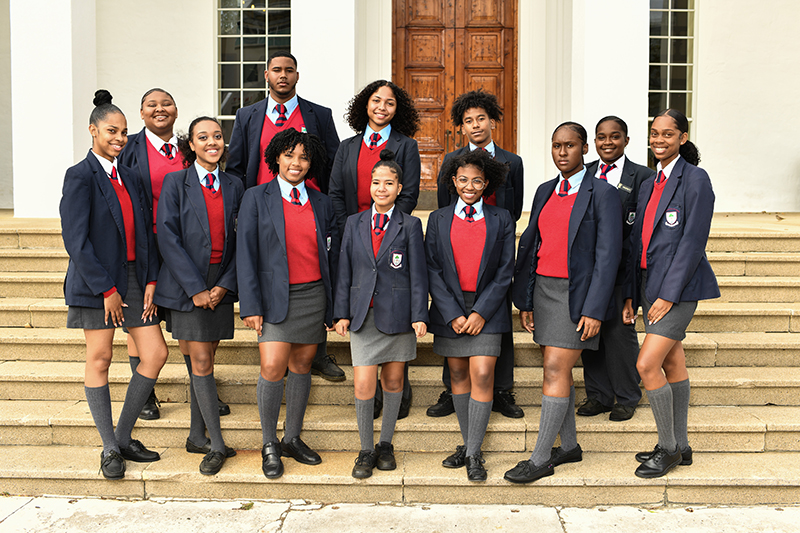 The school pageant is one of the major fundraisers for the Graduating Class of 2020. Moreover, the pageant is geared towards building confidence, providing opportunities for seniors to develop life skills, to display talents and to increase the awareness of the importance of service by giving back to the community.
The theme of this year's pageant is "A Night of Excellence" and the pageant will be held under the distinguished patronage of Mrs. Kalmar Richards, Commissioner of Education and former principal of CedarBridge Academy.
Former business teacher Mr. Dean Foggo brought the idea of the school pageant to CedarBridge Academy to provide students with an opportunity to develop etiquette, interpersonal skills and communications skills. The pageant has been in existence since April 1999.
A spokesperson said, :We look forward to the support of the public, students and CBA alumni. General admission is $25, student tickets are $15 and patron tickets are $50. Tickets for the pageant are available from each contestant, S4 students or from the school's main office. For any questions regarding the pageant, contact Mrs. Denise Weekes-Burke at dweekes@cedarbridge.doe.bm or 296-5665."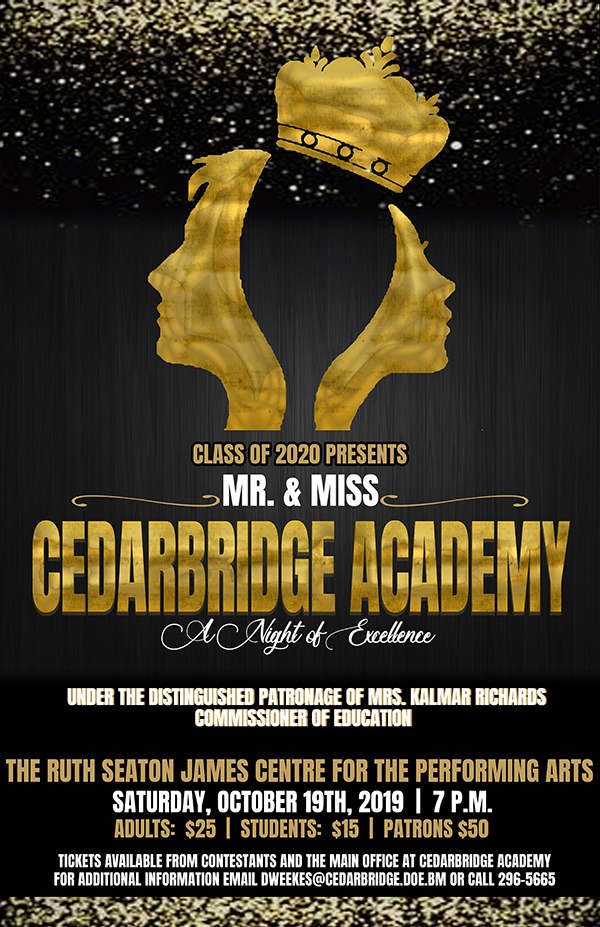 Read More About