The National Museum of Bermuda this week [Oct 17] marked the fifth anniversary of twin hurricane strikes on the island by thanking the contractors, staff and volunteers who helped the West End institution recover from the worst damage in its history.
On October 12 and 17, 2014 the museum, opened by the Queen in 1975, was hammered by Hurricanes Fay and Gonzalo.
The National Museum of Bermuda at the Royal Naval Dockyard sustained serious damage in the back-to-back hurricanes of 2014. Photo courtesy of the National Museum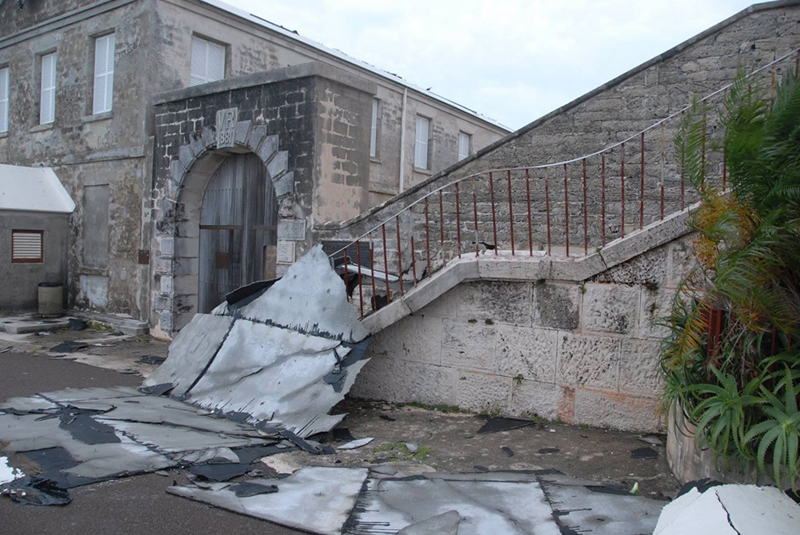 "Fay, a Category 1 storm, caused severe damage to the roof of our curatorial facilities and substantial damage to other historic structures," said a museum spokesperson in a statement released on social media.
The spokesperson went on to say that in the immediate aftermath of that storm "an incredible effort was made by the staff, volunteers and contractors to deal with the disaster by removing the debris, salvaging water-damaged administrative records, applying temporary waterproofing and protecting artifacts and the historic buildings from the impending second larger storm."
Hurricane Gonzalo made landfall in Bermuda as a high-end Category 2 hurricane storm just five days later, causing further devastation at the museum's 10-acre property inside the old Royal Naval Dockyard Keep Yard..
The roofs of many buildings at the National Museum of Bermuda were partly destroyed by Hurricanes Fay and Gonzalo. Photo courtesy of the National Museum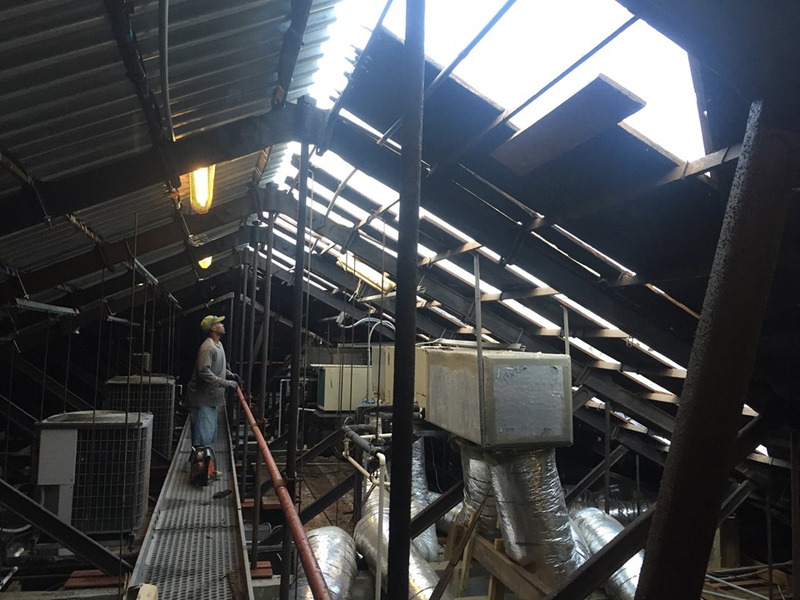 "Fortunately, staff hurricane preparation prevented utter disaster," said the spokesperson. "Nonetheless almost every building on the upper grounds sustained structural damage during Gonzalo: the remaining roof of the curatorial offices was destroyed, major portions of the Commissioner's House roof were destroyed or damaged and the roofs of the Hostel, the Administration Offices and the academic housing block were all badly damaged."
Damage was also caused by flying debris in addition to interior damage from water and salt spray entering the buildings through missing and leaking roofs and broken doors and windows.
"These storms severely impacted our operations for a number of years," continued the spokesperson. "We are now out of disaster recovery mode with new and stronger roofs on Commissioners House and the Curatorial Offices and extensive upgrades to our storage and office facilities.
"Thanks to all of our contractors, volunteers and donors who have helped us get back on our feet."

Read More About
Category: All