28 new three bedroom units will be constructed at the Harbour View Village in the east end, Minister of Public Works Lt/Col David Burch announced today.
Minister Burch said, "Good morning and welcome to the Harbour View Village Condominiums. I am pleased to be joined today by the representative for Constituency 4, St. George's South, MP Tinee Furbert, General Manager of the Bermuda Housing Corporation Major Barrett Dill and Bermuda Housing Corporation Project Manager, Mr. Keino Furbert-Jacobs.
"It was almost 9 years ago on March 5th, 2011 that I stood in virtually this same spot to participate in the opening of this affordable housing complex.
MP Tinee Furbert [Representative for Constituency 4, St. George's South], Keino Furbert-Jacobs [Project Manager Bermuda Housing Corporation], Minister Burch, Major Barrett Dill [General Manager Bermuda Housing Corporation].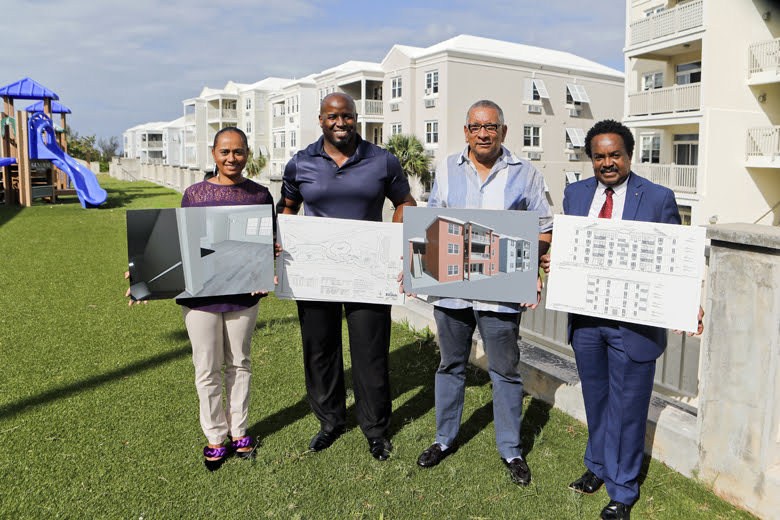 "This journey actually began in October 2005 – and over the intervening years leading up to 2011, many doubted that we would ever see that day and were not reluctant to voice it – but that determination has not diminished in those intervening years – this PLP administration is also as determined to provide homes to our fellow Bermudians.
"As I said then – I am reminded of a passage of scripture – Galatians 6:9: Let us not be weary in well doing; for in due season we shall reap if we faint not."
"I will not repeat today every hurdle and challenge overcome to provide this complex but suffice to say we persevered as our commitment to provide home ownership to Bermudians is immovable.
"As a reminder, this project was originally started by the charity Bermuda Homes for People who held a lottery to provide affordable homes for $199,000. They fell into difficulties and the government stepped in to complete the project and honour that commitment.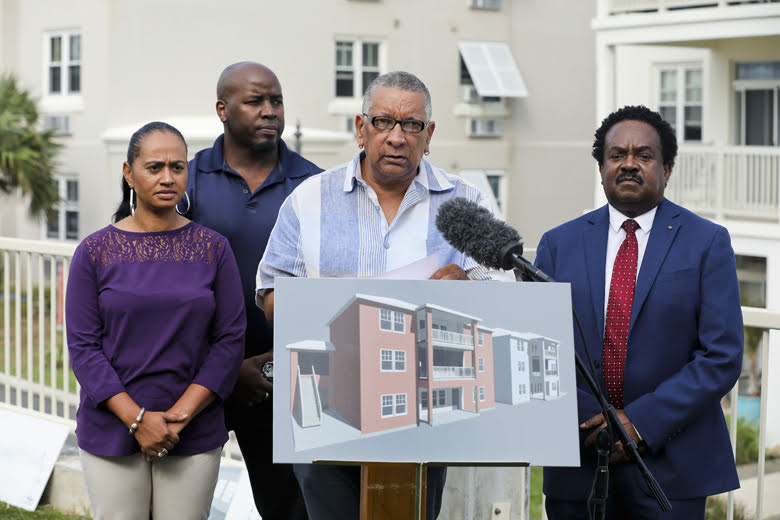 "Of course the cost of the project far exceeded the $199,000 purchase price and was heavily subsidized by Government through the Bermuda Housing Corporation so that the original commitment was met. So, much of the criticism you hear even, today, about Government debt under PLP administrations is for projects such as this – and for that we make no apology.
"We are here today to finish what we started in 2005 – the completion of the Harbour View Village by announcing the decision to construct the two remaining towers. The original plan called for 96 units – 58 were built – so we will be adding 28 three bedroom units in the two new buildings.
"Earlier this year we conducted a housing survey to gain 2019 data on the housing needs of Bermudians. The results of that survey have caused us to modify the original configuration to now provide all three bedroom units.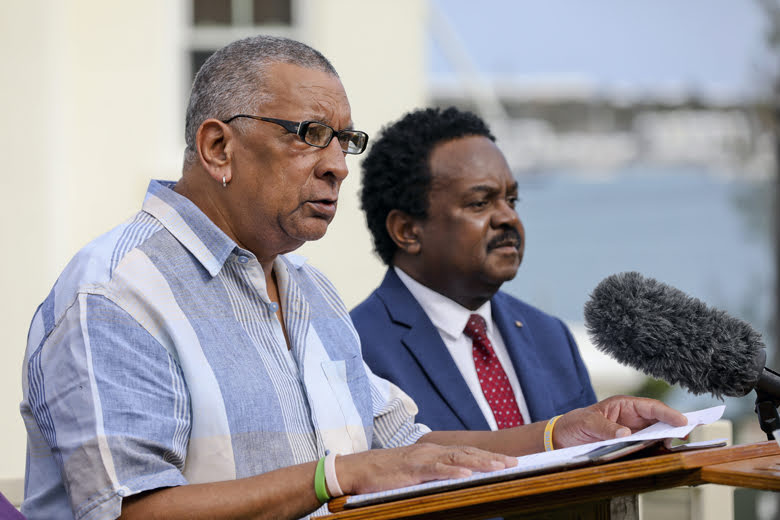 "Planning permission for all 6 buildings was approved in 2011 – along with the installation of the necessary infrastructure -so thankfully we do not need to restart the planning process but simply apply for the minor code modifications for building 6 – followed by an application for the more significant configuration change for building 5.
"With that in mind we will tender building 6 almost immediately while concurrently submitting the application for building 5 thus allowing construction to commence on the first building to be followed a few months later by the second.
"It is our plan to employ the identical practice to the original construction schedule by employing 2 contractors to construct the units simultaneously.
"I along with MP Furbert held a town hall meeting 2 weeks ago with the current owners to advise them of the plan and to inform them that we will be establishing a separate Condo Association for the new owners.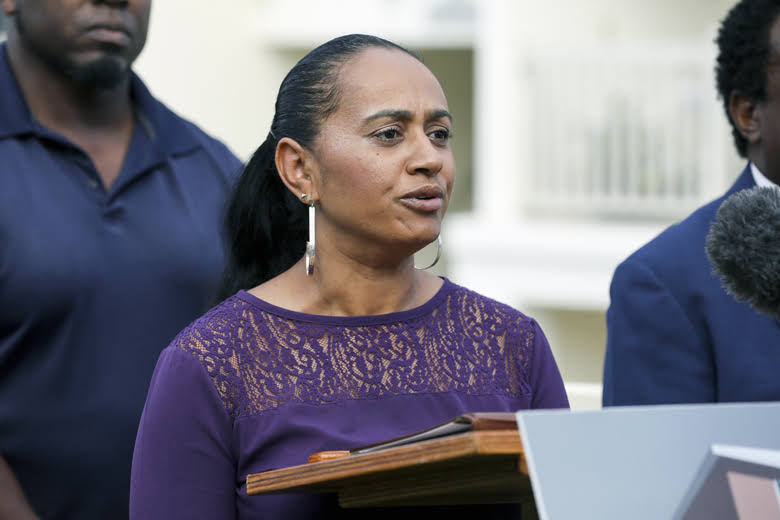 "Of course the big question is how much will these units cost? Certainly not $199,000 – but as soon as the tendering process is completed we will have a clearer indication of price.
"The advantage anyone interested in participating in this project has though is that the BHC is not motivated by private developer type profit – but by developing projects that support themselves. Additionally, the Corporation is exploring the option of offering a rent to buy option to further assist families.
"It is my expectation that we will be able to complete the tendering process for the first building before year end and commence construction shortly thereafter. In the first instance, those families who have already registered with the Corporation will be contacted to gauge their interest followed by anyone signing up after this announcement.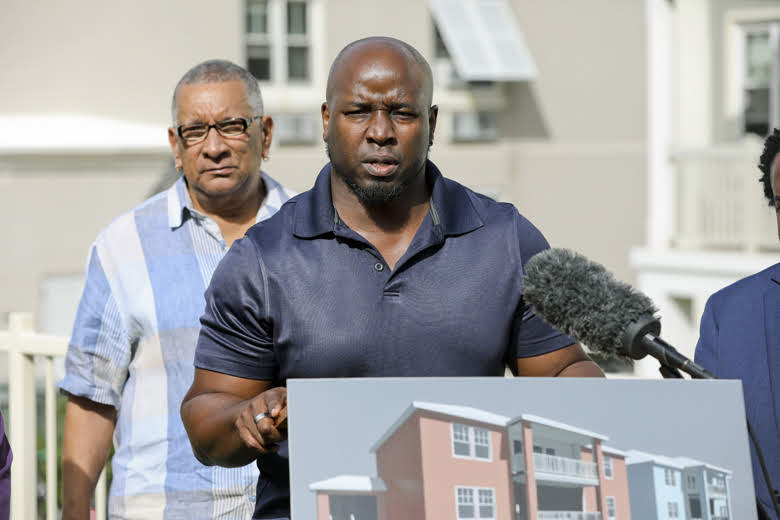 "As I said in 2011 – this is more than housing, this project represents genuine economic empowerment. Bermudian families 'owning a piece of the rock' another clear demonstration of this Government's unwavering commitment to making homes available to first time homeowners at prices that are simply unavailable in the ordinary marketplace. This represents the "hand-up" that honest, hard-working Bermudian families deserve and we are happy to provide.
"My advice to any Bermudian looking for affordable and adequate housing is that they should register at the Bermuda Housing Corporation now. Even though options are currently slim – we are working apace to address the shortage and this announcement today is just the beginning. There are several other plans relatively well advanced that will be announced in the not too distant future."

Read More About