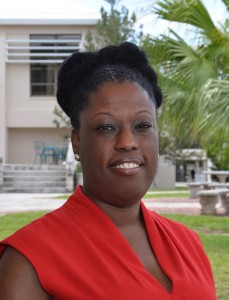 The Chamberlain Scholarship has been awarded to Ms. Pahn-ya Ratteray.
A spokesperson said, "The Association of Fundraising Professionals [AFP] Bermuda Chapter announces the Chamberlain Scholarship Award winner Ms. Pahn-ya Ratteray.
"This scholarship provides funding for Ms. Ratteray to attend the International Conference of the Association of Fundraising Professionals in Baltimore, March 29th-31, 2020.
"This annual Conference is a combination of education, networking and inspiration and the keynote speakers are José Andrés Internationally-Recognized Culinary Innovator, Author, Educator, Television Personality, Humanitarian, and Chef/Owner of ThinkFoodGroup and Zainab Salbi Humanitarian, Bestselling Author and TV Host."
"Ms. Ratteray is an emerging talent in the field of professional fundraising who is committed to improving her skills and furthering the important work of Bermuda College Foundation.
"Ms. Ratteray is a former Chevening Scholar which afforded her the opportunity to obtain a Masters degree in project management. She also had the opportunity to work in the not-for-profit field while studying in the UK" stated AFP Bermuda Chapter president Gordon Johnson."
"I am honoured to receive this scholarship and look forward to networking and learning from other fundraising professionals at AFP Icon 2020 in Baltimore. I appreciate the opportunity to deepen my knowledge and I look forward to sharing what I will learn with our donors, colleagues and Board at Bermuda College Foundation," stated award recipient Ms. Ratteray.
Bermuda College Foundation Chair Mark Berry stated, "I'd like to express my sincere thanks to the AFP Bermuda Chapter for providing this scholarship for Pahn-ya to attend the AFP International Conference. It not only supports the career development of a local professional but, in turn, will further help us to follow strategic, meaningful and ethical fundraising practices."
"The executive of AFP Bermuda is delighted to support another Bermudian professional committed to our field who brings value and a code of ethics to raising significant funds," President of AFP Bermuda, Gordon Johnson stated, "Ms. Ratteray holds a critical role at Bermuda College Foundation and joins a growing list of emerging Bermuda professionals dedicated to ethical fundraising on island.
In addition to the Chamberlain scholarship, AFP Bermuda offers educational and networking opportunities throughout the year, in our mission to support the efficient, effective and ethical practice of raising funds for Bermuda's nonprofits."
Past Chamberlain Scholarship AFP Bermuda Chapter awardees include:
Ms. Katie Bennett – National Museum of Bermuda
Ms. Suzanne DeCouto – Mount St. Agnes [formerly with Bermuda Red Cross]
Ms. Tammalita Joseph – WindReach [formerly with BUEI]

Read More About