Appleby Bermuda Partner Tammy Richardson-Augustus recently attended the Women, Influence & Power in Law [WIPL] 2019 Executive Leadership Forum in Washington, D.C. in October. The 3-day event was presented by Corporate Counsel.
A spokesperson said, "WIPL is the original global forum facilitating women to women exchange on leadership and legal issues. Topics included: executive coaching, winning a seat on the board, creating an ethical and diverse business culture, best practices for negotiation and 360 views on navigating a crisis.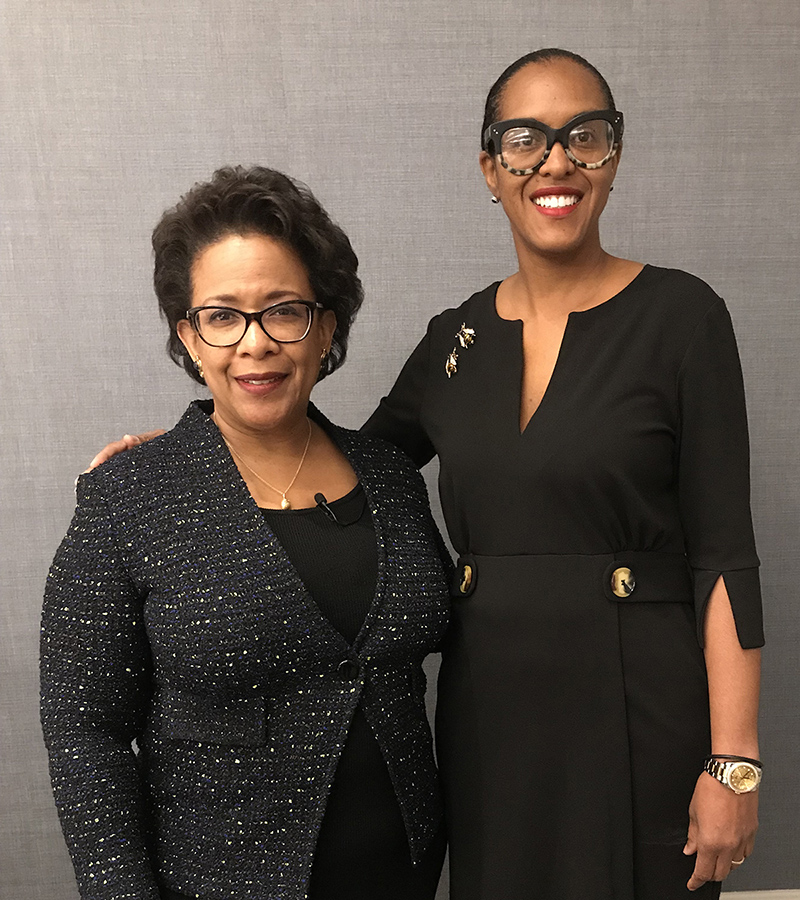 "In addition to three days of productive conference programming, the leadership forum provided the nucleus for networking with hundreds of the most influential women in law drawn from across the globe, as well as numerous special events and key note addresses from various esteemed presenters including:
"Keynote Speaker – Loretta Lynch, Former U.S. Attorney General under the Obama Administration. Ms Lynch delivered the opening key note address and shared her journey to become the first female African American Attorney General and discussed how businesses can navigate and thrive in a changing global workforce.
"Keynote Speaker – Alison Levine, Women's Everest Expedition Team Captain and New York Times Bestselling Author, gave a visionary address entitled 'On the Edge: The Art of High-Impact Leadership', drawing on her experiences as team captain of the first American Women's Everest Expedition.
"Spotlight Luncheon Speaker – Lisa Blatt, Partner at Williams & Connolly, a premier litigation firm, who serves as Chair of their Supreme Court and Appellate practice, provided a presentation on current trends and decisions from the US justices.
"Ms. Richardson-Augustus is a Partner in the corporate department and a member of Appleby's global Female Leaders Network, which brings together women in senior positions across the jurisdictions in which the firm operates. The network champions workplace inclusivity and diversity of boardroom representation.
"Ms. Richardson-Augustus qualified in 1997 and became a partner in 2007. Ms. Richardson-Augustus maintains a diversified business transactions practice, with emphasis on domestic and international mergers and acquisitions, joint ventures, capital markets and securities, secured and unsecured lending transactions and general corporate governance matters.
"She has extensive experience working with clients in a wide range of industries, including in energy, oil and gas exploration, and maritime shipping. She has been awarded many professional accolades throughout her career.
"She is recognised as a 'Leading Individual' in the Banking, Finance and Capital Markets category and highly rated in the Corporate and Commercial category by Legal 500 Caribbean.
"Ms. Richardson-Augustus is a founding member, legal counsel and press officer of WISTA Bermuda, Bermuda chapter of Women in Shipping and Trade Association and of BERMEPA [a chapter of NAMEPA – North American Marine Environment Protection Association] and serves on the boards of The BermudaFirst Think Tank, The Bermuda End-to-End, The Saltus Grammar School Board of Trustees and The Polaris Group of Companies.
"Ms. Richardson-Augustus is also a coach for WeSpeak, an organisation dedicated to coaching and increasing opportunities for professional women to be effective presenters."
Ms. Richardson-Augustus said "I was afforded the opportunity to meet with both Alison Levine and former U.S. Attorney General Loretta Lynch. Ms Lynch was interested to learn that within the Bermuda Bar Association, women outnumber men currently 250/228.
"I also shared with the former U.S. Attorney General how her example has informed and inspired so many who reside in Bermuda, our cozy 21 mile Island in the Atlantic which boasts world class infrastructure, a premier international business centre and the ultimate tourism escape.
"Ms Lynch encouraged us who love and live the law to build a community of female lawyers to sustain us as we navigate the issues of today, to tell our own story and to pay forward the support and guidance we receive."
Ms. Richardson-Augustus added, "In the words of Ms Lynch, all of us are role models to the women who we know but also to the women we have never met who will see your work, who will see your path, who will see how you have overcome an obstacle and will know that they can too….never underestimate that value to a young girl seeking her way in the world of simply seeing all of you and what you do."

Read More About