The "AXA Man on the Run 5K" will be held on Sunday [Nov 10], and will take place starting at Warwick Academy School.
The event page said, "This year, the money raised will go towards our Equal Access Fund and Prevention and Early Detection Programmes which includes the Annual Free Men's Health Screening Clinic.
Prize Categories
"Runner 5K age 11+
"Competitive Walk age 11+
"Junior 7-10 Run 2.2K
"Non Competitive Walk
Number Pickup Instructions
"Saturday Morning, November 9th 9:00 am – 11:00 am at Butterfield and Vallis, Orange Valley. Event shirts will be given on first come basis based on receipt of your entry form, for those that register before 6:00 pm Friday.
"Late Registration will be open at this time as well. The fee is $40.00 for all Adult Runners/Competitive Walkers $30.00 for non Competitive.
Junior 2.2K Course
"The junior course starts at Warwick Academy and follows the same route to Manse Rd to Harbour Rd then follows the same route back.
"School Spirit:
"The school who has the most entries for the 2.2km or 5km run will receive a plaque to be displayed at the school.
"Corporate Challenge Plaque
"The company with the most entries will be presented with a plaque at prize presentation."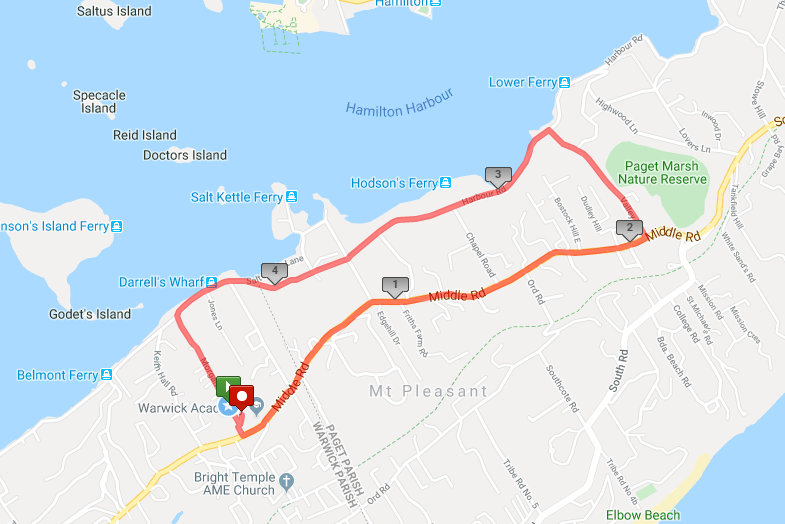 Start of the race is at the edge of road on north west gate which is entry gate in line with edge of road before it curves. Finish at south west entrance of school which is exit gate, actual finish at end of curb going north which is marked by metal post around 3ft high. Curb is also at the beginning of the basketball court.

Read More About