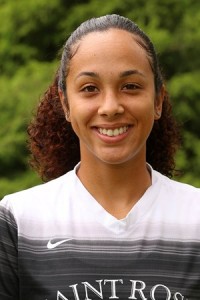 Bermuda's Eva Frazzoni scored for the College of Saint Rose as they defeated Pace University 4-1 to advance to the Northeast-10 Conference Championship Semi-Final.
The school's match report said, "The top-seed College of Saint Rose scored three unanswered second half goals and engineered a 20-7 shot advantage to upend visiting eighth-seed Pace University 4-1 in this afternoon's Northeast-10 Conference Championship Quarterfinal.
"The Golden Knights [15-2-1], ranked #11 in the latest United Soccer Coaches National Poll, will now host Bentley in a semifinal Thursday. Saint Rose upended the Falcons 4-1 earlier this season in Waltham, Mass.
"The Golden Knights put their depth on full display with six players penciling their names in the scoring column. Senior midfielder Morgan Burchhardt set up two of the strikes, including the game-winner, while senior forwards Nina Predanic and Caitlyn Dabagian, senior midfielder Eva Frazzoni, and sophomore forward Kaelyn Britt all found the back of the net.
"The match was fairly evenly played throughout the opening 80 minutes as the visiting Setters [11-7-1] had a slight edge in possession for 51.0 percent of the match.
"The Golden Knights owned a 2-1 lead at a juncture when the outcome appeared far from over. Britt then collected a loose ball, and drove a shot from 20-yards out into the top far-left corner with 83:11 expired to thwart any thought of an upset. Dabagian capped the scoring when she gained position in the middle of the area to head home a free kick off the left flank from sophomore back Luisa Gaudl.
"Predanic and Burchhardt linked up with 17:58 gone by when the latter delivered a ball up the right channel that Predanic gathered in before delivering her league leading 16th goal of the season.
"Pace made it interesting when junior midfielder Victoria Barris finished from 20-yards out to level it 1-1 with three minutes remaining before intermission.
"However, Frazzoni provided the game-winner after she settled at the far right post of the goal line to deflect home a Burchhardt corner from the opposite side."

Read More About