HSBC Bermuda and the Coalition for the Protection of Children are joining forces for the second consecutive year to deliver the annual island-wide 'Toys for Tots' campaign, now in its 17th year.
"Since the campaign's inception in 2002, the generous response by the Bermudian community over the years has continued to grow, culminating in over 2,000 gifts being donated in 2018. In addition to the toy donations, the Coalition also appealed to the local community for items of necessity to help those families who may require assistance outside of the holiday period when needed the most," a spokesperson said.
"This appeal will continue during 2020 with items such as diapers, baby formula, bulk toiletry items, utility and grocery vouchers, gift certificates, school uniforms, supplies, etc. being gratefully received. Monetary donations to the Coalition are also welcomed to assist with their Breakfast Program and the provision of educational support services."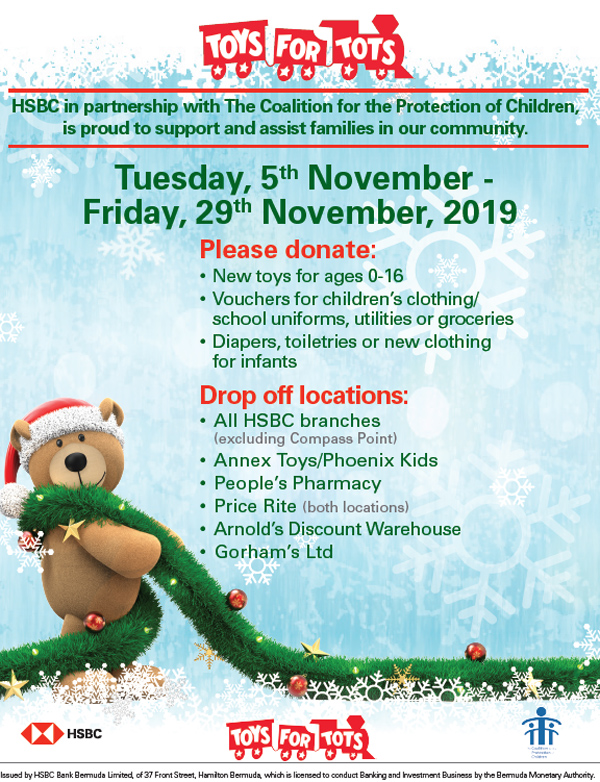 Kelly Hunt, Executive Director, the Coalition for the Protection of Children commented, "The Coalition appreciates the generous support for the Toys for Tots Program and would like to thank everyone who has participated in the initiative over the years.
"We are very pleased to be working with HSBC to deliver this holiday cheer to our families for 2019. Christmas can be a particularly stressful time for our families who are struggling to make ends meet.
"Thankfully, the community demonstrates its philanthropic spirit each year and helps to alleviate some of that stress. Another fantastic aspect of Toys for Tots is the impact it has on our young people in terms of instilling the spirit of giving. We are excited to continue this initiative in partnership with HSBC and look forward to another successful year".
Joanna Saldok, Chief Operating Officer, HSBC Bermuda shared, "HSBC is pleased to partner again with the Coalition for this very worthy cause. At this time of year in particular, it becomes increasingly apparent the number of families in our community who may not be fortunate enough to enjoy the holiday season due to the hardships they are facing. This fantastic campaign ensures that they receive the well needed support to make both the holiday season and beyond, just that much better for them and their loved ones.
"On behalf of HSBC Bermuda I would like to thank all of the retail vendors and corporate entities who will be collecting toys and items during the month in support of the campaign, without whom this campaign could not be a success."
The Toys for Tots campaign launches island-wide from November 5th through to November 29th. Donated items can be dropped off at the following participating retail vendors: The Annex Toys, Price Rite [both locations], Gorham's, Arnold's Discount Warehouse, People's Pharmacy and across all HSBC bank branches.

Read More About
Category: All, Business, Entertainment