HSBC Bermuda and the Coalition for the Protection of Children are joining forces for the fifth consecutive year to celebrate 20 years of giving over the holidays through the 'Toys for Tots' initiative.
A spokesperson said, "In recognition of this community-event milestone, the charity has set a goal of 2,000 donations for the 2022 appeal. In addition to the donation of new toys, the Coalition would also like to request the public for donations of diapers, baby formula, bulk toiletry items, utility and grocery vouchers, gift certificates, school uniforms, supplies, etc. to help those families facing hardships over the holidays and throughout 2023."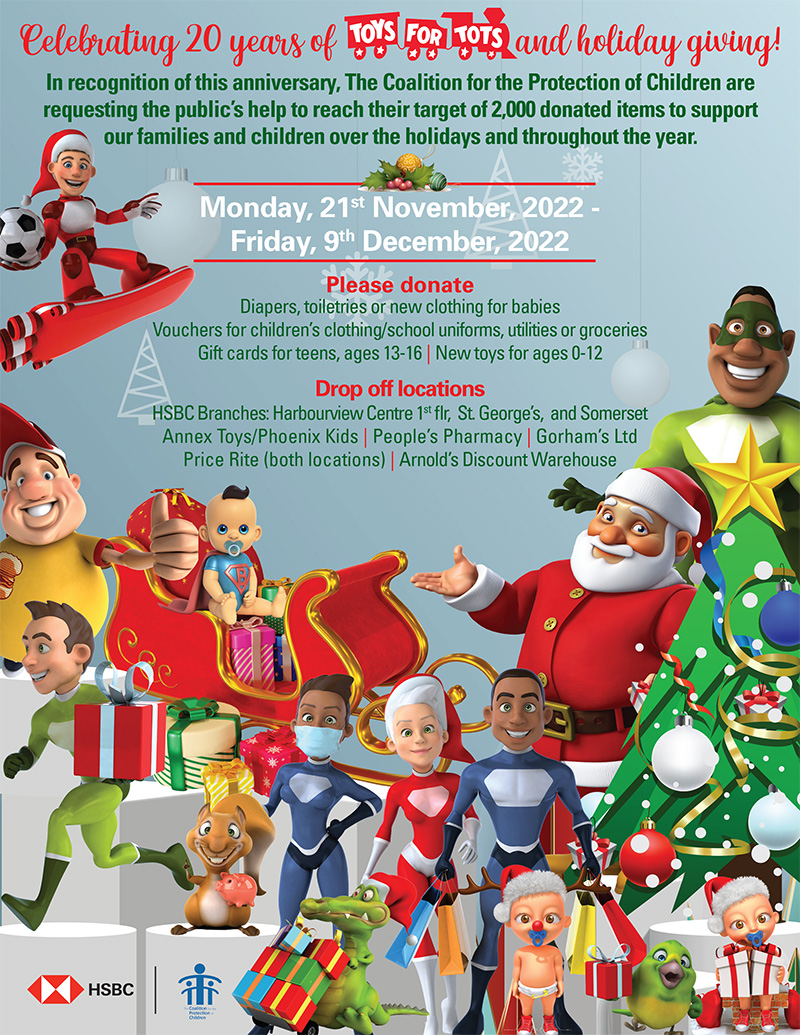 Kelly Hunt, Executive Director, the Coalition for the Protection of Children commented, "We look forward to working with HSBC to deliver some holiday cheer to our families again on this our 20th anniversary year of this initiative. The CPC continues to be grateful for the generous support from the community for the Toys for Tots Program.
"We would like to thank everyone who has participated in this initiative over the years. The past two years have been particularly stressful for those who are struggling to make ends meet. Unfortunately, we are still noticing significant numbers of low-income households in Bermuda that are accessing our services for basic needs and have seen an increase of 159% families since prior to the pandemic.
"Thankfully, Bermuda has always demonstrated its philanthropic spirit each year and helps to alleviate some of that stress over the holiday period. Now more than ever, we hope that people will support the families who need assistance. Toys for Tots also impacts our young people in terms of instilling the spirit of giving to others. We are very excited to celebrate 20 years of this initiative in partnership with HSBC and are hopeful for another successful year".
Judy Doidge, HSBC Executive Sponsor shared, "HSBC is proud to support The Coalition in one of the longest-running and impactful initiatives serving our community over the holidays. We are excited to be a part of this 20-year milestone that offers many families a bit of relief and cheer over the holidays.
"Additionally, and for its sixth year, HSBC has committed to donate an estimated 150 grocery hampers and vouchers to families for the holidays, with HSBC volunteers also supporting to the charity throughout the appeal. On behalf of HSBC Bermuda, I would like to thank The Coalition, the retail and corporate partners for their unwavering support throughout the years as we especially forward to helping the charity realise their goal of 2,000 donated items."
The spokesperson said, "The Toys for Tots campaign launches island-wide from November 21st through to December 9th. Donated items can be dropped off at the following participating retail vendors: The Annex Toys, Price Rite [both locations], Gorham's, Arnold's Discount Warehouse, People's Pharmacy and at the Harborview Centre, Somerset, and St. George's HSBC bank branches."

Read More About
Category: All, Business, Entertainment, News