This afternoon [Nov 7] the Minister of National Security Wayne Caines announced that the Ministry will host an anti-violence initiative in partnership with Masterworks Museum of Bermuda Art.
Minister Caines advised that a special art competition called: Why Art? Why Now? Anti-Violence Artistic Expressions, will be held from February 28 – March 6, 2020.
The exhibition is open to all interested individuals, and will be seeking submissions from the general public and children aged 12 – 18.
The Minister noted that there will also be a special category that will feature art created by inmates.
Minister Wayne Caines, Tom Butterfield Masterworks Director and Pastor Leroy Bean, the Ministry's Gang Violence Reduction Coordinator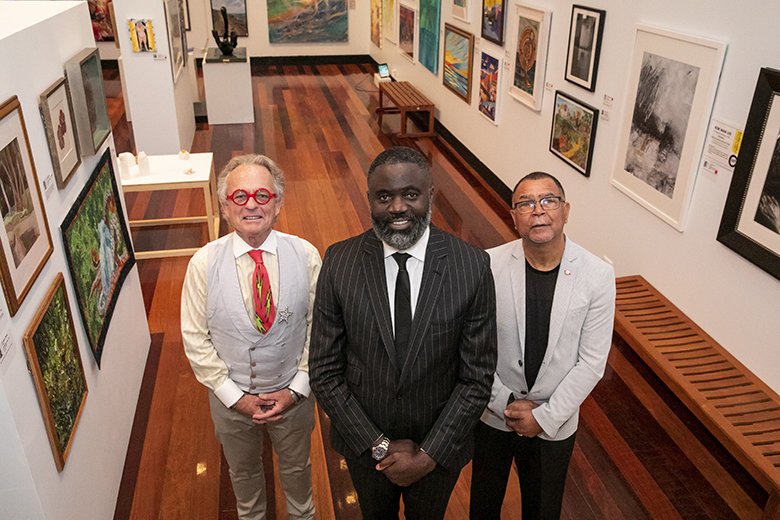 Submissions should be created around the theme, interpretation and concept of reducing violence in the community.
And cash prizes offered totaling $9,000 will be awarded for outstanding art in the following categories:
Traditional Painting;
Mixed Media;
Digital Media;
Animation; and
Photography
In making the announcement today, Minister Caines said, "In keeping with the Ministry's commitment to creating programmes aimed at reducing violence, I'm pleased to highlight another initiative which seeks to engage our community. We have joined with Mr. Tom Butterfield, the Director of the Masterworks Museum of Bermuda Art to showcase an anti-violence art exhibition.
"We want to tap into our community's creative energy, and we believe that this is the perfect event to do just that. The Why Art? Why Now? Anti-Violence Artistic Expressions Exhibition will provide an opportunity for our community, especially our young people to express themselves through a number of artistic mediums."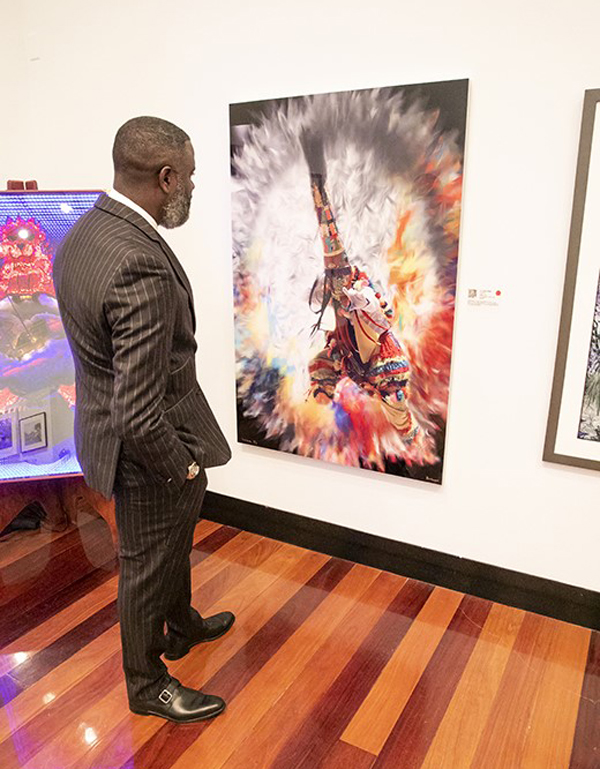 Minister Caines continued, "It's been said that the arts in all its expressions can save children from a life of gang, knife and gun violence. I believe that the arts can transform the lives of our vulnerable, at risk young people and provide them with an outlet for self-expression.
"So, we will be partnering with our local schools for this exhibition and are looking forward to engaging not only our students, but our teachers and principals in this creative endeavour."
Minister Caines concluded, "This event is part of our continuing outreach efforts to engage the community and raise awareness about the importance of reducing violence and anti-social behaviour. We look forward to the public's support in this endeavor as we work towards ensuring a safer Bermuda for all."
Mr. Butterfield added, "We have been working in the field of visual arts in Bermuda for the past 35 years and feel it is imperative that everyone in the community has access to the freedom of art and a platform to exhibit.
"Since opening its doors eleven years ago, the Museum has had an unflinching objective to engage in the process of creating and or looking at artwork as a unifier and making sure the playing field is level for all. So "Why Art? Why Now?" – it is the very desire to instill positive values in our Bermuda community."
More details of the art exhibition submissions including deadlines, will be shared in the coming days.

Read More About
Category: All, Entertainment, News