It's been 60 years since the "Cinderella Horse" rode his way into America's heart as well as Bermuda's.
Snowman's unlikely tale has been called "the greatest 'nags-to-riches' story since Black Beauty", and with good reason.
A one-time Pennsylvania plow horse, Snowman was purchased for $80 in 1956 while en route to the slaughterhouse.
His new owner, Long Island riding instructor Harry de Leyer, bought Snowman to be one of his school horses.
Trailer for Harry & Snowman
But the Dutch-born immigrant decided to train him as a showjumper after recognising the horse's innate talent.
Two years later Snowman was named US Equestrian Federation Horse of the Year, Professional Horseman's Association champion and the champion of Madison Square Garden's Diamond Jubilee.
And in 1959 Snowman returned to Madison Square Garden to become the first horse to ever win back-to-back Open Jumper Championships.
Later that same year Snowman also visited Bermuda to appear at the Agricultural Exhibition in a demonstration event which pitted him against some of the same horses he can bested at US showjumping championships.
Snowman responds in true equine fashion to the bouquet of Easter lilies he was presented with on arrival in Bermuda, nibbling instead of smelling them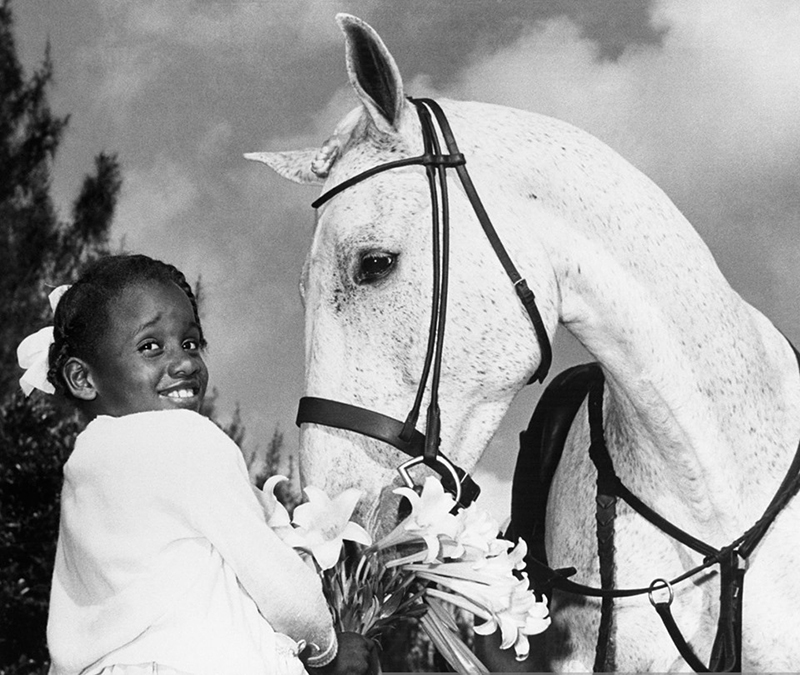 Snowman once again prevailed, becoming something of a local celebrity during the week he spent on the island.
Bermudian equestrians as well as hundreds of school children stood line at the Botanical Garden to pet and be photographed with the "Cinderella Horse."
Snowball retired not long after his celebrated Bermuda appearance, dying at the age of 26 in 1974.
Footage of the "Cinderella Horse's" Bermuda show ring appearance is featured in the 2016 documentary Harry & Snowman.
Read More About
Category: All