[Written by Don Burgess]
American Brendon Todd moved to a three-way tie top of the Bermuda Championship by shooting an eight under par in the second round at Port Royal Golf Course. The Pittsburgh native is now -11 after two rounds tied with first-day leader Scottie Scheffler and Harry Higgs.
Graphic courtesy of the Bermuda Championships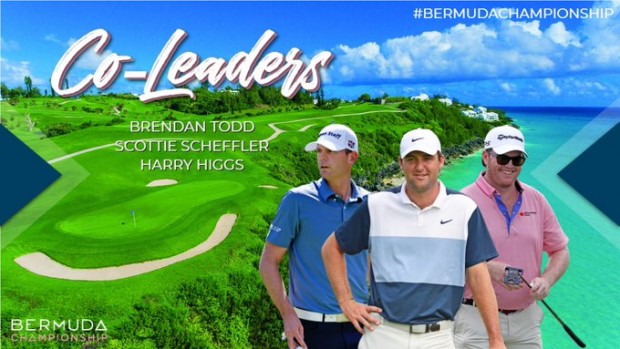 Todd had eight birdies yesterday, including a run of four-in-a-row.
Scheffler broke the course record in the first round with a nine-under par, a feat Todd almost repeated. Higgs has been steady with a five under for the first round and six under for the second.
It's very tight at the top as another three players, Boo Weekly, Aaron Wise, and Wes Roach are just a stroke back.
Weekly is seeking his first victory since the 2013 Chalres Schwab Challenge – a span that includes 126 starts, counting this week.
Wise had a wild ride moving into the tie for fourth with an eagle, six birdies, and two bogeys.
The field was cut in half yesterday as players needed to be at two under par to be in the top half. Michael Sims was the closest Bermudian to doing as he was even par after two days of shooting 70, then 72.
Daniel Augustus was +5, Jarryd Dillas +7, Kenny Leseur +10 and Dwayne Pearman +17. Dillas and Leseur were the only amateurs in the field, with the 15-year-old Leseur being the youngest in the field.
The second most difficult hole of the day yesterday is the iconic 16th hole. The challenging par-3 saw the pros average 3.225 on it. The most difficult hole was the par-3 8th.
So far the par-5 7th has been the easiest hole for both the first and second round.
Read More About