On Friday, November 22nd, the Bermuda Economic Development Corporation [BEDC] hosted the annual Entrepreneurship Education Awards.
The dinner and awards ceremony celebrates entrepreneurs that have demonstrated continued dedication to growth in their businesses by taking the educational courses and workshops that BEDC offers throughout the year.
"At the Entrepreneurship Education Awards, BEDC acknowledges entrepreneurs that have invested in their businesses by investing in themselves and have taken on the challenge of learning new skills, sharpening their minds and keeping up with the latest trends," states Jamillah Lodge, BEDC Director of Communication & Development.
Over the last 3 years since BEDC instituted a formal entrepreneurial education regime, 250 entrepreneurs or would be entrepreneurs have graduated from the 4 offered multi-week courses, Think Like an Entrepreneur [Ice House Entrepreneurship Programme]; Entrepreneurship 101; Financial Statements Planning and Costing using QuickBooks Course Part 1 and Part 2.
Erica Smith [BEDC Executive Director], Craig Tyrell [BEDC Board Member], Kim Caisey [BEDC Scholar of the Year Winner], Marico Thomas [Owner of Burger Shack], Nathan Amaral [BEDC Scholar of the Year Winner]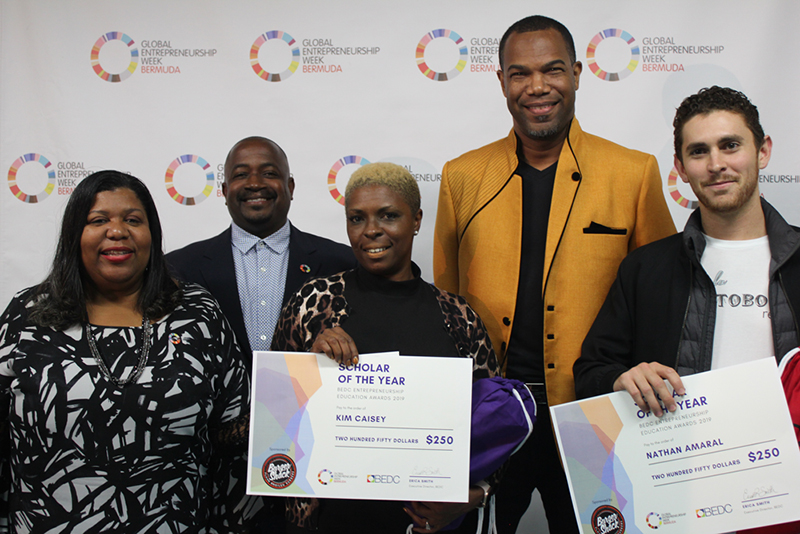 Helping to develop a robust entrepreneurial eco-system is one of BEDC's prime objectives and sharpening the skills and knowledge of hundreds of entrepreneurs annually through educational courses is just one tangible way BEDC aims to achieve this.
Erica Smith, BEDC Executive Director states, "We are proud that a number of Bermuda's best innovative and creative businesses, such as Rugged Rentals; Gotcha Covered; Fusion 4 Business; Bermy Eats; Maxilous Salon; Drop It; and Media Maven; to name just a few, have all been graduates of BEDC's multi-week courses over the last 3 years.
"BEDC continues to be committed to developing programmes that support entrepreneurs and acknowledge their accomplishments. Our annual Entrepreneurship Education Awards highlights this and we are proud of this year's 109 graduates."
The BEDC Scholar of the year is a special award given to the person that "demonstrates tremendous dedication to learning by taking two or more courses and also having near perfect attendance."
This year, the Scholar of the Year award was sponsored by Burger Shack, a new business, led by Marico Thomas, who took special interest in wanting to support Bermuda's entrepreneurs. Burger Shack generously gifted the winners of the Scholar of the Year award with $250 each. This year, BEDC awarded two scholars of the year, Kim Caisey and Nathan Amaral.
A spokesperson said, "BEDC would like to extend a huge thank you to all the participants and to the sponsors that made the Entrepreneurship Education Awards possible this year. Congratulations also to everyone that took courses. Your commitment to entrepreneurship and growth is admirable! For more information about the Entrepreneurship Education Awards, please visit www.gew.bm. Each entrepreneur received certificates of completion and special awards."
The 2019 Recipients are as follows:
8-Week Spring 2019 "Think Like an Entrepreneur" Ice House Course
Alvone Maybury
Arianna Hodgson
Carl Vincent
Chioke Mederios
Cleavon Harris
Fiona Douglas
Jasmine Simmons
Johnathan Simons
Kali [Keanne] Bean
Khamani Fox
Kim Caisey
Kimberley Mensah
LaKeisha Wolffe
Leanna Evans
Marquis Caines
Michelle White
Nathan Amaral
Nicole Bean
Sandra Dill
Solomon Simons
Termel Wolfe
8-Week Fall 2019 Entrepreneurship 101 Course
Akilah Reid
Alyson Thompson
Andrew Bell
Antoine Brangman
Channing Seymour
Danice Mapp
Danielle Williamson
Henry Thomas
Je'Brie Hill
Kellan Lewis
Kim Caisey
O'Neil Moore
Roslyn Cure
Sarah Ible
Shakira Williams
Shari Scott
Shawn Brown
Shawnette Smith
Stephen Haley
Tiara Webb
Tony Correia
8-Week Spring 2019 Entrepreneurship 101 Course
Alton O'Connor
Carl Vincent Jr.
Cimeon Tyrrell
CJ Stowe
Diamond O'Connor
Dornette Webb
Gemma Belfrage
Giles Belfrage
Ian Cameron
Jaaziah Richardson-Webb
Leanna Evans
Maurico Bradshaw
Michelle White
Nathan Amaral
Nicole Bean
Shannon DeCosta
Shawana-Lynn Perry
Tahj Bell
Tom Reed
8-Week Fall 2019 Financial Statements, Planning & Costing using QuickBooks – Part 1
Claire McDevitt
Diana DeSilva
Jessica James
Judson Williams
Kellan Lewis
Kim Caisey
Leanne Torres
Mercedes Pringle
Sandra Dill
Sharonlyn Lovelle
Tallent Clark
Therese Carroll
Tony Correia
Wendie Warren
8-Week Spring 2019 Financial Statements, Planning & Costing using QuickBooks – Part 1
Andria Francis
Arianna Hodgson
Bernadette Ingemann
Carmalita Simmons
Charlene Rego
CJ Stowe
Cleophea Darrell
Crystal Caesar
Deveene Burchall
Donald Windfield
Donette Webb
Fiona Douglas
Heather Kirby
Jennifer Perinchief
Jodi Virgil
Johniemae Wilkinson
Khamani Fox
Kim Caisey
Micah Smith
Michelle White
Mirah Ingemann
Nadia Laws
Nathan Amaral
Raphael Williams
Stacy Grant
8-Week 2019 Financial Statements, Planning for Profit using QuickBooks – Part 2
Andrea Hayward
Everton Dawes
Ian Stephens
Katherine Fisher
Kim Caisey
LaKeisha Wolffe
Marquis Caines
Maxine Famous
Susann Smith
Velda Franco
Read More About