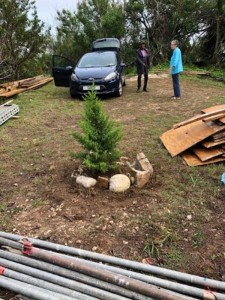 Bahá'ís of the eastern parishes recently checked on the Bermuda Cedar tree that was planted in October in order to mark the bicentenary of the birth of the Bab.
A spokesperson said, "Bahá'ís of the Eastern parishes – Smith's, Hamilton and St. George's – checked on their Bermuda Cedar tree planted in October to mark the bicentenary of the Birth of the Bab [1819- 2019].
"The iconic Bermuda Cedar was planted in the middle parish of Hamilton, just off the famous and well-traveled Bermuda Railway Trail."
"This tree-planting was just one of several activities by the wider Bermudian Bahá'í community in celebration of the 200th anniversary of the herald of the prophet-founder of the Bahá'í faith, Bahá'u'lláh.
"In its 2019 message to all who have come to honour the herald of a new dawn, the worldwide governing body of the Bahá'í faith, the Universal House of Justice reminded us of a new stage in the social evolution of humanity: the stage of the unification of the entire human family.
"The spiritual energies they released into the world infused a new life into every sphere of endeavour, the results of which are evident in the transformation that has occurred. Material civilization has advanced immeasurably; astounding breakthroughs in science and technology have been achieved; the gates to the accumulated knowledge of humanity have been flung open, just to cite one of the teachings of the Bahá'í faith.
"The Bahá'í National Centre is open Monday through Friday between 10.00am and 3.00pm; call 292-2723 for inquiries."

Read More About
Category: All