Due to the support of the Royal Bermuda Yacht Club [RBYC] membership and corporate donors, the Next Generation Sailing Fund raised $11,335 in its first year.
The fund is the brainchild of Geovanni Hayward, a sailing coach at RBYC.
A spokesperson said, "The Next Generation Sailing Fund is a scholarship Fund that helps continue a child's journey in the sport of sailing. With the offering of partial scholarships, our aim is to make year-round sailing a more affordable activity.
"We welcome sailing programs around the island to put forward candidates deserving of a scholarship for one of our programs.
"This year we awarded eight recipients with partial scholarships for our 2019 Fall program. Four of the recipients were chosen from the RBYC Sailing Academy's Summer Programme and the other four were chosen from the Endeavour Graduates Programme.
"We also provided 50% funding for four sea cadets from the Bermuda Sea Cadet Corps to complete their RYA Keelboat Level 1 course.
"We held an Olympian dreams evening at the Royal Bermuda Yacht Club to officially launch the fund. We were able to raise $5,000 at the event. Since then, due to the generous support of the RBYC membership and corporate donors the NGSF raised $11,335 in its first year, going above and beyond our goal of $10,000."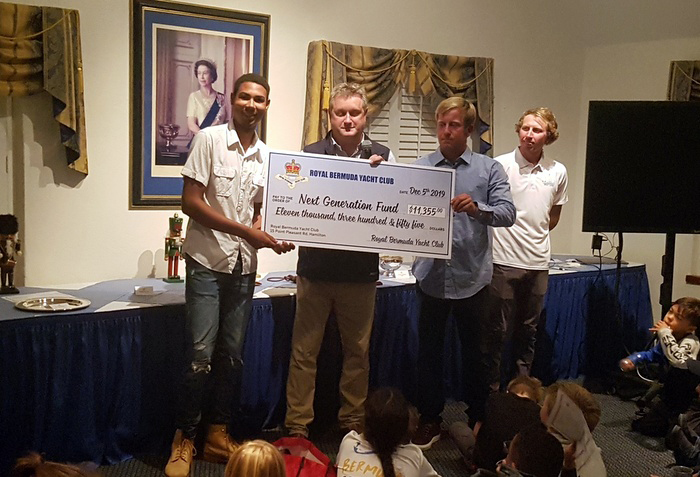 Geovanni Hayward said, "The Next Generation Sailing Fund was set up to help break down the financial barriers that hinder the sport of sailing.
"We see so many kids come through our summer programme who have found a real passion for the sport but are unable to continue due to the high costs of year round programmes.
"I have seen first hand the passion and dedication that our first set of scholarship recipients show for sailing. These sailors have really demonstrated how much good this fund can do.
"Building upon the success of year 1, the RBYC Sailing Academy has every intention of expanding our reach within the community. Next year we intend to double the amount of scholarships awarded as well as foster more community partnerships.
"We look forward to what the future may bring and to the continued success of the Next Generation Sailing Fund."

Read More About