Newly launched Gift Vouchers to spend in stores and businesses in Dockyard have arrived – just in time for Christmas.
The brainchild of the West End Development Corporation, the Royal Naval Dockyard Gift vouchers are available in $20 and $50 denominations and can be used at all Dockyard retailers, restaurants and businesses, including everything from Woody's to Spar Yard Marine Solutions, Locked on the Rock to the Boaz Island gas station.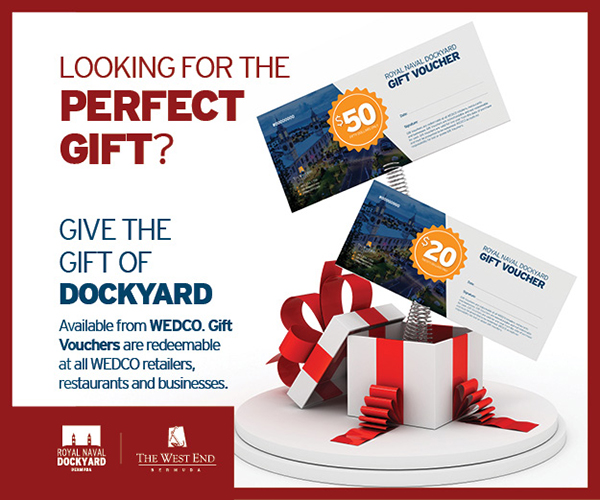 Stephanie Rodill, WEDCO's Marketing and Events Manager, said: "If you are looking for the perfect gift for Christmas this is definitely it!
"The recipient of this voucher can use it to have a memorable experience at Dolphin Quest or Fun Golf, spend it on that pottery they loved from Jon Faulkner Gallery, take their partner on the perfect date at one of our many restaurants, or spend it on snacks for their next boat trip from the Pier 41 Marina.
"With WEDCO having such a diverse set of tenants, the possibilities of what the recipient can use their gift on are too numerous. The Royal Naval Dockyard Gift Voucher is the gift of choice."
The vouchers are available from WEDCO on the Upper Level of the Clocktower Mall between 8.30am and 4pm Monday through Friday.

Read More About