The Bermuda Charge Race Committee and the Bermuda Motorcycle Racing Association [BMRA] will host an information desk for local racing prospects who would like to compete in motorcycle or touring car road races at the September 2020 event.
The information desk will be set-up at the Transport Museum on Sunday 2nd February. Local riders and drivers who attend will be informed of qualifying criteria, the route map, race village layout and other particulars for the road race. Applications from volunteers who would like to get close to the action on race days will also be welcomed.
BMRA Founder David Jones and MP Sylvan Richards, right, enjoying the 2019 Bermuda Charge Charity Ride. Photo courtesy of RYZE Photography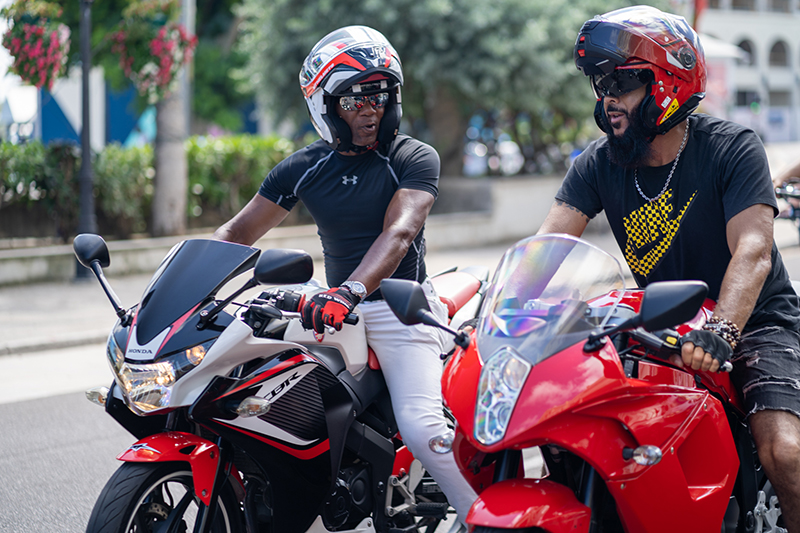 A spokesperson said, "The race, which is a 5-mile circuit on closed public roads in the East End, is scheduled for 5th – 7th September 2020. The event will host a 250cc National Hero lightweight category only open to Bermudian nationals and PRC holders, who will be required to complete a rigorous qualifying process.
"It will also run categories in 600cc SuperSport Motorcycles, Touring Cars and the headline international event – Zero-Emission Superbikes, designed to spearhead the development of electric technology and renewable energy.
"There are currently 35 local applicants to compete across the 250cc, 600cc and Touring Car categories, and 8 international applicants for the Superbike Race.
"Local artist Dejavon Paynter has been engaged to capture the vision for the Start Line on canvas, and will unveil the painting at the Transport Museum so that viewers can get a feel for the layout of the event. Paynter aims to show the excitement and atmosphere the race will bring to the island.
"The information desk will be located at the Transport Museum Fish Fry [an official Restaurant Weeks event] from 12pm – 3pm on 2nd February, where representatives from the Bermuda Charge and BMRA will be available to answer questions about race categories and regulations.
"BMRA membership packs will also be available, ahead of the motorcycle racing season at the Rubis Southside Raceway which commences in May. All local motorcycle road racing prospects must have a BMRA membership activated before the season starts, and are required to be 21 years of age before the race meet on 5th September.
"Digital footage of the event and its island setting will be distributed to millions of screens worldwide by event partner SCUF Gaming. Race safety measures will be overseen by a team of technical experts from the International North West 200, an annual superbike road race in Northern Ireland that attracts 100,000 spectators.
"We look forward to developing motorsport talent on our island. One of the benefits of ensuring each racer has a BMRA membership is the skill set and knowledge that is passed down from experienced riders and coaches. Members of the BMRA learn to keep their speed to the track rather than public roads, and are coached in advanced riding processes that make them more alert and safety conscious.
"The more proficient and responsible riders we have on public roads, the safer they will be. As a race organisation, we have installed processes to ensure our participants will be credible ambassadors for road safety in Bermuda."
"We encourage all race prospects to attend, as well as volunteers and interested parties. The first 10 volunteers to register for the September road race event will receive a $10 fuel card, courtesy of our partners at Rubis! This is also a good time for companies who wish to sponsor the event to step forward – there will be a wealth of up to date information available."
"The Fish Fry at the Transport Museum is a food activation co-ordinated by the Bermuda Tourism Authority to celebrate the end of Restaurant Weeks.
"Fresh fish will be available from vendor stalls including Generosa's, Bonefish and Frog & Onion, who together will serve up Codfish Fritters, Crispy Coated Fried Shrimp, Fish Tacos, Wahoo Bites and of course the famous Fish Sandwich. Visitors can enjoy these delicious local favourites while browsing the fascinating display of vintage machines at the Transport Museum in Dockyard.
Further information about the Bermuda Charge can be found at www.bermudacharge.com.

Read More About