The Bermuda Underwater Exploration Institute [BUEI] will present a talk entitled "The Voyages of Bob: Around The World in a Small Yacht" with Alex and Sarah Brooks on Tuesday, February 4th.
The event poster says, "3 Oceans; 25 countries; 121 anchorages; 32,000 sea miles. Bermudian Alex Brooks and his partner Sarah spent over 3 1/2 years circumnavigating the globe on their 36-foot sailboat – s/v Bob.
"The world's oceans are enormous. Sailing across them involves many days or even weeks at sea between remote, isolated landfalls. Yet they are far more than vast deserts of saltwater. A richness of islands, unique cultures and fascinating wildlife thrives within them.
"Come aboard for a virtual tour of Bob and see what it's like to live on a small sailboat in a challenging environment. Join the couple as they share details of life at sea and introduce you to some of the unique places they encountered during their voyage. A cruising lifestyle brings many challenges but also comes with an abundance of rewards."
The presentation will get underway at 7.30pm at BUEI Auditorium, with a Sushi Happy Hour and A la Carte Menu to be held at Harbourfront at 5.00pm. Tickets cost $20 for members, $25 for non-members and $12 for students, and are available by calling 441-294-0204 or visiting BUEI's Oceans Gift Shop.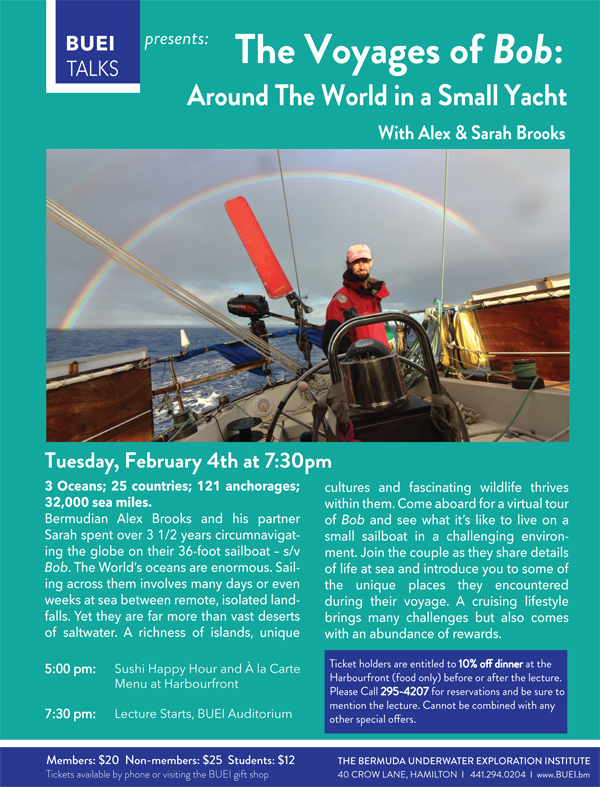 Read More About
Category: All