The fourth annual Friends of Hospice Memorial Moon Walk is scheduled to take place on Friday [Jan 10] at 6.30pm starting at Chaplin Bay.
A spokesperson said, "The 'wolf moon' is the name given to the full moon every January and originates in Native American culture. The wolf spirit symbolizes freedom and wisdom, and is thought to be a guide to self-discovery. The lunar eclipse taking place on Friday evening is the first of four penumbral eclipses to take place this year and will provide the best opportunity to experience shading of the moons face.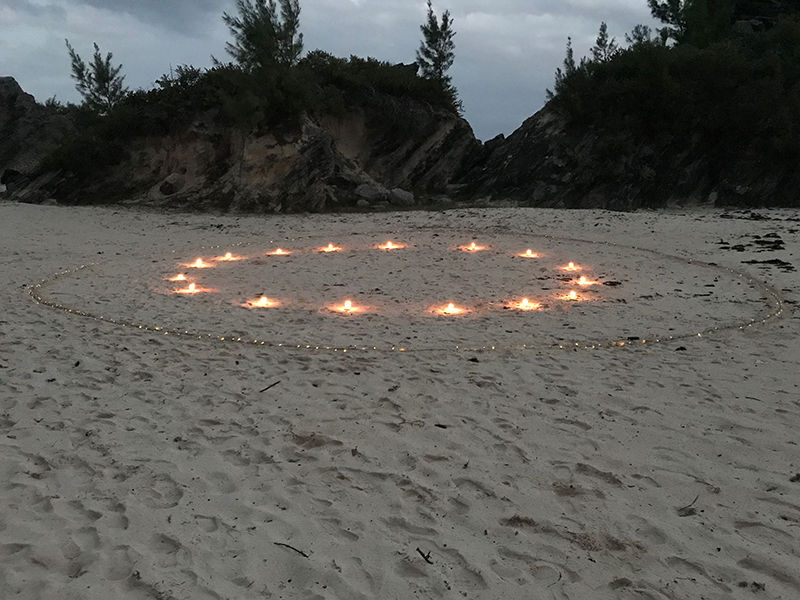 "Friends of Hospice the charity that supports Agape House, is hosting the walk which provides an opportunity for those who have lost loved ones to come together in a spectacular setting and remember their loved ones.
"The walk begins from Chaplin Bay, Warwick and continues west, along the dunes to Horseshoe Bay and back to Chaplin Bay. Community partners Football Club Rhino will be on hand to act as guides and ensure that all walkers are kept safe and stay on the designated route. There will be entertainment prior to and following the walk by talented artists such as the String Collective and local folk artist Val Sherwood.
Friends of Hospice volunteer Nicky Gurret, who was instrumental in the organization of the first FoH Memorial Moon Walk in 2017 said, "A walk in the moonlight is a reminder that in our darkest hours there is light.
"When a loved one has passed there is a heartache no one can heal, however more importantly there is a memory no one can steal. The Memorial Moon Walk is a walk in remembering those that were so full of light who now dwell in our hearts, heaven, and nature and to support one another and Agape House."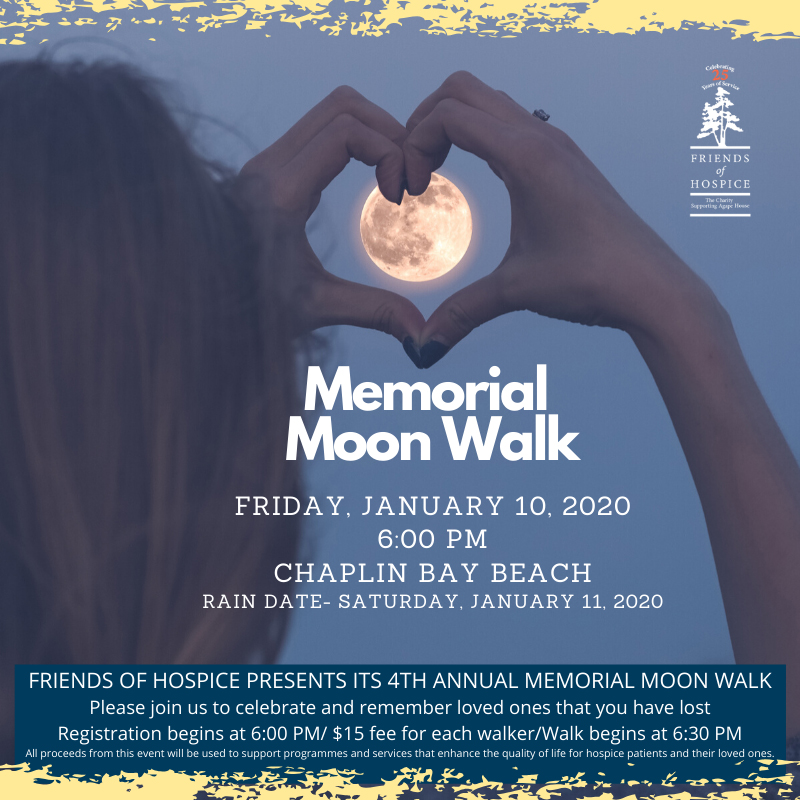 Friends of Hospice Executive Director, Jennifer Mahoney added, "This is an excellent opportunity for all members of the local community to get together and celebrate the memories of loved ones that are no longer with us.
"The moonlight and trails along the beach are an ideal setting for the event, as they provide a sense of serenity and beauty that promotes positive reflection. Many thanks to all of our volunteers and community partners that help to make this event such a special one."
"Walkers are reminded to bring a flashlight along with them, and if they wish a candle for the gathering following the walk. All proceeds from this event will be used to provide programmes and services that enhance the quality of life for Hospice patients and their families."
Event Details:
Date: Friday, January 10, 6 pm for a 6:30 pm start
Location: Chaplin Bay, South Road, Warwick
Parking: Chaplin Bay parking lot or above on South Road
Registration: $15 per walker, in advance by calling FoH at 232-0859, email info@hospice.bm or onsite at Chaplin Bay, 6 pm
Read More About