The Bermuda Economic Development Corporation [BEDC] will host The Netpreneur is the Nextpreneur, a seminar that will "explore how and why tech savvy entrepreneurs are taking over the small business landscape."
The seminar will be held at the Bermuda Society of Arts on the 3rd floor of City Hall, on Wednesday, January 15th, 2020 from 5:30pm – 8:00pm.
"A netpreneur is an individual that delivers their product or service via the internet. As we enter into 2020, having a presence on the web, and more specifically, utilizing it to deliver to your customers is becoming more and more important," states Jamillah Lodge, BEDC Director of Communication & Development.
"At BEDC we aim to educate entrepreneurs and business owners so that they have the best chance at success in both Bermuda's economy and the global economy. Learning the ins and outs of thriving on the net, is crucial to that success."
Seminar attendees will have the opportunity to learn from a panel of business owners that have found success in net driven businesses. The audience will learn how and why the panel of entrepreneurs either developed or transitioned their businesses online.
They will also get the opportunity to really understand the implications of running a business in a digital world and learn practical tips, tricks and strategies on how they can do the same.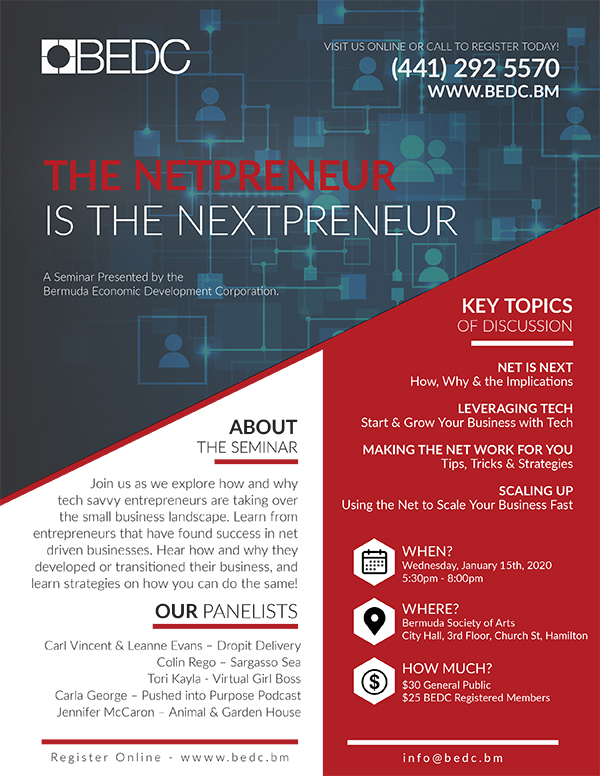 The panelists include Carl Vincent & Leanne Evans of Drop It Delivery, Colin Rego of Sargasso Sea, Tori Kayla owner of Virtual Girl Boss, Carla George owner of Pushed into Purpose and Jennifer McCaron of Animal & Garden House.
"I hope to inspire attendees to launch whatever business idea or creative project they have. This topic is so important because in a digital age, it's never been easier to build a brand. We need more people using that to their advantage," states panellist Tori Kayla, owner of Virtual Girl Boss.
Key topics of discussion will include, Net is Next – how, why and the implications; Leveraging Tech – how to start and grow your business with tech; Making the Net Work For You – Tips, tricks and strategies, and Scaling Up – using the net to scale your business.
Attendees are also encouraged to come with their own questions or discussion points, as there will be an open question and answer discussion period reserved for the end of the seminar.
The BEDC said, "Who should attend this seminar? Everyone! This seminar is for anyone seeking to learn about running a business in a digital world. We encourage as many entrepreneurs, future entrepreneurs, current business owners, and others to attend as possible.
"While the stories shared by the entrepreneurs on our panel will be framed by their journey as business owners, we feel that anyone can benefit from the strategies and experience that will be shared by our panel.
"To register for this seminar, please call 292-5570, email info@bedc.bm or log on to www.bedc.bm. Registration is $30 for the general public and $25 for BEDC registered members. Your fee will include light cocktails and canapés."
Read More About
Category: All, Business, News, technology