Spittal Pond Nature Reserve was the venue for 245 children, teachers, camp leaders and parents who joined the Bermuda National Trust's Annual Children's Nature Walk today [Feb 13].
"One of Bermuda's most spectacular open spaces, this 64-acre reserve is part of a chain of wetlands along the South Shore, providing a diversity of habitats and an amazing variety of birds, especially during the migration seasons. It is Bermuda's largest bird sanctuary," BNT said.
"While home to many native and endemic plants, Spittal Pond also has unique features such as 'Jeffrey's Cave', the hiding place of an escaped slave, 'Portuguese Rock', the oldest evidence of humans on the island, and 'The Checkerboard', a geological formation of marine limestone with a distinct pattern of cracks.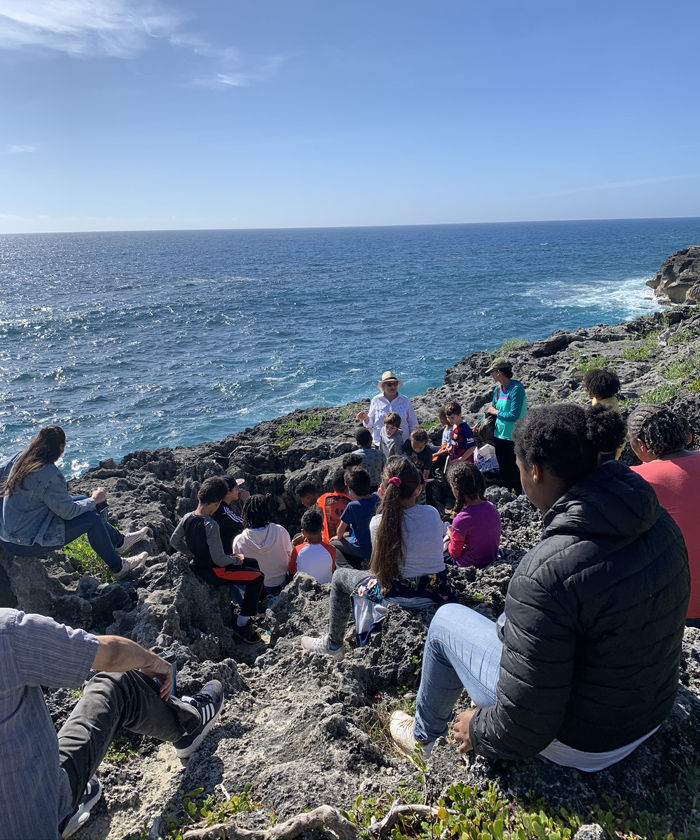 "Children, parents, grandparents and camp leaders experienced nature first hand while in groups and with an enthusiastic volunteer guide. Walking from the east end to the west they stopped at different stations to learn from local scientists and educators.
"The history and significance of the nature reserve was introduced by Dr. Dörte Horsfield [Bermuda National Trust]. Dr. Jamie Bacon and Dr. Alex Amat from the Bermuda Zoological Society gave insight into the pond biology and chemistry while Alison Copeland from the Department of Environment and Natural Resources spoke about the aquatic plant life in the pond.
"Children enjoyed learning about resident and migratory birds that are currently living at Spittal Pond from naturalist Dr. David Wingate and Devika Mather [Bermuda Audubon Society].
"Bermudian artist Ronnie Chameau told the story of Jeffrey, the escaped slave who hid in a cave at Spittal Pond and explained how he might have made a fish trap from Palmetto leaves.
"Writer Meredith Ebbin [Bermuda National Trust] discussed the cultural story and significance of Portuguese Rock, and the Curator of the Natural History Museum Dr. Robbie Smith [Bermuda Aquarium Museum and Zoo] explained the geography of the checkerboard and the natural forces that shaped our island.
"At the end of the walk Agriculture Officer Tommy Sinclair, Government Veterinary Assistant Dr. Charna Stowe [Bermuda's Department of Conservation Services] and a staff member of the dairy farm talked about dairy farming and milk production in Bermuda.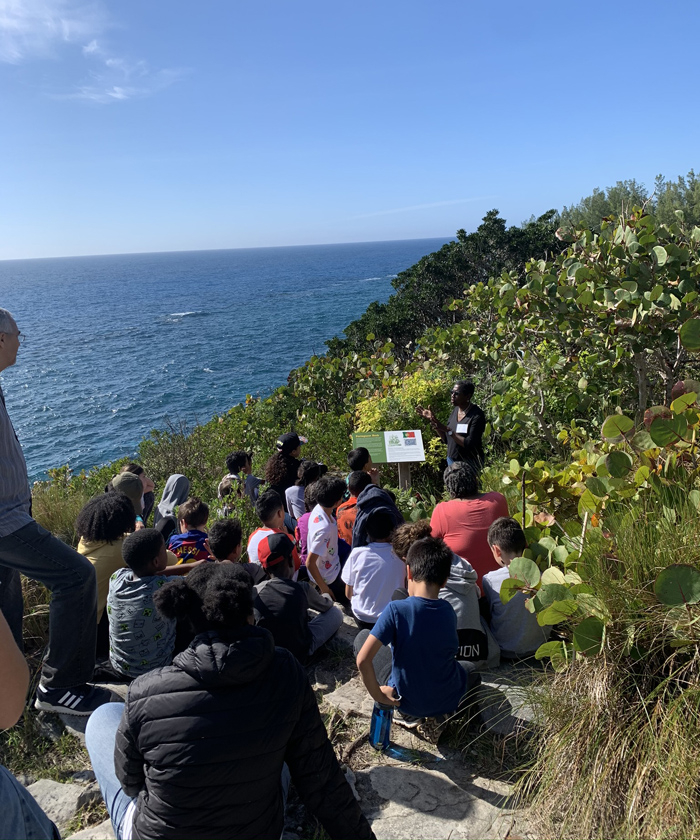 Organiser of the walk Dr. Horsfield said: "Comments were positive, and everyone said they learned things they didn't know about Bermuda – adults included!
One camp instructor stated: 'This was an excellent walk! The local experts shared their knowledge in a very engaging way and the children learned so much while having a wonderful time.' We were happy with the stunning weather, and the array of happy faces at the end of the walk!"
The Trust said they are "grateful for the support of their sponsors ARCH Re, Barritts, Butterfield and Vallis and their many volunteers."
Spittal Pond is owned by the Bermuda National Trust and the Bermuda Government. For more information on Spittal Pond or private tours please contact education@bnt.bm.

Read More About
Category: All, Environment, News