Spittal Pond Nature Reserve was bustling with over 200 children, parents and camp leaders on the Bermuda National Trust's Annual Children's Nature Walk on Tuesday [April 5], sponsored by Arch Re.
A spokesperson said, "The 64-acre reserve is one of the Bermuda National Trust's most spectacular open spaces held in trust for the Bermuda community. It is Bermuda's largest bird sanctuary providing a diversity of habitats and an amazing variety of birds, especially during the migration seasons.
"It is also a very important cultural heritage site, with Portuguese Rock, the oldest evidence of humans on the island, and Jeffrey's Cave, where an enslaved man was said to have hidden from his enslavers for several weeks.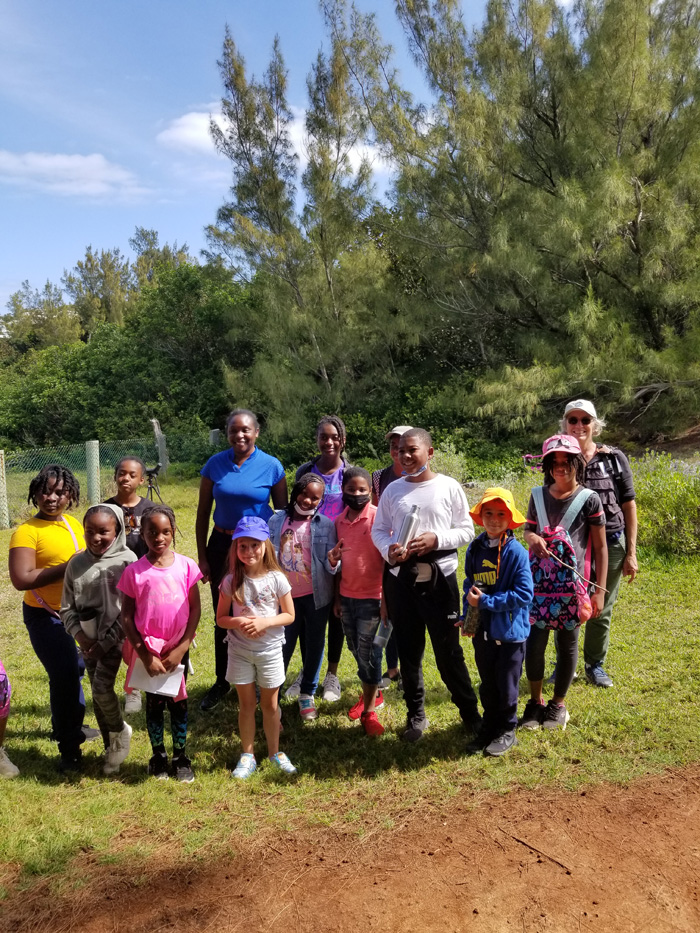 "Groups of excited children, with their parents, grandparents or camp leaders, were guided by volunteers to several different stations in the reserve, where they learned about its different habitats and features from local scientists and educators.
"The history and significance of the nature reserve was introduced by Peter Drew of the Department of Environment and Natural Resources [DENR]. Dr Alex Amat from the Bermuda Zoological Society gave insight into the pond biology and chemistry, while Alison Copeland from DENR spoke about the aquatic plant life in the pond. Children enjoyed learning about resident and migratory birds from Erich and Janice Hetzel of the Bermuda Audubon Society and observed birds through scopes and binoculars.
"Dr Kim Dismont Robinson, Director of the Department of Community and Cultural Affairs, told the story of Jeffrey's Cave, and Rui De Sa talked about the significance of Portuguese Rock. Dr Robbie Smith, curator of the Natural History Museum at the Aquarium, explained the geology of the 'checkerboard' rock formation and the natural forces that shaped our island. At the end of the walk, Government vet Dr Jonathan Nisbett talked about dairy farming and milk production in Bermuda.
"The Trust is thankful for the support of sponsor ARCH Re. Spittal Pond is owned by the Bermuda National Trust and the Bermuda Government owns the surrounding parkland."

Read More About
Category: All, Environment