The Bermuda Environmental Sustainability Taskforce [BEST] and Bermuda College have kicked off a new season of their Eco Lunch & Learn Series II.
A spokesperson said, "The second half of Series II runs on the last Thursday of each month in February, March and April, 2020. Series III will begin with another slate of presentations in the fall semester at the College [September, October and November 2020].
"On Thursday, February 27, Dr. Anne Glasspool will be presenting a lecture on 'Climate Change: How can Bermuda respond'."
Dr. Glasspool said, "Consider the vulnerability of all small islands and how they may effect strategies to mitigate the impact of climate change on their economic, social and physical well-being and how these relate to Bermuda."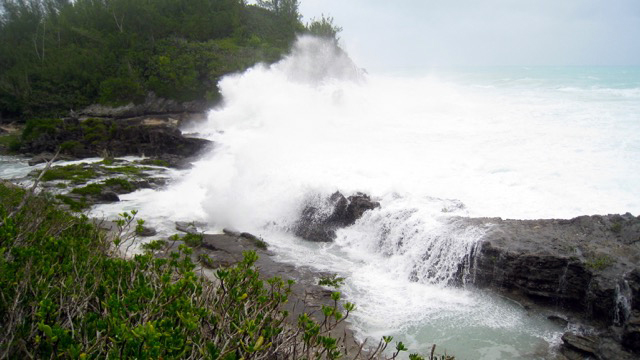 The spokesperson said, "Dr. Anne Glasspool is a Bermudian Chartered Environmentalist with an M.Sc. in Fisheries Management, a Ph.D. in Marine Biology with over 30 years of work experience in the environmental sciences.
"She is Vice President of Bermuda Environmental Consulting Ltd., specialising in environmental impact assessment, environmental management planning, regulatory compliance, ecological assessments and remediation projects for a diverse suite of clients.
"After starting her career in Bermuda as the Senior Site Operator for the Air/Ocean Chemistry Experiment [AEROCE], she then led the award-winning Bermuda Biodiversity Project from its inception in 1997 until 2008, building and managing a network of scientists researching Bermuda's natural environment.
"She is the author of a number of scientific publications and technical reports and she took the lead in promoting local conservation action through the initiation and development of the Bermuda Biodiversity Strategy and Action Plan, a community-based blueprint for conservation in Bermuda. Dr. Glasspool has served on various management, research, advisory and education committees for a number of NGO's and the Bermuda Government.|
Amy Harvey, the Earth and Environmental Science lecturer at Bermuda College, said,"Bermuda has a responsibility to its whole community but in particular to the younger generation to address this issue of climate change.
"It is they who will be living with the outcomes of this anthropocentric induced problem. We need to ensure that we have a sustainable plan in place to ensure we are able adapt to threats of rising sea levels and increased weather events in addition to mitigating the problem beforehand by changing behaviors and reducing our carbon footprint as a country."
Kim Smith, Executive Director of BEST added: 'To say that Dr. Glasspool's presentation is overdue is an understatement. Bermuda needs to intensify its focus on the serious threat of climate change in order to catch up with much of the rest of the world.
"A current effort to this end has been the formation of the group Bermuda Climate Action Network [Bermuda CAN] for whom Dr. Glasspool's reports and presentation will be invaluable. This information will be important for all of us to hear so please plan to join us.'
The spokesperson said, "BEST and Bermuda College are committed to providing a forum for learning; with knowledge comes empowerment. In each of the presentations we invite the community to learn more about global and local issues while discussing individual and collective solution-based actions that can be taken.
"This February 27th lecture will be held at Bermuda College, Room H100 in Hallett Hall, from 1:00pm to 2:00pm. Bring your own lunch and join in a lively discussion after the lecture. This is event is free to the public and all are welcome. No registration is required.
"For more information, please visit the website."

Read More About
Category: All, Environment